RSPB WPG 8.5×42 Binoculars
The RSPB brand is reaping in the rewards thanks to their release of the RSPB WPG 8.5×42 binoculars (CHECK PRICE!). They certainly aren't the cheapest set of binoculars on the market but because of the quality viewing practises they provide, customers certainly don't mind paying for them. The RSPB brand is one of the market leaders when it comes to crystal clear binoculars so you know you are getting into bed with a brand you can trust. The RSPB stands for The Royal Society for the Protection of Birds and is a wildlife charity, 90% of their net income goes into conservation, advocacy, and local public education which is even more reason to buy your binoculars with them – because you know they are going to make a difference to the world.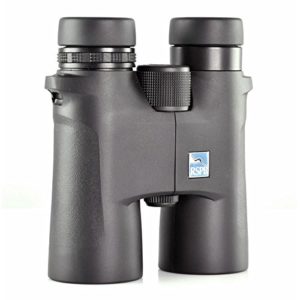 The RSPB WPG 8.5×42 binoculars are perfect for bird watchers because their lenses provide a clear and light view of their surroundings. Even if you are one to get up in the early hours of the morning and explore to find birds to watch, the 42mm lenses can still grab enough light thanks to their size, so you will still be able to see things clear as day. If you are a bird lover you will love these binoculars as it is jam packed with plenty of features to make your viewing experience even more enjoyable.
Take a look at the following features this RSPB product provides its users:
Multiple accessories – These binoculars come with a carry case to protect your binoculars when travelling and not in use, a comfortable neck strap to attach the binoculars to so they are always within arm's reach, and a useful rainguard will provide protection from the wet weather.
100% waterproof – If you are observing in wet conditions these binoculars will be protected thanks to the waterproofness of this product – this means that early risers will also have fog protection.
BaK 4 Prisms – The BaK 4 prisms will make sure your crystal clear views are enhanced even further for crisp viewing of your surroundings.
10 year warranty – A 10 year warranty will provide you with confidence knowing that if something should go wrong with your binoculars you can get your money back – which is great because these binoculars do require you to put your hands in your pockets.
Products from Amazon.co.uk
‹
›
Phase coating – The BAK 4 prisms come with phase coating so you can be sure your views will provide you with a crisp and clear experience.
Fantastic field of view – The 8.5x magnification and the 42mm lenses provides users with a great 133 metre field of view. Field of view in degrees is 8.2.
Close focus – You will be able to change the focus settings that will allow you to concentrate on objects that are only 1.8 metres away.
Products from Amazon.co.uk
‹
›
Fairly lightweight – These binoculars only weigh 553 grams so you will be able to use these binoculars for hours without them causing too much strain.
Eye relief – An ample amount of eye relief will ensure people with glasses can adjust the relief to suit their needs.
These binoculars by RSPB are perfect for those bird watchers looking for a set of binoculars that provide all the features that will make bird watching even more enjoyable. Purchasing these binoculars from RSPB will ensure they can continue doing the great work with their bird protection scheme, and provide conservations to help protected birds breed – they also provide public education to local schools so they can help protect the wildlife in their populated areas as well.
Summary
Features: 10 year warranty – BAK 4 Prisms – 100% waterproof
Pricing: Mid-Range