Olympus DPS I 8-16×40 Binoculars
The DPS I 8-16×40 Binoculars are just another set provided by the popular Olympus. The Olympus DPS I (CHECK PRICE!) have been available for a while now and continue to impress binocular fanatics around the world thanks to their ease of use and the affordable price they come at. These binoculars are very popular because they offer users all the basic features and the zoom technology introduced into this model to allow it to magnify from 8 – 16x puts it up there with all of the other brilliant general use binoculars. You will certainly get your use out of these binoculars because they are cheap and they come with a lot of features that will allow you to change the settings depending on what you are observing.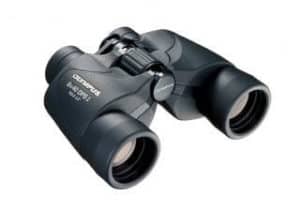 The zoom technology will let you compromise on field of view to allow for better quality viewing of objects that are closer or further away. These binoculars are perfect for those who like to get a glimpse of nature at its finest.
Here are a few of the many features this product is able to provide its users:
Durable high quality rubber armour – The armour coating surrounding the base design of these binoculars is made from strong rubber which not only provides shock resistance from potential knocks when hiking but it also provides an extra layer of durability – you will also find that it is much easier to grip thanks to the rubber coating.
Stunning zoom capabilities – You will find that this product offers zooming capabilities which not many binoculars offer these days. This gives you even more stuff to do with these binoculars thanks to the fact you can zoom anywhere from 8x to 16x.
Coated lenses – Olympus has invested a lot of time and money in getting their lenses right and they have come up with a way in which they can provide clear and distortion-free viewing thanks to the reflection reducing coated lenses.
UV Protection – If you are using binoculars in the sun you may find that it hurts your eyes, but with the UV protection this product provides will prevent any damage to your eyes.
Large centre knob – The twistable centre knob allows for quick focus adjustments during use.
Dioptric adjustments – The built-in dioptric correction will adjust according to the need of your eye sight.
Heavy duty – These binoculars are heavy duty and with the added bonus of the rubber armoured coating you can be sure these binoculars will last you a lifetime.
Porro Prism – The porro prism technology implemented into these binoculars will guarantee you crisp viewing no matter what you are observing.
Great field of view – The Olympus DPS I 8-16×40 boasts a massive 143 metre field of view at 1000 metres which is one of the best around – with a near focus of 10 metres.
Tripod compatible – These binoculars can sometimes get a little heavy on the arm which is why it is tripod compatible. Most standard tripods will fit with design nicely.
In terms of features and durability you will not get a better product for the price, and the fact this product comes with zoom technology gives its users a variety of activities to observe. You may already own a set of higher-end binoculars and you may be looking to add a second pair that is good for rough terrain use, and these Olympus DPS I Binoculars are perfect for just that – with the rubber armour it provides on the outside prevents these binoculars from taking any damage from any potential knocks and drops.
Summary
Features: Zooming capabilities – Porro Prism – Rubber armour
Pricing: Affordable
Sale