Olympus 10x50 Binoculars
The Product Below May Be Currently Unavailable, 

Our recommended alternative is The Olympus 10 x 50 S Standard Binoculars!
Recommended Alternative
Lightweight
Ergonomic Design
Special elastic polymer coating for anti-slip grip
High Optical Performance
Wide Field of View
Old binoculars are always worth keeping even when they break or go out of date, as they will always give their users memories of all the great sights they have seen thanks to them. Unfortunately for binoculars, they do get old, and they do get out dated, so much so that they can't compete anymore because there are better "tools" out there. If you are ready to say goodbye to your old set of binoculars, you may want to have a look at the Olympus 10x50 Binoculars for your next purchase (CHECK PRICE!). The Olympus has been on the market for a while now and has been touted as one of the best set of binoculars for general purpose activities when it comes to affordable binoculars.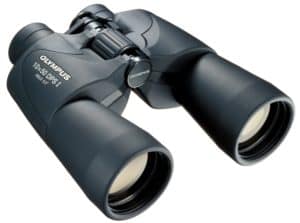 This particular set of binoculars were manufactured by the popular Japanese brand Olympus so you know you are going to get a product that is going to last. They have been producing great quality products since 1919 so they know a thing or two when it comes to providing a set of binoculars for their consumers to enjoy. With the price in mind, these binoculars are probably one of the cheapest in the industry especially seeing as it comes with all the features a lot of the mid-range binoculars come with as well.
Have a look at a few of the features the Olympus 10x50 Binoculars provide:
Suitable for night viewing – The massive 50mm lenses is perfect for those night goers as it lets a lot more light in than a set of binoculars with smaller lenses does – and it still provides a quality clear view.
Great field of view – The 10x magnification and the 50mm lenses provide a good sized 114 metres field of view with an angle view of 65 degrees.
Heavy duty – These binoculars consist of 855 grams in weight so they are definitely built to last, but not recommended to use for hours without a tripod.
Porro Prism – The Porro Prism technology will ensure crisper clear views than its Roof Prism rivals.
General purpose binoculars – These binoculars were manufactured to be used for a variety of purposes so no matter what interests you in terms of observation you can be sure you will get a great experience from these binoculars. The only activities these aren't recommended for are astronomy and indoor views like being at the theatre.
25 year warranty – The 25 year European warranty will give you a lot of confidence when purchasing these binoculars. For the price these binoculars come at is worth the warranty price alone.
Rubber grip – The rubber coating on these binoculars will ensure you have a firm grip of them at all times.
UV protected – These binoculars are UV protected so your eyes will always be safe during sunny observations.
Single coated lenses – The single coated lenses will provide extra brightness and clarity.
Aspherical optics – The aspherical optics will provide its users with a distortion-free view of their surroundings.
These binoculars are simply amazing for the price they go for, and are probably one of the cheapest binoculars out there that can still provide high quality views for their users. If you are just starting out with binoculars and you don't typically have a lot of experience in using them, these would make a great first set because they have a lot of features but still provide that basic element for new users. The 25 year guarantee alone makes these binoculars worth purchasing because you know you are not only buying from a brand you can trust but you are also guaranteed a replacement should anything go wrong with it that is out of your control.
Summary
Features: UV Protection – 25 Year Guarantee – Single coated lenses for brighter observations
Pricing: Affordable
Recommended Alternative
Lightweight
Ergonomic Design
Special elastic polymer coating for anti-slip grip
High Optical Performance
Wide Field of View