Product
Our Top Choice
Most Lightweight
Great Value
Title
Celestron 71009 SkyMaster

Prisms
BaK-4 with Phase Correction
Our Top Choice
Product
Title
Celestron 71009 SkyMaster

Most Lightweight
Product
Prisms
BaK-4 with Phase Correction
Great Value
Product
The Best Binoculars Under £100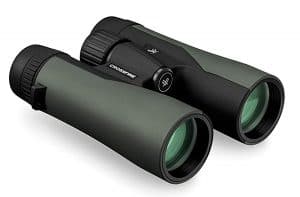 How good of a binocular can you get for £100? As it turns out, the options are quite impressive! In this article we're going to take a look at the most attractive binoculars in this price range and help you decide on which one to buy.
Binoculars in this price range come in a variety of shapes and sizes. We have narrowed them down to a few models that have the best quality for the price, but the final decision must be made on the basis of your personal constraints.
One important principle to remember is that larger binoculars gather more light and magnify more, so you should usually get the largest binoculars that you can deal with.
But smaller binoculars generally give a wider, steadier view. Also, larger binoculars are not only bulkier to carry around, but they can be tiresome upon the arms. Trying binoculars out in a store is recommended so that you can get a sense of what works best for you.
Another important issue to keep in mind is the relation between the size of your eye's pupil and the exit pupil of the binoculars.
The exit pupil is calculated by dividing aperture by magnification, so a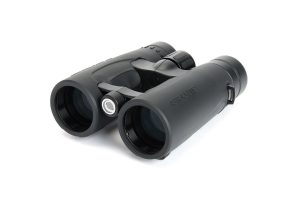 10×50 binocular has a 5mm exit pupil. However, cheap binoculars frequently have undersized prisms and less effective aperture than advertised, so a "10×50" binocular is probably something like a 10×46 with a 4.6mm exit pupil.
If the exit pupil is too large for your eye, then light will be wasted. If you have a 3mm pupil and use those 10×50 binoculars, their image will only be as bright as the image from a 10×30.
The size of your pupil depends on three things: age, light conditions, and variations from person to person.
Older people have smaller pupils than younger people, and all of us have larger pupils at night. The youngest children have pupils of 9mm at night and 5mm in daytime. The oldest people have pupils of 5mm at night and 2.5mm in daytime. Most people are squarely in between.
But these numbers are only averages, so the ideal method is to measure your pupil and select a binocular size accordingly.
A separate advantage of a wider exit pupil is that the image is easier to align with your eyes. If you are planning to use the binocular while moving, for instance on a boat, then a wide exit pupil is preferred.
Our List
3. Nikon Aculon A211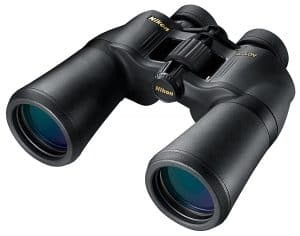 The Aculon A211 series gets our award for being the best general purpose full-sized sub-£100 binocular. It really is that simple.
Why? The Aculons have excellent optical quality for their price. One reason for this is their prism design. As can be noted by their traditional, angular design, the Aculons use the porro prism design, which provides brighter and clearer images at a lower price point than more compact roof prism alternatives. They also have an aspheric lens element, which means the surface was designed by computer optimization to minimize distortion.
The optics are only partially multicoated, but the Aculons still have an advantage over other binoculars. Users consistently praise their performance; the Aculon has a long and robust track record of great reviews from consumers and professionals alike.
The one downside of the Aculon series is that they generally have tight eye relief. 11-12mm eye relief is certainly usable for people who view without eyeglasses, but it's not entirely comfortable. Testing them out (or other binoculars with similar eye relief) in a store will give you an impression of how well you can handle them.
The only question that remains is, what version do you want to get?

12×50 
The 12x magnification of this model lets you see more detail, but it also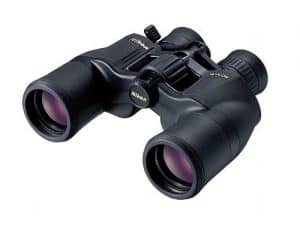 makes it more difficult to hold steady. It is certainly possible, but you may be better served by the steadier images of the 10x model. Trying out binoculars at a store is recommended so that you can see what magnification works best for you.
The higher magnification also leads to a relatively small field of view – 5.2 degrees. Finally, images will be somewhat dim under dark skies because its exit pupil is small. For this reason, we do not recommend these binoculars for astronomy or other nighttime use.
But in the daytime, our pupils are often smaller still, which means that the extra magnification does not dim the image and the 12×50 is a more solid choice.

10×50 
10×50 is probably the single most popular size of binocular on the market, because it is the largest, most powerful size that is universally considered to be hand-holdable. The 6.5 degree field of view is relatively wide, and the reasonably wide exit pupil means that it holds a bright image even in dark conditions.

7×50 
The 7×50 Aculons have only the same field of view as the 10x50s despite their lower magnification, which is disappointing. Their main advantages are twofold: steadier views, and brighter views for nighttime use. However, many older users never reach 7mm pupil size even at night.
Therefore, we mainly recommend the 7×50 for middle-aged and younger users who primarily intend to use the binoculars at night, as well as anyone who needs a wide pupil for ease of use while moving.
Another nice advantage of the 7×50 over other Aculon models is its longer eye relief – 18mm. This makes it usable with eyeglasses if you have major astigmatism or just prefer the convenience of keeping your glasses on.
However, if you have narrow pupils as well as astigmatism then you will probably be better off with the smaller, more portable, wider-field Tom Lock Series 2 8×42, because the 50mm objectives on the A211 will be unnecessarily large and waste light.

8×42 
By stepping down to the 42mm size, you reduce the weight (0.76kg as opposed to 0.91kg), get a slightly smaller package, and save a little money. The tradeoff is that the lenses only gather 71% as much light.
However, with their 5mm exit pupil and lower magnification, the 8x42s function as a downsized version of the 10x50s in terms of being versatile and useful for nighttime use. They have a wider 8-degree field of view though of course they will show less detail.
If the 10x50s are too heavy or shaky for you, or you need a wider field of view, then the 8×42 is our recommendation.

7×35 
The compact 7×35 binoculars again have a 5mm exit pupil for reasonably bright images, but the lowest magnification and the widest field of view (9.3 degrees) make for a particularly pleasant viewing experience. The difference between the 7x35s and the 8x42s is just like the difference between the 8x42s and the 10x50s.
These binoculars are also a good choice for children because of their light weight and low magnification.

2. Tom Lock Series 2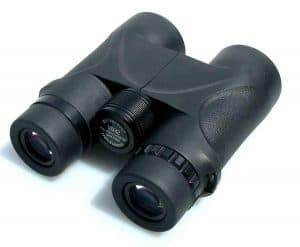 The Tom Lock brand sells a solid line of 42mm roof prism binoculars with excellent features for their price point.
Low-priced roof prism binoculars typically constitute a sacrifice of quality for the sake of compactness. However, the Series 2 binoculars have silver-coated prisms with phase correction coatings and fully multicoated optics. Phase correction is a very rare thing on a sub-£100 binocular.
The proof is in the pudding as users find that the Series 2 produces sharp, clear images with less edge distortion than you would expect on an entry level binocular.
These binoculars are also waterproof, and they are filled with nitrogen to prevent internal fogging in cold environments. These features are critical for many rough outdoor applications. The general mechanical quality is high, with a slow smooth focuser and full rubber armouring.
Not only are their paper specifications impressive, but their quality control seems to be very good too – better than the slightly cheaper Outland X series sold by Celestron.
So, while we would rather recommend the Aculon A211 for someone who has no need for compactness, waterproofing and fogproofing, the Tom Lock Series 2 holds its own very well for anyone who has any need for these things.

10×42 
The 10×42 model gives good magnification with a fairly average 5.8 degree field of view. It is a good size for general purpose daytime use, although its 14mm eye relief is insufficient for use with eyeglasses.7

8×42 
Nighttime and twilight users will benefit from the brighter images of the 8×42 model, and some users will prefer the wide 7.4 degree field as well as its steadier image even in the daytime. Its eye relief is pretty comfortable at 17.5mm, so this is a good choice for eyeglass wearers.

1. Celestron Skymaster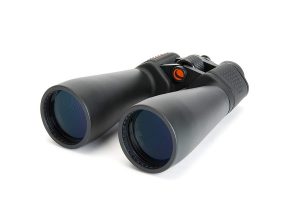 For long range observation and astronomy, aperture rules. So it's no surprise that Celestron's Skymaster line of affordable large binoculars are good options for anyone who wants to do more serious astronomy and surveillance on a budget.
Such large cheap binoculars are always far from perfect; the Skymasters don't have great optical quality. They suffer from significantly undersized prisms which cut the effective aperture down below the advertised number, and the images are not particularly sharp. Celestron also has spotty quality control; many pairs ship with miscollimated prisms.
However, the extra aperture and power will generally more than make up for these things.

15×70 
This is a lot of binocular for the price! With their large 70mm objective lenses and powerful 15x magnification, these Skymasters are quite difficult to hold. And their small field of view makes them less versatile for watching large spectacles such as sports games. They are only recommended if you have a good tripod or monopod to put them on.
But if you do, they will systematically outclass comparable 50mm binoculars by virtue of their size. At 15x, the Moon becomes large enough to show many craters and other features on its landscape, and night sky objects such as star clusters and nebulae start to show detail.
For terrestrial purposes, the extra magnification puts you significantly closer to the subject of your viewing, and the aperture is large enough to keep the image bright.
Celestron also offers a 25×70 model, which we don't recommend because it pushes magnification too far for the aperture and quality of the optics.

12×60 
The 12×60 version is a viable option if you want oversized binoculars that are more feasible to handhold. The improvement over 10x50s is much more modest, but still present and noticeable.
Observing from a seated position or resting your elbows on a table can be very helpful for steadying the view, so they are a good size for home observation and astronomy without a proper mount.
We wouldn't recommend these for general purpose handholding, but if you get a chance to try out similar sized binoculars then you may find that they work well enough for you.