Bushnell H20 Roof Prism Binoculars
The Bushnell brand has been around for over 65 years when it comes to sporting optics and has produced a variety of products in different industries. So if you are looking for a set of binoculars that can provide you with great views of some of the most picturesque environments or a detailed look at wildlife, the Bushnell H20 Roof Prism Binoculars should definitely be considered. The Bushnell H20 (Check Price on Amazon!) was designed with a roof prism which provides more durability to the binoculars as a whole, and of course still provides great optical quality. (Check Price on Ebay!)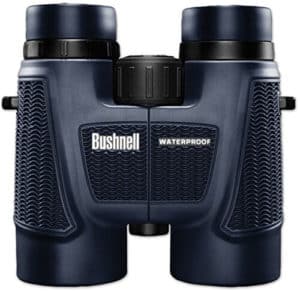 The Bushnell H20 comes 100% waterproof so it is ready to be used in the wettest conditions and is also very much fog-proof for those early morning adventures. Here are a few of the many features the Bushnell H20 is able to provide its consumers:
BaK-4 Prisms – Better glass optics for clean and crisp viewing. A lot of binoculars come with BK-7 prisms which don't provide the anti-reflective coatings, nor is the quality of glass as good as the BaK-4 prisms.
Focus knob – The focus knob on top of the binoculars provides easy focus adjustments during use.
Twist-up eyecups – The twist-up eyecups provide users with longer eye relief, so it caters for people who wear glasses and contact lenses.
Multi-coated optics – The glass optics are multi-coated which provides and even crisper view for its users.
100% waterproof – The binoculars are 100% waterproof thanks to being O-ring sealed and nitrogen purged for reliable fog-free viewing.
Shock absorber and easy grip – These binoculars use special rubber armour which provides the user with an easy grip on the binoculars during challenging situations. The coating also absorbs shock which will help prevent users from dropping it if knocked.
Close focus viewing – You will be able to see objects clearly from as little as 3.6 metres thanks to its close focus technology.
Lightweight – These binoculars may use the Roof Prism design which is usually heavier than the Porro Prisms, but is still very lightweight at only 709 grams, so you can be sure these binoculars aren't going to hold you back.
Accessories – The binoculars come with the strap and carry case which is even more reason to purchase these binoculars. The binoculars are also complimented with a set of lens covers which will protect the lenses from any potential damage when carrying these around your neck in rough terrain.
Solid design – A lot of Porro Prism based binoculars offer great quality viewing practises in mind but a lot of them don't provide a design that is durable and robust – luckily this design uses a Roof Prism design so you can guarantee these binoculars are going to last and still retain the quality optical views in the process.
These binoculars have been around since 2007 and are still one of the most popular binoculars around thanks to their ability to be used in a wide range of activities. Their 10x power means they can provide a great close up of any wildlife and with their BaK-4 prisms means it will provide a crystal clear view of anything in its field of view. If you are looking for a set of binoculars that isn't going to cost you an arm and a leg then these Bushnell H20 will definitely give you the clear view experience you've been looking for. If you still aren't too sure, have a look at the thousands of positive reviews from customers all over the world have said about the product and the many features it offers.
Summary
Features: Shock absorber – Multi-coated optics – BaK-4 Prisms
Pricing: Mid-Range
100 Percent waterproof - the H20 Series Bushnell is made to withstand the most adverse conditions (O ring sealed and nitrogen purged for reliable, fog free performance)
Extreme ruggedness - the sturdy body with tough coating makes these binoculars the perfect companion. The anti-slip coating provides a secure grip even in rain or snow
Multi-coated lenses - ensure maximum light transmission, brightness and outstanding image sharpness with natural colour rendition
Large center focus knob for easy adjustments
Twist up eyecups included
Check our some of our other popular reviews of brands;