Product
Top Rated
Most Lightweight
Great Value
Top Rated
Product
Most Lightweight
Product
Great Value
Product
Top 3 Binoculars For Safari And Wildlife
When you want to observe wildlife in its natural environment, the right pair of binoculars is crucial. Whether its birdwatching or participating in a safari, the need to maintain distance, yet still obtain a good view, makes binoculars valuable.
Binoculars, as a whole, can be used for various means, yet there are a number of options tailored for use on safari or for viewing wildlife in general. Here are 3 of the best products currently available.
Steiner Safari Ultrasharp 10×26 Review – Our Number 1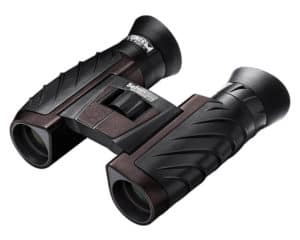 These Steiner Safari Ultrasharp Binoculars are a great, compact pair of binoculars that have plenty of practical uses, proving especially useful when observing wildlife (CHECK PRICE!). Let's take a look at its more unique properties:
With a 26mm diameter, these wide lenses let in plenty of light, which is ideal for making the most of natural environments.
As far as zoom is concerned, these binoculars have 10 levels of magnification. This is pretty deep level of magnification, making this binoculars great for observing from a distance.
The fast focus controls are a welcome touch. You just need to use one dial in the middle of the binoculars to adjust.
The binoculars also come with a carry case, letting you store them safely when not in active use.
Likewise, the strap is a welcome feature. When you're close to nature, having them around your neck is makes them much easier to grab and use, rather than having to use the carry case.
As far as size goes, this is a rather light and compact model, despite its wide lens diameter. At just 11.6 x 4.6 x 12cm, there are no problems carrying these around.
They're also rather light, too, at just 295g for the actual binoculars.
Despite their small size, these devices offer plenty of depth, which is great for observing even smaller animals (such as birds) at a distance. Supported by fast focus features and a broad lens, these are the kind of binoculars you want within easy reach when outside.
Summary
Features: 10×26 – 11.6 x 4.6 x 12cm – 295g – Fast Focus Controls – Carry Case – Strap
Pricing: Mid-Range

Steiner Safari Ultrasharp 8×22 Review – Number 2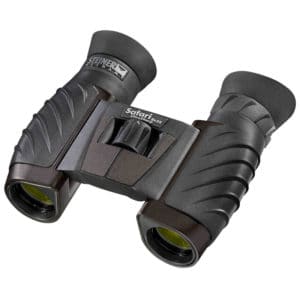 These Steiner Safari Ultrasharp Binoculars are similar to the previous model, this time using an 8×22 model. Despite their smaller size, this product still has a lot to offer. It's noteworthy features include:
The 22mm diameter offers a decent amount of light, aided by high contrast optics to ensure a clear image.
This is supported with 8 levels of magnification. This ensures great visibility over long distances and the ability to pick out details across this range.
Fast focus controls are also available here, offering a quick dial to adjust the focus.
As far as storage goes, these binoculars also come with their own carry case, which is always useful.
The strap, similarly, has its uses and certainly proves useful when watching wildlife.
Thanks to its smaller diameter, this is a very slim model. It's dimensional size is just 11 x 4.8 x 10.3cm, so you'll have no problem carrying it around.
Of course, it also weighs very little. On its own, it is just 227g.
One of the big benefits of this model is that it is even smaller. This is great for fitting in your pockets, giving you a great pair of binoculars that don't slow you down when walking from place to place.
Summary
Features: 8×22 – 11 x 4.8 x 10.3cm  – 227g – Fast Focus Controls – Carry Case – Strap
Pricing: Mid-Range

Olympus 8 x 40 DPSI Review – Number 3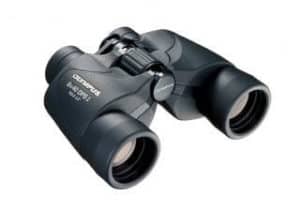 A standard model, the Olympus DPSI Binocular product offers a wide lens and a great, ergonomic design. Here's what else this option has to provide you:
With a 40mm diameter, the lenses on these binoculars let in great amounts of light, offering clear, vibrant images.
Similarly, with 8 levels of magnification, this device offers great viewing distances, maintaining a clear focus.
The wide-angle view field is also appreciated. This allows you to keep a greater range of view within your scope. Perfect for sudden movements!
On this model, the angle of view is an impressive 65.6° – at 1000 m distance, you can effectively take-in 143m in one viewing!
The lenses also come with anti-reflective properties, helping to prevent the sun from disturbing your view.
A strap is also included, giving you an easy way to keep the items close at hand.
Despite being a standard size binocular model, this item is still reasonably small at just 5.8 x 18.2 x 13.9cm.
It's also not that heavy, either, weighing in at 712g.
Despite being larger, the vision capabilities of these binoculars will make them popular with many people. With great depth and a great width of vision, this is a fantastic option for people who want to stay in one spot and take all of the wilderness in.
Summary
Features: 8×40 – Wide Angle Vision – 5.8 x 18.2 x 13.9cm – 712g – Strap
Pricing: Affordable

Verdict
Clearly, there are some truly fantastic binoculars available right now. However, after looking at the very best options, the number one position on this list clearly belongs to the Steiner Safari Ultrasharp 10×26 Binoculars. This device has a high level of magnification, a wide lens diameter for light and, somehow, still offers a compact design that adds to the practicality. When you're watching nature on the go, you need something portable and easy to use, which is exactly what the Steiner Safari Ultrasharp provides.