Product Title
Product Title
Sunagor 30-160x70 BCF Mega Zoom Binoculars
Nikon BAA707AA Travelite EX 12x25 Binoculars
Celestron 71018 SkyMaster 20 x 80 Binocular
Brand
Brand
Sunagor
Nikon
Celestron
Maximum Magnification
Maximum Magnification
160x
7-10x
16x
Lens Diameter
Lens Diameter
70mm
25mm
80mm
Eye Relief
Eye Relief
13 mm
15.9 mm
18mm
Prism Type
Prism Type
Bak 4 Prism
Porro prism
BAK-4
Exit Pupil
Exit Pupil
2.3 – 0.4mm
3.1mm
4 mm
Field of View at 1,000m
Field of View at 1,000m
43 m
110m
65m
Weight
Weight
1.4 kg
355g
2.66 kg
Dimensions
Dimensions
24.89 x 19.81 x 7.87 cm
100 x 116mm
30.48 x 17.78 x 40.64 cm
Waterproof/Fog Free
Waterproof/Fog Free
N/A
Yes
Yes
Tripod Adaptable
Tripod Adaptable
Yes
N/A
Yes
Top 3 Binoculars On The Market For Under £300
When it comes to buying binoculars, there are more than a few options to choose from. However, if you know where to look, you can find a great option with high quality features at any price range.
Here, we will look at the top 3 binoculars under £300. Despite the low price, many of these models offer a professional level experience. Let's see what each one is capable of.
Sunagor BCF Mega Zoom Review - Our Number 1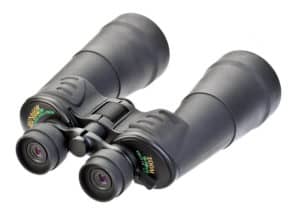 As the name might suggest, the Sunagor BCF Mega Zoom binoculars are built around offering a clear image with some very high magnification levels (CHECK PRICE!). Yet that isn't all this device offers, as it actually features a robust, all-round design. It's other unique properties include:
The biggest selling point here is the full range of magnification offered by these binoculars, ranging from 30 to 160 levels of magnification.
This is supported by a wide lens with a 70mm diameter. Perfect for letting plenty of natural light in!
Despite the complex magnification levels, this is all controlled by a single lever, allowing you to get the right magnification with ease.
Although its a standard size model, this isn't too large, either. At 24.9 x 19.8 x 7.9 cm, this is small enough to hold with ease.
These binoculars also come with a padded case for extra protection and storage when not in use.
Likewise, the neck strap is useful for when you're on the move and want to keep the binoculars close by.
Alongside this, the lens covers offer a way to protect the vulnerable part of the binoculars when not in use.
The tripod adaptor is also a welcome touch, for when you want to use further camera equipment with the device.
As you can see, there are a lot of practical inclusions that make this a very competitive item. While it has some great zoom qualities, the ability to scale back down to 30x means that it's own unique features don't become a problem when you want to view something a little closer. It's well thought out strategies like this that make the Mega Zoom a great choice.
Summary
Features: 30-160x70 - 24.9 x 19.8 x 7.9cm – 1.4kg - Full Zoom Lever - Case – Neck Strap – Lens Covers – Cleaning Cloth – Tripod Adaptor
Pricing: High-End
_____________________________
The Product Below May Be Currently Unavailable,
Our recommended alternative is The Nikon Travelite Binoculars!
Recommended Alternative
Waterproof (up to 2m for 5 minutes) and fog-free with nitrogen gas
Aspherical eyepiece lens eliminates image distortion
High-eyepoint design provides a clear field of view for those who wear eyeglasses
Multilayer-coated lenses for brighter images
Turn-and-slide rubber eyecups facilitate easy positioning of eyes at the correct eyepoint
Nikon Travelite Ex Review - Number 2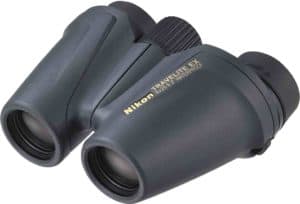 The Nikon Travelite Ex is designed to offer a simple, compact option that is easy to carry, yet offers the detail and sophistication you would expect from a luxury, standard model. Let's look at its best features.
With 9 levels of magnification, this can offer some great depth and the ability to pick out details across vast distances.
At 1000 metres, you can look at up to 91 metres of detail.
This great field of view is supported by a 25 mm lens diameter, which is great for a variety of environments and lighting conditions.
These binoculars are also waterproof for 5 minutes in depths of up to 2 metres. This is great for when you accidentally drop them in water.
Similarly, the internal components are designed to be fog free, ensuring you always have clear vision.
The kit also comes with a carrying case, making it easier to use these binoculars on the move, as well as to store.
Likewise, the neck strap is useful for when you want to keep your binoculars close at hand.
These are a great pair of binoculars, and the offer some fantastic features in a small, lightweight design. With extra practicality, such as the fog and waterproof features, included, this product has considered a variety of possibilities, making them useful in various situations.
Summary
Features: 9x25 - 10.1 x 11.6cm – 358g - Waterproof – Fog Free – Case – Neck Strap
Pricing: Affordable
Celestron Skymaster Review - Number 3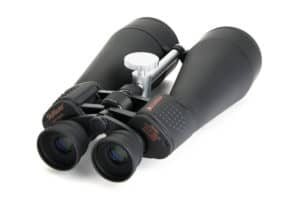 The Celestron Skymaster binoculars offer a great level of magnification, combined with some extraordinary light conditions. Great for both day and night, these binoculars are fantastic for people who want to view vast landscapes and still pick out all the relevant details.
These binoculars offer a great level of depth, with 20 levels of magnification. Even long distances still offer fantastic levels of detail.
Similarly, the 80 mm diameter ensures great light exposure. This also makes these particular binoculars rather effective at night.
The device also has a built in tripod adaptor, so it can be easily fitted onto a tripod for stationary viewing experiences.
Despite its large lens diameter, the binoculars are smaller than you would expect, with a size of just 30.5 x 17.8 x 40.6 cm.
The kit also comes with a case to protect and store the item.
Similarly, the strap is always useful when you want to carry it on your person.
The lens covers offer extra protection, keeping the large lenses safe.
There are many features here, but its the large lens that will appeal to most users. Being able to use this device in a low light setting, where many other binoculars may fail, is one of the product's biggest features.
Summary
Features: 20x80 - 30.5 x 17.8 x 40.6cm – 2.7kg – Tripod Adaptor – Case – Neck Strap – Lens Covers
Pricing: Affordable
Verdict
From this list, it's clear that you can get the perfect pair of binoculars for under £300, without having to sacrifice quality or efficiency. Yet, when comparing the options in more detail, it's impossible to argue with the  Sunagor BCF Mega Zoom binoculars. This device offers so many unique features, including being able to change the zoom level, that it has earned the top position on this list.
Editor's Choice
The world's most powerful binoculars
High quality multi coated optics with BAK-4 prisms complimented by rubber armoured body
Sliding zoom lever for instant zooming and centre focus knob for quick sharp focusing
Built-in dioptric eyepiece correction to suit individual eyesight
Magnification: 30x - 160x
Lens type: Eco Glass