Eschenbach Sektor F 10x25 B Compact+ Binoculars
The Eschenbach brand has been serving the optical community for well over 100 years now and has established itself as one of the top binocular manufacturers in the world. They cater for a lot of industries and their products have been known to provide the best observations in crystal clean viewing across a variety of means. If you have a big interest in binoculars because you like to observe things from a distance, the Eschenbach Sektor F 10x25 B Compact+ Binoculars (CHECK PRICE!) could be the product you are looking for. It has many features that will provide you with a great experience from a distance and no matter what you are observing, you can be sure you are going to enjoy your time with these binoculars.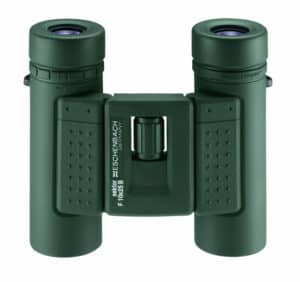 The Sektor F 10x25 B Compact+ is very lightweight thanks to its compact design and small lenses so no matter where you take it on your travels it's not going to slow you down. Many consumers have turned their nose up at the design because they feel it's too small and doesn't possess enough quality, but you can be sure it offers everything a good set of binoculars should and the quality it provides is second-to-none. Here are a few of the many features this set provides:
Set of accessories – When you purchase these binoculars you will be happy to know they also come with a high quality case, and a strap to go around the neck to keep the binoculars within arm's reach at all times. A handy set of dust proof protection caps is also included with the purchase.
Waterproof – These binoculars are great for the wet weather because they can be submerged in 1 metre of water for up to 3 minutes thanks to the fact it's filled with nitrogen which prevents any water from entering.
Wide-angle lens – The wide-angle lens these binoculars possess will allow 114 metre diameter field of view at a distance of 1000 metres.
Folding binoculars – These binoculars fold up nicely which makes them even more compact and stronger during hiking so they won't get damaged.
Rotatable eye pieces – If you wear glasses you will be happy to know these binoculars have rotatable eye pieces so you can adjust them to suit your glass wearing needs.
BAK-4 Prisms – The phase-corrected BAK-4 Prisms possess fully multi-coated lenses to provide an even clearer viewing experience.
Shock resistant – The Sektor range is built around a polycarbonate and magnesium body so you can be guaranteed you are going to have a shock resistant set of binoculars that are strong and long-lasting.
Lightweight – If you enjoy hiking and taking a set of binoculars with you, these are very lightweight and only weigh up to 292 grams without the bag, which is perfect for hiking.
Extra-long warranty – Binoculars are expensive products especially if you are looking for a set that is long lasting and possesses great quality. The Eschenbach brand offers 5 years of warranty on their Sektor products which just goes to show how serious they are about providing quality products for their customers.
The Sektor range by Eschenbach is one of the best brands available when it comes to smaller compact binoculars for hiking and rough terrain, and if the 10x25 set isn't what you require, you may want to look at the other sets they offer as they have a variety of sets to cater for everybody's needs. You may want a larger set of binoculars that has bigger lens – if so the 8x56 Sektor might be the set you are looking for, which may be slightly heavier for hiking purposes but the quality will be better.
Summary
Features: Waterproof – Free strap and case – Wide-angle view
Pricing: Mid-Range
[amazon box="B00EYXMV7O" value="star_rating" rating="4.2"]
Check our some of our other popular reviews of brands;