Product Review: All You Need To Know About The Olympus 8x40 DPSI Binoculars
Are You looking for a pair of decent, mid-range binoculars for bird-watching, wildlife gazing, sports, theatrics, hunting and more? Read on to find out all you need to know about the Olympus DPSI binoculars!
Magnifying Amazement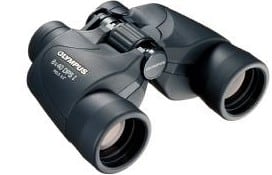 Binoculars come with a pair of numbers, like 7x30 or 8x40, which lets you know how much magnification the binoculars have and how wide the objective lens diameter is in that order.
The Olympus DPSI binoculars (learn more here!) come with 8x magnification. This means they make your subjects appear 8 times closer than they would be with the naked eye.
Unless you're using the binoculars for hunting, astronomy or the theatre, you'll be fine with something in the 7-10x magnification range.
Binoculars with magnification powers of 10 or higher tend to magnify hand movements, so the smallest twitch or tiniest slip can completely ruin your focus. (Check on Ebay!)
See More
Your binoculars field of view, measured in degrees, refers to how wide your binocular image will be.
People who want to follow fast moving objects, observe wild animals or natural wonders, or who are using the binoculars to hunt, will want a larger field of view so they don't miss their subjects.
The Olympus DPSI binoculars comes with a 65-degree field of vision, which will give you a wider as well as further image for a more authentic view.
Protect Your Eyes
It's important to protect your eyes, but it's easy to forget during long sessions out in nature with your binoculars.
The sun can be deceptively harmful and the last thing you want to do is damage your vision. Luckily, the Olympus DPSI binoculars come with ingrained UV protection which will shield your eyes from the sun's rays to protect them from damage.
Binoculars with Aspherical Optics
Aspherical optics are used to reduce distortion in the lens to give you a clearer, more accurate picture.
Ideal for bird watching, the Olympus DPIS comes with aspherical optics for a better view.
Durable Body
Any decent binoculars will be durable, firm and long lasting.
The Olympus DPS binoculars come with a sure-grip rubber coating which minimises slipping concerns, while the body was built to last and can withstand a bit of rough and tumble.
Binoculars With Centre-Focus Knob
Most decent binoculars these days come with a centre-focus knob which lets you adjust the focus for both eyes a t the same time.
The Olympus DPS, being a very decent model, comes with a large, easy to use centre-focus knob which will give you the perfect focus in seconds.
Adjusts To Your Eyesight
Our eyesight can vary from eye to eye, which means the settings that show a perfectly focused image in one eye can lead to a blurry, distorted nightmare in the other.
The Olympus DPS binoculars comes with a built-in dioptric correction adjuster which will let you manually adjust the focus for each individual eye, letting you achieve the perfect level of focus for your individual eyesight.
Summary
Features: 8x Magnification – 60 Degree Vision – UV Protection – Aspherical Optics – Durable – Rubber Grip – Centre Focus Wheel – Dioptric Correction.
Pricing: Mid-Range.
Check our some of our other popular reviews of brands;