Hawke Endurance ED 10x42 Binoculars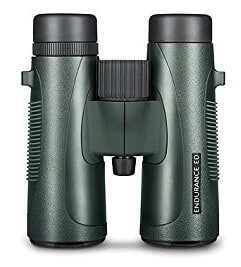 The Hawke brand has been around for over 15 years to date and is very well known when it comes to their binocular products. Hawke specialises in optics for a variety of products such as gun sights, red dot sights, sun shades and plenty of other products – which just goes to show how experienced they are when it comes to building quality optics for binoculars. There are plenty of binoculars provided by hundreds of other manufacturers out there so it's not easy to choose a set especially if you don't know a lot about the products, but if you want to hit the ground running and you're not afraid of putting your hands in your pockets the Hawke Endurance ED 10x42 could be the set of binoculars to suit your needs (Check Price on Amazon!).
The Hawk Endurance range is very well-known to provide clean and crisp views thanks to their stunning optics, and there aren't many other binoculars out there that can compete with its features and price tag. The Hawke Endurance ED 10x42 binoculars are perfect for those bird watchers who seek long range capture, however, the binoculars are also very good for a variety of observations – some consumers even use this set to enjoy their evenings by gazing at the stars. Here are a few of the features the Hawke Endurance ED 10x42 provides:
Waterproof – This product is fully waterproof so you will have no problems using it during the wet seasons. These binoculars are also fog proof so no damage will occur if getting up in the early mornings to capture the birds in the thick fog.
Twist-up eye cups – You will be able to alter the positions of the eye cups to better suit your vision, so if you wear glasses you can alter them in such a way that you will still be able to see through the binoculars as if you were seeing through the naked eye.
Extra-low dispersion glass – The ED glass implemented into these binoculars is what makes these extra special. It will provide the users with an even clearer view through the lenses.
Lens protection – The stay on lens covers are there to prevent the lens from any possible damage.
Close focus – You will be able to use the focus knob with 1.2 turns to view objects cleanly from as little as 2 metres.
Just from looking at a few of the features this Hawke product provides shows why it's at the top of its game and in terms of pricing is able to compete with a lot of binoculars in the same market. If you aren't a bird watcher, this set can be used for a variety of different activities thanks to its 10x power and its good sized lenses of 42mm – which also means they are very lightweight and can be taken on any hikes. Users will be able to see a field of view for up to 101 metres and can even use its close focus settings for at least 2 metre range which gives the binoculars even more things to do. (Check Price on Ebay)
The price of the Hawke Endurance ED 10x42 may put some users off but these binoculars truly are a high-end range product in a mid-range price tag so you will find that not many binoculars out there will be able to compete with this products compact design and features. So even if you are looking for your first set of binoculars or you have a lot of experience in owning them in the past – these binoculars will offer you a great experience.
Summary
Features: Waterproof – ED Glass – Twist-up eye caps
Pricing: Mid-Range
CRISP, CLEAR BRIGHT IMAGES – Extra-Low Dispersion (ED) glass for optimum clarity and light transmission and reduced color fringing
EXTREMELY DETAILED, SHARP VISION – fully multi-coated lenses provide high resolution images in these 10x42 binoculars for adults
WATERPROOF, FOG PROOF AND DURABLE – shock proof housing and a high grip outer. Perfect binoculars for safari, birdwatching, wildlife watching
EFFORTLESS FOCUSING – just 1.2 turns of the focus knob, with close focus from 6.6ft/2m
HAWKE LIFETIME WORLDWIDE WARRANTY – genuine product from the brand leader in affordable, high performance binoculars and spotting scopes
Check our some of our other popular reviews of brands;