Konusrex OH 10x42
If you are a general binocular user you may be interested in the Italian Konus brand. Konus pride themselves on being able to produce quality products for their binocular users and have been doing exactly that since 1979. General binoculars can be used for anything from sightseeing and travelling to bird watching and hunting – the Konusrex OH 10x42 binoculars (Check Price on Amazon!) are a popular set from Konus and they have a variety of uses and it's up to you to use your imagination when it comes to what you observe. One thing is for certain, you will enjoy your experience using the Konusrex OH 10x42 Binoculars thanks to its lightweight design and ease of use. (Check Price on Ebay!)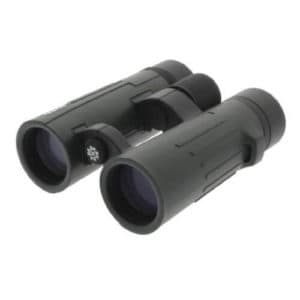 If you are particularly interested in getting an affordable set of binoculars in your hands you may consider looking at these binoculars, they provide everything you need and when compared with some of its competitors provide a much better experience for the price tag. These binoculars are very affordable for those who wish to have a quality brand but are at the same time inexperienced when it comes to using binoculars. Have a look at the following features these binoculars provide:
Waterproof – These Konus Binoculars are waterproof thanks to the gas filled design that prevents any water or condensation from entering. This makes these binoculars fit for all weather use.
Tripod mountable – These binoculars can sometimes be a little bit heavy on the arms because they are heavy duty, but with the addition of a tripod adaptor, these can be mounted on to a variety of standard tripods easily.
Silver mirror coating – With the use of the silver mirror coating treatment these binoculars have had means they can achieve a light transmission of up to 98%.
Fully multi-coated lenses – The fully multi-coated lenses are further complimented with the BAK4 prism technology and phase correction – this provides even clearer lenses.
Multiple accessories – The purchase of these binoculars not only guarantees you a quality product that you can use to observe all your favourite views, but it also comes with a couple of accessories that might tickle your fancy. You will be presented with a very nice carrying bag that will protect your binoculars when not in use. You will also be presented with a couple of other accessories such as a neck strap, objective covers, and lens covers.
Lightweight – These binoculars only weigh 650 grams so you can be sure you will be able to take them on long hikes without them holding you back. Using them for hours on end may be a little difficult but with a tripod stand these are perfect for any outdoor spotting.
Long guarantee – If these binoculars don't suit your needs or they are at fault, then you will be happy to know they come with a 2 year guarantee so you can take them back if they aren't as quality as you expect.
Reasonable field of view – At a 1000 metre range you will be able to see 95 metres field of view which is ample enough to spot and observe anything in great details.
All in all, if you are looking for a quality product from a reliable brand that does everything you need it to and comes at an affordable price, these Konusrex OH 10x42 Binoculars should definitely be considered. There are plenty of reliable reviews from plenty of binocular professionals that believe these are worth much more than the price suggests – so anyone would be foolish not to have a look at these in better detail.
Summary
Features: Waterproof – Full Multi-Coating – Tripod mountable
Pricing: Mid-Range
Phase Corrected And Open Hinge Construction
Fully Multi Coated Optics And Nitrogen Filled And Waterproof
Silver Mirror Coating And Super Light Weight
Check our some of our other popular reviews of brands;