All You Need To Know About The Nikon Sportstar EX 10x25DCF Binoculars
Are you looking for comfortable, clear and durable binoculars which offer both a wide field of view and close focusing? Read on to learn about the Nikon Sportstar EX!
Water-Loving Binoculars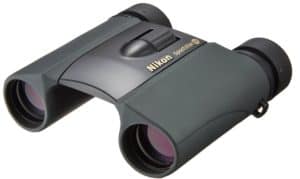 Not sure why you'd want to, but if you do choose to submerge the Nikon Sportstar EX binoculars (learn more here!) in 2m of water they'll be fine for up to 5 minutes.
These binoculars were built to withstand unexpected weather, accidental water bottle leakages and even being dropped in the river, so you won't have to worry about wrapping them in cotton wool.
Fog Be Gone!
The Nikon Sportstar EX binoculars are fog-proof. Utilising Nitrogen gas and O-ring seals, these binoculars stop fog from building up inside the lens. The O-rings prevent dirt and dust from building up on the lens for durable, long lasting use. (Check Price on Ebay)
Magnify The World
The Nikon Sportstar binoculars have 10x magnification, meaning they can make your subjects appear 10 times closer than they would with the naked eye.
You'll need a steady hand, but 10x magnification is a great choice if you're doing a lot of long-distance viewing and if you want to see more details from further away.
Let The Light In!
Featuring 25mm objective lenses diameter, excellent quality roof prisms and multilayer coated lenses, the Nikon Sportstar EX binoculars have been designed to capture and utilise as much light as possible.
The large objective lens is gathers extra light, while the multilayer coating ensures minimum reflection, thus ensuring that you can see bright, vivid images even in bad lighting.
Wide And Close Distance Viewing
The Nikon Sportstar EX has a wide field of view which lets you see more of the area surrounding your subject. A wide field of view is great for watching multiple subjects at the same time, such as wildlife or sports, as well as fast moving objects.
If you want to observe a closer subject in intricate detail, such as a bug or bird, then you'll need good close-focusing distance on your binoculars.
The Nikon SPortstar EX comes with a 3.5m close-focusing distance, allowing you to get an even closer look.
Catering To Your Eyesight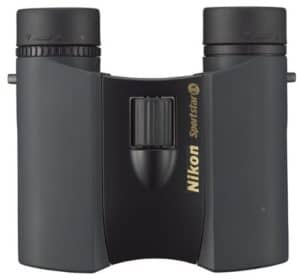 Nikon understands that not all eyes are the same, which is why these binoculars were designed to work with different eye sights and eye needs.
Featuring a twist-type dioptre ring, these binoculars allows you to manually adjust the focus for each eye to give yourself the best overall image.
If you wear glasses, the turn and slide rubber eyecups can be adjusted to accommodate the specs without limiting your vision.
Ultimate Comfort
These ergonomically designed binoculars are covered with rubber armour to give you the firmest grip possible, even in adverse weather.
The central focus wheel is user friendly, nicely positioned for quick use and can be adjusted quickly and easily.
Fold It Up
No one wants to carry a special binocular case all the time because they're model is too big to be slipped into a pocket.
Luckily, the Nikon Sportstar EX binoculars have a fold-up design which allows you to fold the binoculars after use, allowing you to pop them in your pocket for quick and easy transportation.
Safety First
The Nikon Sportstar EX binoculars use eco-friendly glass and they are totally free of lead and arsenic, so you can feel safe in the knowledge that your binoculars were built for the modern age.
Summary
Features: Waterproof – Fogproof – 10x Magnification – 25mm Objective Lens Diameter – Wide Field OF Vision - 3.5mm Close Focusing Distance – Ergonomic Design – Dipotre Ring- Fold-Up Model – Eco Friendly.
Pricing: Mid-Range
Waterproof (up to 2m for 5 minutes) and fog-free with O-ring seals and nitrogen gas for added resistance to the elements
Multilayer-coated lenses deliver superior light transmission for bright, clear images with well-balanced colour
Wide field-of-view and close-focusing distance of only 3.5m
Turn-and-slide rubber eyecups with multi-click system make it easy to position your eye at the correct eyepoint
Eco-glass optics, free of lead and arsenic, are used for all lenses and prisms