Product
Top Rated
Great Value
Eschenbach Farlux F-B Silver

Bushnell 190125 Legend Ultra HD

Celestron 71232 UpClose G2

Coatings
Fully Coated with Phase Correction
Top Rated
Product
Eschenbach Farlux F-B Silver

Coatings
Fully Coated with Phase Correction
Great Value
Product
Bushnell 190125 Legend Ultra HD

Product
Product
Product
Celestron 71232 UpClose G2

Our Top 5 Picks for Pocket Binoculars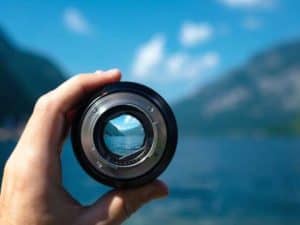 Pocket binoculars are one of the most convenient optical instruments you can buy. They are no substitute for larger, more powerful binoculars, but they are a highly portable complement.
You do not need to do any planning or worry about your gear setup to make room for them on your next excursion – you can immediately toss them into your pocket or backpack or glove compartment, and their small size ensures that you can place them somewhere where they will be readily accessible.
You can even carry them with you on a daily basis, and they'll always be there in case you ever want to take a closer look at anything.
They are ideal for bringing to events such as sports games and concerts because they will fit into the pockets of urban clothing. Hikers and backpackers will appreciate their light weight. They also make great gifts.
The compactness of pocket binoculars uk comes not only from their smaller lenses, but also from their typical dual-hinged construction. Each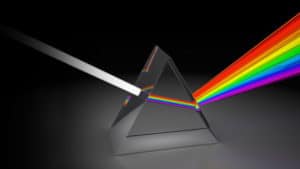 ocular assembly can separately fold underneath the center bridge. This enables them to fit in much smaller spaces than their midsized counterparts. Their main drawback is their smaller lenses, which render them less useful for observation in low light conditions.
However, high quality designs with full multicoatings and well-made prisms can help alleviate this problem, enabling expensive models of these small glasses to punch modestly above their weight.
Selecting The Best Pocket Binoculars UK
Selecting a pair of binoculars is best done after making choices about two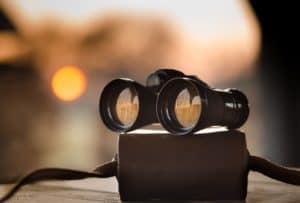 general constraints: size and budget. Once you've decided that you want a pocket binocular, it's time to estimate how much you are willing to pay for one.
As with all classes of binocular, you mostly get what you pay for; hardly any options are seriously overpriced or underpriced. However, as with all consumer products, there are diminishing returns.
The difference between a £50 pair of binoculars and a £150 pair of binoculars is substantial; the difference between a £200 pair and a £300 pair is relatively subtle. If you intend to use your pocket binoculars as a backup for the few occasions where you need binoculars but your larger glasses are too bulky, then it's not important to spend very much on them. But if you plan on taking advantage of their small size to make them a more constant companion on your adventures, then it's worth making a greater investment.
Choosing the Aperture for your Pocket Binoculars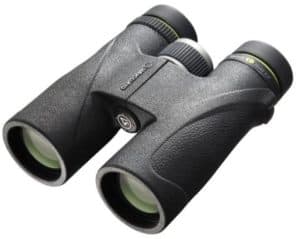 Once you know that you are going to spend a certain budget on a pocket binocular, you must sort through a wide array of offerings at that price point. Start by thinking about the primary optical parameters of a binocular – magnification and aperture. An 8×25 pair has 8x magnification and 25mm wide objective lens.
More aperture is always better, but it generally comes at the cost of both size and price. (Too much aperture can actually be useless when using binoculars for daytime viewing, but with the small lenses of pocket binoculars this is not a significant factor.)
Of course, there is only so much aperture that can possibly fit in a pocket binocular; generally the limit is about 28mm.
Magnification lets you see greater detail, but it comes at the cost of four problems: dimmer views, shakier images, narrower fields of view, and smaller exit pupils. Those who want to view in low-light conditions should select a lower power model, usually 8x. Bright conditions allow for 10-12x magnification in pocket binoculars.
Image shake is experienced differently from person to person. Typically the maximum recommendation for handheld binoculars is 10x, but some people are more comfortable at lower power. Others find that they can handhold adequately at greater magnifications – particularly when they are viewing terrestrial objects, as opposed to looking up at the sky. If you're not sure, go to a sporting goods or optics store and test some out.
Check the Field of View
A wide field of view is most important for viewing extended objects like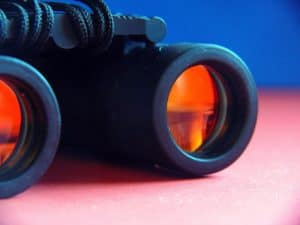 sports games and the Milky Way; studying individual sights such as faraway animals can be done with a narrower field. The width of the field of view is generally listed on binocular specifications with either of two metrics: degrees, or meters at 1000m.
A smaller exit pupil means it will be harder to align your eyes with the image in the eyepieces. If you plan to use the binoculars while moving, a lower magnification with a larger exit pupil is recommended.
Higher quality optics are important for getting the most out of the small lenses on pocket binoculars. At minimum, the optics must be fully coated to minimize light loss from reflection. Multicoated optics are at least slightly better, as at least one of the optical surfaces has multiple layers of antireflection coating. Fully multicoated is the proper standard, with multiple layers on every air-glass surface.
In addition to brightening the image, these coatings also minimize ghost images and maximize contrast. However, there can be significant differences in the quality of coatings from manufacturer to manufacturer; not all coatings are created equal. While some companies advertise special proprietary optical coatings that differ from competitors', the general rule is that you get what you pay for.
Binoculars use prisms to fold the light path into their compact bodies and keep the images upright. Cheap binoculars use BK-7 glass for their prisms; look for options with BaK-4 prisms that provide better light transmission. Most pocket binoculars also use the roof prism design because of its compactness; porro prisms are bulkier but offer better light transmission at a lower cost.
Eyeglass wearers may pay special attention to eye relief, which is the maximum distance you can place your eyes from the eyepieces before the image starts to black out. Pocket binoculars generally have tighter eye relief than larger binoculars, because of the shorter eyepieces that must be made to match the smaller objective lenses. An eye relief of 15mm is the bare minimum for use with eyeglasses; some pocket binoculars meet this standard, at least the more expensive models.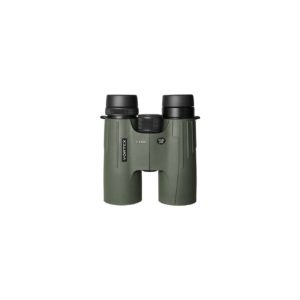 Now, most eyeglass wearers can use binoculars without wearing their glasses, it is usually only a matter of convenience. But even when viewing without eyeglasses, longer eye relief makes for a more comfortable viewing experience.
In addition to these specifications, there are a variety of more subtle optical attributes of a good pair of binoculars. Full-sized prisms provide better light transmission. Internal baffling and darkening minimizes the glare from stray light.
Better optical designs will minimize distortion and aberration. These things are not generally advertised, but the results can be seen when you read proper reviews or when you use the binoculars yourself.
Important mechanical attributes include robust construction, such as metal housings and rubber armouring. Binoculars must not only resist destructive shocks, they must also protect their prisms so that they are not bumped out of alignment by more minor impacts.
Waterproofing and fogproofing are also desirable for numerous binocular applications; if water or fog enter the binocular then it can be temporarily or even permanently disabled. Better binoculars are not only sealed, they go a step further and fill the interior with nitrogen or argon.
If binoculars that lack this feature are used in a cold environment, they are liable to gather internal condensation in whenever they come into contact with heat – a warm interior, or the user's body. This will temporarily render them useless and may require great time and difficulty to fix.
Dimensions of size and weight are important too. However, take specifications on vendor pages with a grain of salt – they sometimes refer to the shipping package or the carrying case for the binocular. Information on the manufacturer website is more reliable, and physically inspecting binoculars at a store is most useful.
The included accessories for binoculars are also a relevant consideration; the case, strap and lens caps can vary in quality or be absent entirely. Personally, I have a great preference for binoculars with tethered lens caps, but unfortunately they are not common on pocket binoculars.
A final aspect of binocular choice is quality control. This is mainly a problem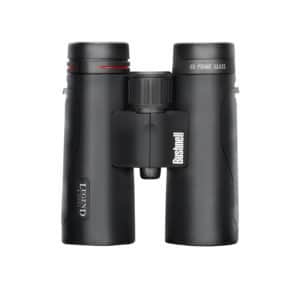 with cheaper binoculars. Buyers may find that their products have serious defects such as loose components and prisms that are badly out of alignment.
These are generally covered under manufacturer warranty, but the process of replacement can be a hassle, and some defects are too subtle to justify it. Aggregated customer reviews on vendor websites such as Amazon provide a good measure of quality control.
With all that in mind, here are our top five selections for binoculars that do the best job of meeting these criteria at their respective price points – in order from best bargain to highest quality.
5. Celestron UpClose G2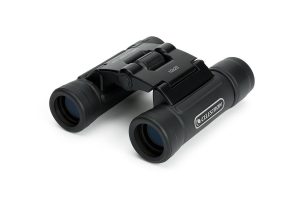 The UpClose G2 series marks the beginning of Celestron's long line of binocular offerings. The 10×25 version is extremely affordable. Even if you also purchase more expensive binoculars, one or two of these can be handy spares to leave in alternate locations for convenience and contingency.
They are also great choices for giving to children, because you won't worry if they get lost or damaged. With multi-coated optics and reasonably wide fields of view, they do the job of any binocular – collect extra light and get you closer to what you want to see.
Reviews are generally very positive and compare favorably to other low budget pocket binoculars. Celestron also offers an even smaller 8×21 model, but reviews suggest major problems with quality control.

4. Celestron Outland X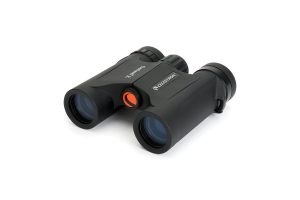 The Outland X series marks the entry point into the realm of "serious" binoculars. With any binoculars at this price range, you can expect general improvements in build quality, optical components, included accessories, and quality control over budget items like the UpClose G2s. But the Outland X line stands out for multiple reasons besides that.
The Celestron Outland X is one of the cheapest binoculars to be waterproofed and nitrogen purged, at a reasonable price for the 8×25 version a little more for the 10×25 version.
Optically, the multicoated 25mm Outland X binoculars have unusually wide fields of view – 8.2 degrees for the 8x model and 6.3 degrees for the 10x model.
They also feature BaK-4 prisms. This combination of features is one of the best at this price point, and naturally their users are generally satisfied.

3. Pentax Papilio II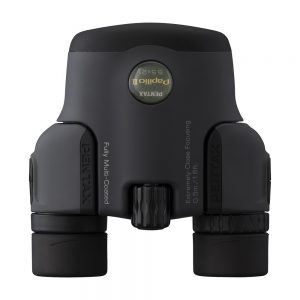 The Papilio II is a unique and fun option in the binocular world. Whereas most binoculars cannot focus to distances of less than three or four meters, the Papilios can focus on objects just half a metre away. This turns them into mini-microscopes that are ideal for watching butterflies and other insects without disturbing them, especially when you make use of the tripod attachment for detailed extended observation.
They also have all sorts of novelty uses, like studying museum artifacts and picking out pixels on a computer screen.
Of course they are also perfectly competent long-distance binoculars in their own right, enjoyed for all kinds of purposes including astronomy. Their BaK4 porro prisms and fully multicoated optics give them better light transmission than other pocket binoculars, offsetting their small 21mm aperture.
They also have a comfortable 15mm of eye relief. Because of these features, 84% of their Amazon reviews grant them a five star rating, one of the best rates out of all pocket binoculars. But they are a little bulkier than other models, and may not fit in small pockets. In addition, their unique focusing mechanism prevents them from being sealed against water and fog.
The Papilio IIs come in two flavours, 6.5x and 8.5x, but the magnification factors reportedly increase to about 8x and 10x (respectively) when they are fully focused in on close objects.

2. Bushnell Legend Ultra HD
This pair is priced at the midpoint of the wide arena of high quality pocket
binoculars with great optics and solid construction. Like almost all offerings at this level, the Legend Ultra HD features waterproofing, nitrogen purging, full multicoatings, and BaK-4 prisms.
But they also have extra-low dispersion (ED) glass to suppress chromatic aberration, 15.5mm of eye relief, and a relatively short two-metre close focus distance. Their weight is a mere 230 grams and their field of view is 5.4 degrees, better than most of their competitors.
These features make them ideal take-anywhere pocket binoculars with no significant shortcomings. They certainly are a solid value, and the price is reasonable enough that it won't stop you from carrying them on risky adventures and routine daily excursions.
Beyond this point, there are significant diminishing returns as pricier binoculars are capable of providing only modest benefits over these glasses. Some users find no significant difference in quality between these binoculars and premium brands. Their only real drawback is that there is no 8×25 version.

1. Eschenbach Farlux F-B Silver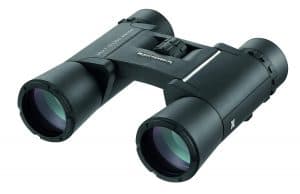 This line from Eschenbach reaches a higher standard of all-round optical and mechanical excellence than cheaper binoculars.
They have all the same features of waterproofing, nitrogen purging, full multicoatings, and BaK-4 prisms as so many others, along with special phase correction coatings that yield sharper, clearer images.
Their standout feature is that, in addition to the 8×24 model, Eschenbach offers a larger 10×28 version which is still pocket-sized with the same dual-hinged design. Because light gathering power is a function of the square of aperture, 28mm lenses gather 25% more light than 25mm lenses.
This means that the Farlux 10×28 is a very attractive, cost-effective alternative to the much pricier 10×25 binoculars sold by top brands such as Leica and Swarovski, without being significantly bulkier.
Their robust build quality and fine appearance also befit their status as high-end binoculars, but they still weigh only 260 grams. Their only downside is their relatively short eye relief (11mm).