Product
Top Rated
Most Lightweight
Great Value
Top Rated
Product
Most Lightweight
Product
Great Value
Product
[product_list cat="Best Childrens Binoculars Reviews 2017 2018″]
Top 3 Kids Binoculars Compared
Kids absolutely love seeing the world in new and interesting ways and a good pair of binoculars, specially designed for children, are ideal for opening their eyes to a fascinating new world of discovery!
What Makes Kid's Binoculars different?
'Grown-up' binoculars can be heavy and unwieldy to small hands and however careful they might be, dropping them can be a very costly mistake. Larger pairs are tricky to use for novices and nothing is more disheartening than blurry or unsteady images. Kid's binoculars are lighter and less fragile and are much more user-friendly.
Features to Look Out For
Size: The larger the lenses, the heavier the binoculars will be. Although larger devices will be more capable, they are no good if the kids can't hold them steady and see for themselves! It's also worth considering how well they will fit their eyes so adjustable binocular barrels are essential.
Magnification: Higher magnification means larger images. For kids, a magnification of no more than 12x is ideal as more will increase the size and weight, not to mention the cost. Besides, when they see their first creepy crawly at anything above 6x magnification they will be no less astonished!
Field of View: The wider the view, the easier it will be for kids to 'zone in' on their target. Lower magnifications increase the field of view proportionately. Imagine the difference between an old TV picture and wide-screen.
Bfull 12×50 Waterproof Folding Binoculars Review – Our Number 1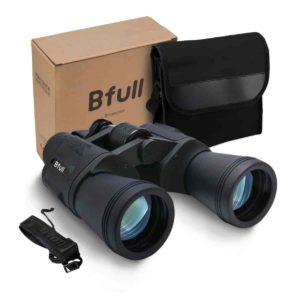 For a serious looking pair of 'binos' that will appeal to kids and teens alike, the Bfull 12×50 (view on Amazon) is worth a good look. At the higher price range, these have many useful features while still being easy enough to use for young explorers on their first adventures.
12×50 magnification. This means the target image is twelve times its original size and the 50mm sized lenses increase visibility in low light.
The barrels are fully adjustable, they will fit small heads easily and can be used by adults too. A good fit means they are comfortable and will provide the best possible view.
Included carrying case for protection, a lanyard for when on-the-go and a cleaning cloth to keep the lenses free of dust and fingerprints.
Soft-rubber coated body means they are easy to hold and hard to drop.
Compatible with a tri-pod enabling longer, patient viewing without getting tired arms.
Waterproof for rainy days.
Replacement lens caps are included.
The Bfull binoculars are sturdy, compact and make for an impressive first pair of binoculars for kids and adults alike. The convenience of their tri-pod compatibility makes hobbies like bird watching and star-gazing a more relaxing activity and remove the risk of dropping them. Kids will be impressed with the large magnification and the larger lenses allow more light for a clearer image. Their black rubber styling combined with their high specifications make these the perfect entry level binoculars.
Summary
Features: Professional styling – 12×50 high magnification – Tripod compatible – Waterproof – Lifetime service
Pricing: High-end
Bresser Junior Children Binoculars 6×21 Review – Number 2
Young children are fascinated by the world around them and these fun looking kid's binoculars will encourage them to see the world around them in a whole new way. The Bresser Junior binoculars are small, light and easy to handle – ideal for exploring the garden and for making tiny things appear humongous! Made in Germany, these are built to last too.
6×21 magnification. The image is six times larger than normal.
Rubber coated exterior improves grip and offers protection if dropped.
Super lightweight construction, weighing only 180g.
Eye-catching green and blue design.
Ideal starter pair for younger children, focussing is simple and intuitive.
Reliable German construction with 5-year warranty
Comes complete with wrist strap in case of drops and protective Velcro carry case.
The Bresser Junior binoculars are great fun to use and are suitable for even very small children, they are light enough to be held one-handed while grabbing a quick snack and are well built enough to withstand short drops without sustaining any damage. These are perfect for examining creepy crawlies at a safe distance or for looking out for rare birds in the trees.
Summary
Features: Fun, colorful design – 6×21 magnification – Easy to use – Great for younger children – 5-year warranty
Pricing: Mid-range
National Geographic 6×21 Child Binocular Review – Number 3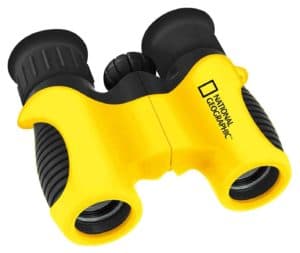 National Geographic have been encouraging exploration and wildlife spotting for many years. Their funky bright yellow binos are great for kids who wish to investigate their environment and see things in ways they never thought possible. Whether bird watching in the back yard or hiking through the countryside these binoculars are fun and functional.
Startling bright yellow and black design, these will not be lost easily
Robust 'kid-proof' construction makes bumps and scrapes nothing to worry about.6×21 magnification.
190g in weight so easy to hold and carry, even for young kids.
Foldable eye-pieces means they can be used with glasses.
Portable carry case, cleaning cloth and wrist strap all included with price.
Easy to use focus wheel.
The National Geographic 6×21 Child Binocular encourage bird watching and nature spotting for kids of all ages and are especially suitable for younger children. They are built with kids in mind and won't break if dropped on the floor. They are comfortable and can be used by kids who need to keep their glasses on too.
Summary
Features: National Geographic endorsed – Eye-catching yellow – 6×21 magnification – Robust construction
Pricing: Mid-range
Verdict
Finding the right pair of kid's binoculars will make it possible to share the simple pleasures of bird-watching, wildlife spotting and stargazing, plus they will have the best views in the house wherever they might be sitting at pop concerts or sporting events too. Quality should not be compromised wherever possible and for this reason, the Bfull 12×50 Waterproof Folding binoculars are the best option.
Their superior magnification and better performance in low-light combined with their durable design make them a powerful tool for kids of all ages and could even serve as a useful back-up set for adults. These binoculars are built to last and would make an excellent gift. They are fully adjustable, essentially waterproof and provide the clearest, brightest image.