If you're a well-seasoned traveller, or your frequently partake in vigorous and exciting outdoor activities, you know the value of a professional, hardy pair of binoculars. Shoddy lenses equal shoddy views, and when you're after nothing but the best, this simply is not going to cut it. If beauty, clarity, and excellence are what you're seeking, then look no further than the Zeiss Victory SF 8×42 binoculars (learn more here!) in shiny, sleek black.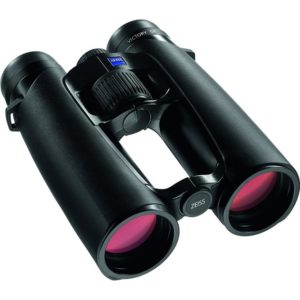 Not only will you be able to see far into the depths of whatever landscape you are traversing, you will also be doing so in style, whilst being confident that the binoculars you hold in your hand are of the finest commercial quality around. Never have you seen the world in as sparkling clarity and colour as you will through Zeiss Victory lenses and believe me when I say that you'll never want to go back.
Go on… see what they're all about. What makes them so great? Once you find out, there will be no stopping you…
148m/1000m field of view to give you the optimal and most expansive viewing experience you'll ever have through binoculars, leaving nothing to hide from your gaze.

Seven-lens eyepiece to ensure the sharpest, crispest focus without any blurring or feathering.

92% transmission rate and 5mm+ exit pupil diameter contributes the ability to see clear views even in dim and darkening light conditions, so you don't miss a thing.

Ergonomic design specially conceived with comfortable and sustained use in mind so there will be no more cutting your exploration short.
With lens quality that boasts unparalleled viewing effect, you'll be glad you made the investment in this product from Zeiss. Victory is within arm's reach, and the possibilities are endless. Enjoy stunning colour and definition in all terrains and lightings and reach new heights with each use. Perfect for the most discerning user, there's no question as to how the Zeiss Victory SF 8×42 binoculars have gathered such acclaim.
Summary
Features: 148m/1000m field of view – Seven-lens eyepiece – 92% transmission rate – Ergonomic design.
Pricing: High-end
Zeiss Victory SF 8x42 Black Binoculars
With a field of view of 148m / 1000m, the 8x magnification offers the widest, most natural view and leaves nothing hidden.
The seven-lens eyepiece delivers extremely sharp focus all the way to the edges.
The moderate magnification, balanced weight distribution and ergonomic grip make these binoculars easy to hold for hours of relaxing viewing.
A transmission rate of 92% and large exit pupil measuring over 5 mm reveal the details in dark shadows or the dim light of dusk.