Product
Top Rated
Great Value
Widest Field of View
Durability
Waterproof (Up to 1m) and Fog proof
Top Rated
Product
Great Value
Product
Durability
Waterproof (Up to 1m) and Fog proof
Widest Field of View
Product
[product_list cat="Vanguard Binoculars1″]
Top 3 Vanguard Binoculars
Established in 1986 as a single manufacture, Vanguard World has morphed into an industry leader in the world of binoculars, sports and photography.
A female-led company, Vanguard has established a worldwide reputation for design concepts created to assist bird watching enthusiasts, sports fans, wildlife watchers and other binocular users in their quest for the perfect view.
If you're looking to purchase a pair of Vanguard binoculars, take a look at our guide to the top 3 models!
Vanguard Endeavor ED II – Our Number 1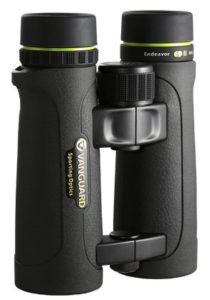 If you're looking for a pair of resilient, superior quality, high-end binoculars that will bring you closer to the action, take a look at the Vanguard Endeavor ED II 8×42 model.
Ideal for low-light settings, the Vanguard Endeavor 8×42 binoculars (learn more here!) contain Vanguard's special MultiGuard coatings which minimise reflection to give you a clearer, brighter image no matter what time of day it is.

These binoculars feature 8x magnification, which will bring your subjects 8x closer than they would appear with the naked eye.

Completely waterproof and fog proof, these binoculars can withstand anything.  The O-ring seals prevents moisture, dirt, dust and debris from getting in and damaging the optics, while the Nitrogen component prevents fogging in extreme weather.

People have different eyesight needs, so why assume all eyes work the same? The Vanguard Endeavor ED 8X42 comes with a locking diopter which allows you to customise the focus in each eye. The diopter will then lock, saving your changes for next time.

Featuring Vanguard's extra-low dispersion glass and Bak-4 prisms, this binocular range reduces chromatic aberrations and provides you with the clearest image possible.

Featuring a large 42 mm objective lens diameter and boasting a rating of 93% light transmission, these binoculars are designed to give you the ultimate bright image.

With twist-adjust eyecups and eye relief for eyeglass wearers, these binoculars can fit around your glasses.

Binoculars aren't just used for far away objects. If you want to get a closer look at a nearby subject, you'll be glad to hear that the Vanguard Endeavor ED binoculars have a near focus of 2.0m.

These binoculars come with a neck strap, carry case, eyepiece covers and objective lens covers.
Summary
Features: MultiGuard Coatings –8x Magnification – Waterproof – Fog Proof – Locking Diopter – Extra Low Dispersion Glass – 42MM Aperture – Twist Eyecups – Eye Relief  – 2M Near Focus.
Pricing: High-End
Vanguard Spirit ED 10×42 – Number 2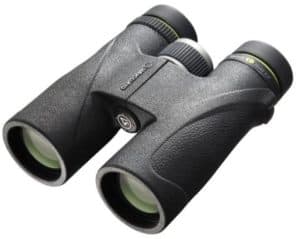 If you're looking for a pair of super vivid binoculars to bring your surroundings to life, the Vanguard Spirit ED may be right for you!
Tired of bad weather getting you down? The Spirit ED binoculars are 100% waterproof and fog proof, allowing you to use the binoculars at all times of the year and in all conditions.

Boasting 90% light transmission and a large 42mm objective lens diameter, these binoculars have extra strong light gathering abilities to bring you even sharper, brighter images.

The Vanguard Spirit ED binoculars come with an ergonomic grip and thumb rest for comfortable usage

Even the best binoculars lose some of their brightness due to reflection, but the Vanguard Spirit ED utilised multi-coating on the lenses to trap as much light as possible for ultimate clarity.

These binoculars take coatings to the next lever. The emerald coating on these Vanguard binoculars is specifically designed to give you the full spectrum of the colour green, allowing nature lovers to enjoy more detailed views.

The ED glass on the lenses has been designed to reduce colour dispersion and enhance resolution for sharper images.

Do you wear glasses? No problem! The 2-stop eyecups on the Vanguard Spirit ED provide long eye relief for spectacle wearers.

With the Vanguard Spirit ED's 10x magnification, far away objects have never appeared so close.

These binoculars com with a free padded carry-bag, eyepiece cover, objective lens cover and neck strap. They are also compatible with certain tripods, allowing you to enjoy hands free observations.
Summary
Features: 100% Waterproof & Fog-Proof – 90% Light Transmission – Ergonomic Grip – Thumb Rest – Multi-Coating – Emerald Coating – ED Glass – Long Eye Relief – 10X Magnification.
Pricing: Mid-Range
Vanguard 8×42 Spirit XF – Number 3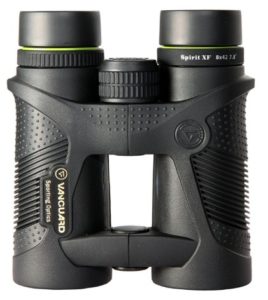 If you're looking for durable, light-weight binoculars, you should be interested in the Vanguard 8×42 Spirt FX model!
Promising edge-to-edge clarity and high contrast images, the BaK4 roof prisms and lens coatings on these binoculars will give you the clarity you need.

100% waterproof and fog proof, the Spirit XF binoculars from Vanguard are appropriate for all weather conditions and are the perfect companion for long hikes.

The Vanguard 8×42 Sprit FX binoculars are made out of textured rubber armour which is both shock resistant and secure.

These binoculars come with two stage twist up eyecups for extra flexibility. Offering 20 mm long eye relief, the binoculars are perfect for eyeglass wearers.

The lightweight open bridge design on the Vanguard Spirit XF binoculars weighs just 24 oz, making these binoculars ideal for hiking, camping and carrying around.

Featuring a powerful 42 mm objective lens diameter, a field of view of 409 feet, a near focus of 6.9 feet and view angles of 7.8 degrees, these binoculars will improve your views from any angle.

The 8x magnification power on these binoculars will bring far away objects 8 times closer, giving you a better view of the world.
Summary
Features: Edge-To-Edge Clarity – BaK4 Prisms – 100% Waterproof & Fog Proof – Textured Rubber Armour – Two Stage Twist Up Eyecups – 20MM Long Eye Relief – Lightweight – 42 MM Objective Lens – 8x Magnification.
Pricing: Mid-Range.
Verdict
These are all excellent Vanguard binocular models which use the best technology to bring the wonders of the world even closer. We're sure you'd be happy with any of the binocular pairs on this list, but if we had to recommend just one it would be the Vanguard Endeavor ED II 8×42 Waterproof Binoculars model.  These binoculars give you clarity, they allow you to adjust each eye to suit your eyesight needs, they have insane light gathering abilities, a strong near focus and they can withstand the craziest weather conditions.