Are you an intrepid explorer who's always on the go? Do you have lots of places to go and scenery to see? Do nature watching, hiking, and adventuring bring you excitement and inspiration? If any of these things sounds like a good description of you then you'll be needing some reliable, durable, and easily portable binoculars to accompany on your endeavours.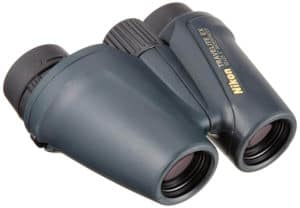 There's nothing worse than finding a beautiful location, hearing the birds chirp and sing in the trees, and catching glimpses of other wildlife but not being able to quite appreciate what is going on because you're slightly too far away to properly see. What is that monkey up to? Where did that squirrel go? Eliminate the questions with a pair of waterproof Nikon 10 X 25 Travelite binoculars! Be the envy of your hiking friends when you pull these beauties out of your backpack and use them to enjoy the majesty around you.
A great product from a trusted brand name, these Nikon binoculars (learn more here!) offer a wide range of selling points that will be sure to satisfy your requirements and give you an amazing viewing experience. Let's take a look now, shall we?
Arsenic-free eco-glass lenses which are a much more sustainable alternative to other types of glass, and offer an eco-friendly viewing experience you can be confident in.

Aspherical eyepiece lens to align with the high-eyepoint design, giving you an ergonomic and comfortable focusing experience.

Dioptic adjuster ring which gives you the reigns to tailor the focus to your specific target and eyesight.

Aluminium die-cast body for increased protection and durability even in rugged terrain.
These are just a few of this Nikon's best features, and in addition to these, the binoculars are also waterproof, scratch resistant, and very compact. Travel and explore in style with these one-of-a-kind binoculars that are not only designed for your every benefit, but also take the planet's health into account. Get out there and enjoy some guilt-free viewing!
Summary
Features: Arsenic-free eco-glass lenses – Aspherical eyepiece lens – Dioptic adjuster ring – Aluminium die-cast body.
Pricing: Affordable