Leupold 119191 BX-2 Acadia Roof Binoculars
If you are a hunter you may have already heard of the Leupold brand, and if you haven't, you'll definitely want to know more about what they offer their binocular users. Leupold was started in 1907 by Fred Leupold and his brother-in-law Adam Volpel. Since then, the Leupold brand has become one of the most popular brands when it comes to providing quality optic products and still to this day remains popular among hunter fanatics around the world. Over the years they have developed quality products ranging from surveying equipment to rifle scopes and water levels to top quality binoculars. What makes the Leupold brand not only unique but also important is the fact they started the business as a family and even a century after starting the business, family members still run it.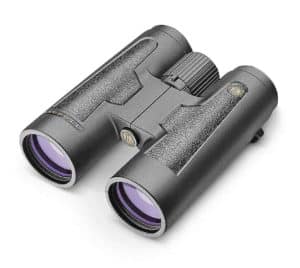 If you are a hunter you'll need a good set of binoculars to help you throughout your hunting day and thanks to Leupold they have managed to create Roof Prism binoculars that are easy to handle and also provide the same quality as the Porro Prisms do. The Leupold 119191 BX-2 Acadia Roof Binoculars (CHECK PRICE!) are a fine example of the quality binoculars Leupold provide and if you are looking for a good set you will definitely want to consider these. Have a look below at some of the quality features they provide:
Roof Prisms – This is a big feature they have implemented into their binoculars as a lot of the hunters worldwide prefer the Roof Prism because they feel it is easier to hold than the Porro Prism. The reason why so many binoculars still use the Porro Prism design is simply because it provides slightly better viewing quality – but with the help of Leupold they have created the Leupold 119191 BX-2 Acadia Binoculars using the Roof Prisms design that still offers the same quality as the Porro Prisms.
Fully multi-coated lenses – This is another big feature because without the fully multi-coated lenses the Roof Prisms wouldn't provide as much quality as the Porro Prisms, but now they still offer the same brightness and crisp viewing.
Waterproof – These wouldn't be very good for hunting if they weren't waterproof. These come fully nitrogen filled so they will prevent any water getting in from the bad weather conditions you may find yourself in whilst hunting. These are also fog proof.
Armoured coated – You will often find that hunting can have a bad effect on binoculars because they often get knocked about a bit and occasionally dropped on the floor – and with the armoured coated design these binoculars provide will ensure they are protected at all times.
Lifetime guarantee – You can certainly buy with confidence with Leupold because they offer a lifetime guarantee on all of their binocular products – this means that if they are at fault they will repair or replace the binoculars free of charge.
Multiple accessories – The Leupold 119191 BX-2 Acadia comes with a couple of accessories to make your life easier when hunting. You will be presented with the standard eye piece covers, the tethered objective lens covers, detachable neoprene neck strap and of course a nice case to keep the binoculars protected when not in use.
If you are looking for a set of binoculars that are going to last a lifetime, you will need to invest in a high-end pair and they don't come much more high-end than the Leupold 119191 BX-2 Acadia Roof Binoculars. You will enjoy every minute of your hunting experience whilst these are round your neck thanks to their lightweight design and the quality of observations they provide their users.
Summary
Features: Roof Prisms – Waterproof – Armoured coating
Pricing: High-End