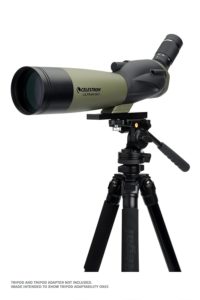 Are you an enthusiast bird watcher? Do you enjoy going on exotic safaris and trying to spot as many amazing wild animals as possible? Have you ever been whale watching? Maybe you haven't done any of these things, but maybe you'd like to. If any of this rings true to you then you'll be needing a high-quality spotting scope to help you on your adventures. And if you already have one, then consider this an upgrade!
With this amazing product from Celestron, you can see further, and go further than ever before, maximising the opportunity for possibilities wherever you are. Imagine feeling like you have no boundaries anymore. That's a fantastic feeling and you deserve to feel it.
If you're still feeling sceptical about just how good the Celestron 52250 Ultima Spotting Scope (learn more here!) is, then check out its defining features below and feel your mind open up to the possibilities:
80mm refractor spotting scope with multi-coated optics to enable optimal viewing in numerous different landscapes and situations so that you never miss out.

45° viewing angle for a more ergonomic position, allowing more sustained viewing.

20-60x zooming capabilities, making sure you can catch every detail, even from far away.

Sleek sight tube for fast targeting so you don't miss the fleeting action.
The Celestron 52250 Ultima Spotting Scope is also waterproof and comes with a protective carrying case so that you can enjoy your adventure in any weather and not have to worry about damaging your equipment. Does that sound like a win?
Summary
Features: 80mm refractor scope – 45° viewing angle – 20-60x zoom – Sight tube – Multi-coated optics
Pricing: High-end