Celestron 21035 70 Telescope
Do you want to see the stars, gaze at far-away galaxies and maybe even spot an alien or two? Whether you're a pro-star gazer or a nebula novice, this user-friendly telescope will help you see further.
Features
Searching for the perfect telescope can take a lot of time and effort, but luckily for you we are have compiled a list of all the Celstron 21035's features so you can make an informed decision.
Travel-Friendly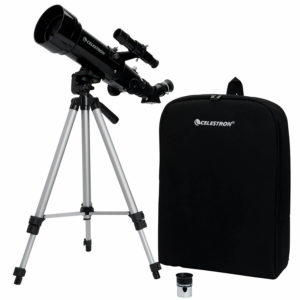 Most telescopes are fine for star-gazing in the back garden, but what if you want to use your telescope somewhere else?
Maybe you want to join an astronomers club and learn more about space, or perhaps you want to take the telescope on a trip or even abroad to get a different perspective of space.
Some telescopes are a nightmare to lug around and there's no guarantee it will fit in a regular bag, but the Celstron 2135 (learn more here!) comes with a custom-made backpack which has been specially designed to fit the telescope and tripod.
These backpacks, which are made out of durable canvas material, will make it much easier for to take your telescope out of the back garden and into the world, allowing you to search the heavens wherever your heart decides.
Tool-Free Assembly
This travel-scope can be assembled in minutes and doesn't require any knowledge of DIY. In fact, this telescope doesn't even require tools!
If screw drivers make you feel uneasy and you're more likely to hammer your hand then a nail, this super-accessible telescope will make your life much easier.
Tripod
The Celestron 21035 comes with an adjustable tripod which can be altered for comfortable, personalised viewing.
You can extend the tripod to full height for standing observations, collapse it quickly and easily for easy transportation, or adjust it to fit on a bench or table so you can sit while you observe.
Refractor
The Celestron Travel-scope is a refractor-style telescope, which means it uses glass lens as its objective to bend (or refract) light. Refractor telescopes have steady, sharp images and stay cleaner for longer.
Aperture
A telescopes aperture refers to a small hole in the lens which allows light to travel into the telescope.
You can adjust the aperture to change how the light affects your image; more light may make it harder to see objects during the day, but it will make it easier when it gets darker. The Celestron Travel-scope has a 2.76 inch aperture (70 mm).
Focal Length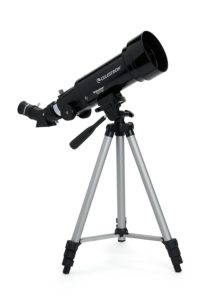 A telescope's 'focal length' refers to the distance between your telescopes primary lens and the point where light comes into focus.
Your telescope's focal length will help you determine the telescopes magnification powers. The Celestron 21305 comes with a 400-mm focal length.
SkyX Astronomy Software
This telescope comes with free astronomy software to help you learn more about space, the stars and the art of astronomy.
The software includes a 10,000-object database which helps you learn more about the heavens, it includes printable sky maps so you can follow constellations, and it has 75 enhanced images with zoom capability which will be fun and educational for the whole family.
Summary
Features: Travel Friendly, Free Backpack, Easy Assembly, Adjustable Tripod, Refractor Telescope, 70 mm Aperture, 400 mm Focal Length, SkyX Astronomy Software.
Pricing: Mid-Range/Affordable
Sale
Celestron 21035 Travel Scope 70 Telescope
70 mm refractor telescope with fully coated glass optics and a lightweight frame
Observe in no time with a quick and easy, no-tool setup
Pan handle Alt-Az control with clutch for smooth and accurate pointing. Adjustable height tripod
Accessories include: two eyepieces (20 mm and 10 mm), 45 ° erect image diagonal, and 5x24 finderscope. Custom backpack included to store your telescope and accessories comfortably
Aperture: 70mm (2.8 Inch); Focal Length: 400mm (15.74 Inch); Focal Ratio: f/5.7
Resolution (Rayleigh) : 1.98 arc seconds, Resolution (Dawes) : 1.66 arc seconds