');mask-image:url('data:image/svg+xml;utf8,');mask-mode:alpha;-webkit-mask-repeat:no-repeat;mask-repeat:no-repeat;-webkit-mask-size:contain;mask-size:contain;-webkit-mask-position:center;mask-position:center;border-radius:0}}.wp-block-latest-comments__comment{line-height:1.1;list-style:none;margin-bottom:1em}.has-avatars .wp-block-latest-comments__comment{min-height:2.25em;list-style:none}.has-avatars .wp-block-latest-comments__comment .wp-block-latest-comments__comment-excerpt,.has-avatars .wp-block-latest-comments__comment .wp-block-latest-comments__comment-meta{margin-left:3.25em}.has-dates .wp-block-latest-comments__comment,.has-excerpts .wp-block-latest-comments__comment{line-height:1.5}.wp-block-latest-comments__comment-excerpt p{font-size:.875em;line-height:1.8;margin:.36em 0 1.4em}.wp-block-latest-comments__comment-date{display:block;font-size:.75em}.wp-block-latest-comments .avatar,.wp-block-latest-comments__comment-avatar{border-radius:1.5em;display:block;float:left;height:2.5em;margin-right:.75em;width:2.5em}.wp-block-latest-posts.alignleft{margin-right:2em}.wp-block-latest-posts.alignright{margin-left:2em}.wp-block-latest-posts.wp-block-latest-posts__list{list-style:none}.wp-block-latest-posts.wp-block-latest-posts__list li{clear:both}.wp-block-latest-posts.is-grid{display:flex;flex-wrap:wrap;padding:0}.wp-block-latest-posts.is-grid li{margin:0 1.25em 1.25em 0;width:100%}@media (min-width:600px){.wp-block-latest-posts.columns-2 li{width:calc(50% - .625em)}.wp-block-latest-posts.columns-2 li:nth-child(2n){margin-right:0}.wp-block-latest-posts.columns-3 li{width:calc(33.33333% - .83333em)}.wp-block-latest-posts.columns-3 li:nth-child(3n){margin-right:0}.wp-block-latest-posts.columns-4 li{width:calc(25% - .9375em)}.wp-block-latest-posts.columns-4 li:nth-child(4n){margin-right:0}.wp-block-latest-posts.columns-5 li{width:calc(20% - 1em)}.wp-block-latest-posts.columns-5 li:nth-child(5n){margin-right:0}.wp-block-latest-posts.columns-6 li{width:calc(16.66667% - 1.04167em)}.wp-block-latest-posts.columns-6 li:nth-child(6n){margin-right:0}}.wp-block-latest-posts__post-author,.wp-block-latest-posts__post-date{display:block;color:#555;font-size:.8125em}.wp-block-latest-posts__post-excerpt{margin-top:.5em;margin-bottom:1em}.wp-block-latest-posts__featured-image a{display:inline-block}.wp-block-latest-posts__featured-image img{height:auto;width:auto}.wp-block-latest-posts__featured-image.alignleft{margin-right:1em}.wp-block-latest-posts__featured-image.alignright{margin-left:1em}.wp-block-latest-posts__featured-image.aligncenter{margin-bottom:1em;text-align:center}.block-editor-image-alignment-control__row .components-base-control__field{display:flex;justify-content:space-between;align-items:center}.block-editor-image-alignment-control__row .components-base-control__field .components-base-control__label{margin-bottom:0}ol.has-background,ul.has-background{padding:1.25em 2.375em}.wp-block-media-text{ /*!rtl:begin:ignore*/direction:ltr; /*!rtl:end:ignore*/display:-ms-grid;display:grid;-ms-grid-columns:50% 1fr;grid-template-columns:50% 1fr;-ms-grid-rows:auto;grid-template-rows:auto}.wp-block-media-text.has-media-on-the-right{-ms-grid-columns:1fr 50%;grid-template-columns:1fr 50%}.wp-block-media-text.is-vertically-aligned-top .wp-block-media-text__content,.wp-block-media-text.is-vertically-aligned-top .wp-block-media-text__media{-ms-grid-row-align:start;align-self:start}.wp-block-media-text.is-vertically-aligned-center .wp-block-media-text__content,.wp-block-media-text.is-vertically-aligned-center .wp-block-media-text__media,.wp-block-media-text .wp-block-media-text__content,.wp-block-media-text .wp-block-media-text__media{-ms-grid-row-align:center;align-self:center}.wp-block-media-text.is-vertically-aligned-bottom .wp-block-media-text__content,.wp-block-media-text.is-vertically-aligned-bottom .wp-block-media-text__media{-ms-grid-row-align:end;align-self:end}.wp-block-media-text .wp-block-media-text__media{ /*!rtl:begin:ignore*/-ms-grid-column:1;grid-column:1;-ms-grid-row:1;grid-row:1; /*!rtl:end:ignore*/margin:0}.wp-block-media-text .wp-block-media-text__content{direction:ltr; /*!rtl:begin:ignore*/-ms-grid-column:2;grid-column:2;-ms-grid-row:1;grid-row:1; /*!rtl:end:ignore*/padding:0 8%;word-break:break-word}.wp-block-media-text.has-media-on-the-right .wp-block-media-text__media{ /*!rtl:begin:ignore*/-ms-grid-column:2;grid-column:2;-ms-grid-row:1;grid-row:1 /*!rtl:end:ignore*/}.wp-block-media-text.has-media-on-the-right .wp-block-media-text__content{ /*!rtl:begin:ignore*/-ms-grid-column:1;grid-column:1;-ms-grid-row:1;grid-row:1 /*!rtl:end:ignore*/}.wp-block-media-text__media img,.wp-block-media-text__media video{max-width:unset;width:100%;vertical-align:middle}.wp-block-media-text.is-image-fill .wp-block-media-text__media{height:100%;min-height:250px;background-size:cover}.wp-block-media-text.is-image-fill .wp-block-media-text__media>a{display:block;height:100%}.wp-block-media-text.is-image-fill .wp-block-media-text__media img{position:absolute;width:1px;height:1px;padding:0;margin:-1px;overflow:hidden;clip:rect(0,0,0,0);border:0}@media (max-width:600px){.wp-block-media-text.is-stacked-on-mobile{-ms-grid-columns:100%!important;grid-template-columns:100%!important}.wp-block-media-text.is-stacked-on-mobile .wp-block-media-text__media{-ms-grid-column:1;grid-column:1;-ms-grid-row:1;grid-row:1}.wp-block-media-text.is-stacked-on-mobile .wp-block-media-text__content{-ms-grid-column:1;grid-column:1;-ms-grid-row:2;grid-row:2}}.wp-block-navigation:not(.has-background) .wp-block-navigation__container .wp-block-navigation__container{color:#1e1e1e;background-color:#fff;min-width:200px}.items-justified-left>ul{justify-content:flex-start}.items-justified-center>ul{justify-content:center}.items-justified-right>ul{justify-content:flex-end}.items-justified-space-between>ul{justify-content:space-between}.wp-block-navigation-link{display:flex;align-items:center;position:relative;margin:0}.wp-block-navigation-link .wp-block-navigation__container:empty{display:none}.wp-block-navigation__container{list-style:none;margin:0;padding-left:0;display:flex;flex-wrap:wrap}.is-vertical .wp-block-navigation__container{display:block}.has-child>.wp-block-navigation-link__content{padding-right:.5em}.has-child .wp-block-navigation__container{border:1px solid rgba(0,0,0,.15);background-color:inherit;color:inherit;position:absolute;left:0;top:100%;width:-webkit-fit-content;width:-moz-fit-content;width:fit-content;z-index:2;opacity:0;transition:opacity .1s linear;visibility:hidden}.has-child .wp-block-navigation__container>.wp-block-navigation-link>.wp-block-navigation-link__content{flex-grow:1}.has-child .wp-block-navigation__container>.wp-block-navigation-link>.wp-block-navigation-link__submenu-icon{padding-right:.5em}@media (min-width:782px){.has-child .wp-block-navigation__container{left:1.5em}.has-child .wp-block-navigation__container .wp-block-navigation__container{left:100%;top:-1px}.has-child .wp-block-navigation__container .wp-block-navigation__container:before{content:"";position:absolute;right:100%;height:100%;display:block;width:.5em;background:transparent}.has-child .wp-block-navigation__container .wp-block-navigation-link__submenu-icon svg{transform:rotate(0)}}.has-child:hover{cursor:pointer}.has-child:hover>.wp-block-navigation__container{visibility:visible;opacity:1;display:flex;flex-direction:column}.has-child:focus-within{cursor:pointer}.has-child:focus-within>.wp-block-navigation__container{visibility:visible;opacity:1;display:flex;flex-direction:column}.wp-block-navigation[style*=text-decoration] .wp-block-navigation-link,.wp-block-navigation[style*=text-decoration] .wp-block-navigation-link__content,.wp-block-navigation[style*=text-decoration] .wp-block-navigation-link__content:active,.wp-block-navigation[style*=text-decoration] .wp-block-navigation-link__content:focus,.wp-block-navigation[style*=text-decoration] .wp-block-navigation__container{text-decoration:inherit}.wp-block-navigation:not([style*=text-decoration]) .wp-block-navigation-link__content,.wp-block-navigation:not([style*=text-decoration]) .wp-block-navigation-link__content:active,.wp-block-navigation:not([style*=text-decoration]) .wp-block-navigation-link__content:focus{text-decoration:none}.wp-block-navigation-link__content{color:inherit;padding:.5em 1em}.wp-block-navigation-link__content+.wp-block-navigation-link__content{padding-top:0}.has-text-color .wp-block-navigation-link__content{color:inherit}.wp-block-navigation-link__label{word-break:normal;overflow-wrap:break-word}.wp-block-navigation-link__submenu-icon{height:inherit;padding:.375em 1em .375em 0}.wp-block-navigation-link__submenu-icon svg{fill:currentColor}@media (min-width:782px){.wp-block-navigation-link__submenu-icon svg{transform:rotate(90deg)}}.is-small-text{font-size:.875em}.is-regular-text{font-size:1em}.is-large-text{font-size:2.25em}.is-larger-text{font-size:3em}.has-drop-cap:not(:focus):first-letter{float:left;font-size:8.4em;line-height:.68;font-weight:100;margin:.05em .1em 0 0;text-transform:uppercase;font-style:normal}p.has-background{padding:1.25em 2.375em}p.has-text-color a{color:inherit}.wp-block-post-author{display:flex;flex-wrap:wrap}.wp-block-post-author__byline{width:100%;margin-top:0;margin-bottom:0;font-size:.5em}.wp-block-post-author__avatar{margin-right:1em}.wp-block-post-author__bio{margin-bottom:.7em;font-size:.7em}.wp-block-post-author__content{flex-grow:1;flex-basis:0}.wp-block-post-author__name{font-weight:700;margin:0}.wp-block-post-comments-form input[type=submit]{color:#fff;background-color:#32373c;border:none;border-radius:1.55em;box-shadow:none;cursor:pointer;display:inline-block;font-size:1.125em;padding:.667em 1.333em;text-align:center;text-decoration:none;overflow-wrap:break-word}.wp-block-post-comments-form input[type=submit]:active,.wp-block-post-comments-form input[type=submit]:focus,.wp-block-post-comments-form input[type=submit]:hover,.wp-block-post-comments-form input[type=submit]:visited{color:#fff}.wp-block-preformatted{white-space:pre-wrap}.wp-block-pullquote{padding:3em 0;margin-left:0;margin-right:0;text-align:center}.wp-block-pullquote.alignleft,.wp-block-pullquote.alignright{max-width:420px}.wp-block-pullquote.alignleft p,.wp-block-pullquote.alignright p{font-size:1.25em}.wp-block-pullquote p{font-size:1.75em;line-height:1.6}.wp-block-pullquote cite,.wp-block-pullquote footer{position:relative}.wp-block-pullquote .has-text-color a{color:inherit}.wp-block-pullquote:not(.is-style-solid-color){background:none}.wp-block-pullquote.is-style-solid-color{border:none}.wp-block-pullquote.is-style-solid-color blockquote{margin-left:auto;margin-right:auto;text-align:left;max-width:60%}.wp-block-pullquote.is-style-solid-color blockquote p{margin-top:0;margin-bottom:0;font-size:2em}.wp-block-pullquote.is-style-solid-color blockquote cite{text-transform:none;font-style:normal}.wp-block-pullquote cite{color:inherit}.wp-block-query-loop{max-width:100%;list-style:none;padding:0}.wp-block-query-loop li{clear:both}.wp-block-query-loop.is-flex-container{flex-direction:row;display:flex;flex-wrap:wrap}.wp-block-query-loop.is-flex-container li{margin:0 0 1.25em;width:100%}@media (min-width:600px){.wp-block-query-loop.is-flex-container li{margin-right:1.25em}.wp-block-query-loop.is-flex-container.is-flex-container.columns-2>li{width:calc(50% - .625em)}.wp-block-query-loop.is-flex-container.is-flex-container.columns-2>li:nth-child(2n){margin-right:0}.wp-block-query-loop.is-flex-container.is-flex-container.columns-3>li{width:calc(33.33333% - .83333em)}.wp-block-query-loop.is-flex-container.is-flex-container.columns-3>li:nth-child(3n){margin-right:0}.wp-block-query-loop.is-flex-container.is-flex-container.columns-4>li{width:calc(25% - .9375em)}.wp-block-query-loop.is-flex-container.is-flex-container.columns-4>li:nth-child(4n){margin-right:0}.wp-block-query-loop.is-flex-container.is-flex-container.columns-5>li{width:calc(20% - 1em)}.wp-block-query-loop.is-flex-container.is-flex-container.columns-5>li:nth-child(5n){margin-right:0}.wp-block-query-loop.is-flex-container.is-flex-container.columns-6>li{width:calc(16.66667% - 1.04167em)}.wp-block-query-loop.is-flex-container.is-flex-container.columns-6>li:nth-child(6n){margin-right:0}}.wp-block-query-pagination{display:flex;flex-direction:row;flex-wrap:wrap}.wp-block-query-pagination>.wp-block-query-pagination-next,.wp-block-query-pagination>.wp-block-query-pagination-numbers,.wp-block-query-pagination>.wp-block-query-pagination-previous{display:inline-block;margin-right:.5em;margin-bottom:.5em}.wp-block-query-pagination>.wp-block-query-pagination-next:last-child,.wp-block-query-pagination>.wp-block-query-pagination-numbers:last-child,.wp-block-query-pagination>.wp-block-query-pagination-previous:last-child{margin-right:0}.wp-block-quote.is-large,.wp-block-quote.is-style-large{margin-bottom:1em;padding:0 1em}.wp-block-quote.is-large p,.wp-block-quote.is-style-large p{font-size:1.5em;font-style:italic;line-height:1.6}.wp-block-quote.is-large cite,.wp-block-quote.is-large footer,.wp-block-quote.is-style-large cite,.wp-block-quote.is-style-large footer{font-size:1.125em;text-align:right}.wp-block-rss.wp-block-rss{box-sizing:border-box}.wp-block-rss.alignleft{margin-right:2em}.wp-block-rss.alignright{margin-left:2em}.wp-block-rss.is-grid{display:flex;flex-wrap:wrap;padding:0;list-style:none}.wp-block-rss.is-grid li{margin:0 1em 1em 0;width:100%}@media (min-width:600px){.wp-block-rss.columns-2 li{width:calc(50% - 1em)}.wp-block-rss.columns-3 li{width:calc(33.33333% - 1em)}.wp-block-rss.columns-4 li{width:calc(25% - 1em)}.wp-block-rss.columns-5 li{width:calc(20% - 1em)}.wp-block-rss.columns-6 li{width:calc(16.66667% - 1em)}}.wp-block-rss__item-author,.wp-block-rss__item-publish-date{display:block;color:#555;font-size:.8125em}.wp-block-search .wp-block-search__button{background:#f7f7f7;border:1px solid #ccc;padding:.375em .625em;color:#32373c;margin-left:.625em;word-break:normal}.wp-block-search .wp-block-search__button.has-icon{line-height:0}.wp-block-search .wp-block-search__button svg{min-width:1.5em;min-height:1.5em}.wp-block-search .wp-block-search__inside-wrapper{display:flex;flex:auto;flex-wrap:nowrap;max-width:100%}.wp-block-search .wp-block-search__label{width:100%}.wp-block-search .wp-block-search__input{flex-grow:1;min-width:3em;border:1px solid #949494}.wp-block-search.wp-block-search__button-only .wp-block-search__button{margin-left:0}.wp-block-search.wp-block-search__button-inside .wp-block-search__inside-wrapper{padding:4px;border:1px solid #949494}.wp-block-search.wp-block-search__button-inside .wp-block-search__inside-wrapper .wp-block-search__input{border-radius:0;border:none;padding:0 0 0 .25em}.wp-block-search.wp-block-search__button-inside .wp-block-search__inside-wrapper .wp-block-search__input:focus{outline:none}.wp-block-search.wp-block-search__button-inside .wp-block-search__inside-wrapper .wp-block-search__button{padding:.125em .5em}.wp-block-separator.is-style-wide{border-bottom-width:1px}.wp-block-separator.is-style-dots{background:none!important;border:none;text-align:center;max-width:none;line-height:1;height:auto}.wp-block-separator.is-style-dots:before{content:"···";color:currentColor;font-size:1.5em;letter-spacing:2em;padding-left:2em;font-family:serif}.wp-block-custom-logo{line-height:0}.wp-block-custom-logo .aligncenter{display:table}.wp-block-custom-logo.is-style-rounded img{border-radius:9999px}.wp-block-social-links{display:flex;flex-wrap:wrap;justify-content:flex-start;padding-left:0;padding-right:0;text-indent:0;margin-left:0}.wp-block-social-links .wp-social-link a,.wp-block-social-links .wp-social-link a:hover{text-decoration:none;border-bottom:0;box-shadow:none}.wp-block-social-links .wp-social-link.wp-social-link.wp-social-link{margin:4px 8px 4px 0}.wp-block-social-links .wp-social-link a{padding:.25em}.wp-block-social-links .wp-social-link svg{width:1em;height:1em}.wp-block-social-links.has-small-icon-size{font-size:16px}.wp-block-social-links,.wp-block-social-links.has-normal-icon-size{font-size:24px}.wp-block-social-links.has-large-icon-size{font-size:36px}.wp-block-social-links.has-huge-icon-size{font-size:48px}.wp-block-social-links.aligncenter{justify-content:center;display:flex}.wp-block-social-links.alignright{justify-content:flex-end}.wp-social-link{display:block;border-radius:9999px;transition:transform .1s ease;height:auto}@media (prefers-reduced-motion:reduce){.wp-social-link{transition-duration:0s}}.wp-social-link a{display:block;line-height:0;transition:transform .1s ease}.wp-social-link a,.wp-social-link a:active,.wp-social-link a:hover,.wp-social-link a:visited,.wp-social-link svg{color:currentColor;fill:currentColor}.wp-social-link:hover{transform:scale(1.1)}.wp-block-social-links:not(.is-style-logos-only) .wp-social-link{background-color:#f0f0f0;color:#444}.wp-block-social-links:not(.is-style-logos-only) .wp-social-link-amazon{background-color:#f90;color:#fff}.wp-block-social-links:not(.is-style-logos-only) .wp-social-link-bandcamp{background-color:#1ea0c3;color:#fff}.wp-block-social-links:not(.is-style-logos-only) .wp-social-link-behance{background-color:#0757fe;color:#fff}.wp-block-social-links:not(.is-style-logos-only) .wp-social-link-codepen{background-color:#1e1f26;color:#fff}.wp-block-social-links:not(.is-style-logos-only) .wp-social-link-deviantart{background-color:#02e49b;color:#fff}.wp-block-social-links:not(.is-style-logos-only) .wp-social-link-dribbble{background-color:#e94c89;color:#fff}.wp-block-social-links:not(.is-style-logos-only) .wp-social-link-dropbox{background-color:#4280ff;color:#fff}.wp-block-social-links:not(.is-style-logos-only) .wp-social-link-etsy{background-color:#f45800;color:#fff}.wp-block-social-links:not(.is-style-logos-only) .wp-social-link-facebook{background-color:#1778f2;color:#fff}.wp-block-social-links:not(.is-style-logos-only) .wp-social-link-fivehundredpx{background-color:#000;color:#fff}.wp-block-social-links:not(.is-style-logos-only) .wp-social-link-flickr{background-color:#0461dd;color:#fff}.wp-block-social-links:not(.is-style-logos-only) .wp-social-link-foursquare{background-color:#e65678;color:#fff}.wp-block-social-links:not(.is-style-logos-only) .wp-social-link-github{background-color:#24292d;color:#fff}.wp-block-social-links:not(.is-style-logos-only) .wp-social-link-goodreads{background-color:#eceadd;color:#382110}.wp-block-social-links:not(.is-style-logos-only) .wp-social-link-google{background-color:#ea4434;color:#fff}.wp-block-social-links:not(.is-style-logos-only) .wp-social-link-instagram{background-color:#f00075;color:#fff}.wp-block-social-links:not(.is-style-logos-only) .wp-social-link-lastfm{background-color:#e21b24;color:#fff}.wp-block-social-links:not(.is-style-logos-only) .wp-social-link-linkedin{background-color:#0d66c2;color:#fff}.wp-block-social-links:not(.is-style-logos-only) .wp-social-link-mastodon{background-color:#3288d4;color:#fff}.wp-block-social-links:not(.is-style-logos-only) .wp-social-link-medium{background-color:#02ab6c;color:#fff}.wp-block-social-links:not(.is-style-logos-only) .wp-social-link-meetup{background-color:#f6405f;color:#fff}.wp-block-social-links:not(.is-style-logos-only) .wp-social-link-patreon{background-color:#ff424d;color:#fff}.wp-block-social-links:not(.is-style-logos-only) .wp-social-link-pinterest{background-color:#e60122;color:#fff}.wp-block-social-links:not(.is-style-logos-only) .wp-social-link-pocket{background-color:#ef4155;color:#fff}.wp-block-social-links:not(.is-style-logos-only) .wp-social-link-reddit{background-color:#fe4500;color:#fff}.wp-block-social-links:not(.is-style-logos-only) .wp-social-link-skype{background-color:#0478d7;color:#fff}.wp-block-social-links:not(.is-style-logos-only) .wp-social-link-snapchat{background-color:#fefc00;color:#fff;stroke:#000}.wp-block-social-links:not(.is-style-logos-only) .wp-social-link-soundcloud{background-color:#ff5600;color:#fff}.wp-block-social-links:not(.is-style-logos-only) .wp-social-link-spotify{background-color:#1bd760;color:#fff}.wp-block-social-links:not(.is-style-logos-only) .wp-social-link-telegram{background-color:#2aabee;color:#fff}.wp-block-social-links:not(.is-style-logos-only) .wp-social-link-tiktok{background-color:#000;color:#fff}.wp-block-social-links:not(.is-style-logos-only) .wp-social-link-tumblr{background-color:#011835;color:#fff}.wp-block-social-links:not(.is-style-logos-only) .wp-social-link-twitch{background-color:#6440a4;color:#fff}.wp-block-social-links:not(.is-style-logos-only) .wp-social-link-twitter{background-color:#1da1f2;color:#fff}.wp-block-social-links:not(.is-style-logos-only) .wp-social-link-vimeo{background-color:#1eb7ea;color:#fff}.wp-block-social-links:not(.is-style-logos-only) .wp-social-link-vk{background-color:#4680c2;color:#fff}.wp-block-social-links:not(.is-style-logos-only) .wp-social-link-wordpress{background-color:#3499cd;color:#fff}.wp-block-social-links:not(.is-style-logos-only) .wp-social-link-yelp{background-color:#d32422;color:#fff}.wp-block-social-links:not(.is-style-logos-only) .wp-social-link-youtube{background-color:red;color:#fff}.wp-block-social-links.is-style-logos-only .wp-social-link{background:none;padding:4px}.wp-block-social-links.is-style-logos-only .wp-social-link-amazon{color:#f90}.wp-block-social-links.is-style-logos-only .wp-social-link-bandcamp{color:#1ea0c3}.wp-block-social-links.is-style-logos-only .wp-social-link-behance{color:#0757fe}.wp-block-social-links.is-style-logos-only .wp-social-link-codepen{color:#1e1f26}.wp-block-social-links.is-style-logos-only .wp-social-link-deviantart{color:#02e49b}.wp-block-social-links.is-style-logos-only .wp-social-link-dribbble{color:#e94c89}.wp-block-social-links.is-style-logos-only .wp-social-link-dropbox{color:#4280ff}.wp-block-social-links.is-style-logos-only .wp-social-link-etsy{color:#f45800}.wp-block-social-links.is-style-logos-only .wp-social-link-facebook{color:#1778f2}.wp-block-social-links.is-style-logos-only .wp-social-link-fivehundredpx{color:#000}.wp-block-social-links.is-style-logos-only .wp-social-link-flickr{color:#0461dd}.wp-block-social-links.is-style-logos-only .wp-social-link-foursquare{color:#e65678}.wp-block-social-links.is-style-logos-only .wp-social-link-github{color:#24292d}.wp-block-social-links.is-style-logos-only .wp-social-link-goodreads{color:#382110}.wp-block-social-links.is-style-logos-only .wp-social-link-google{color:#ea4434}.wp-block-social-links.is-style-logos-only .wp-social-link-instagram{color:#f00075}.wp-block-social-links.is-style-logos-only .wp-social-link-lastfm{color:#e21b24}.wp-block-social-links.is-style-logos-only .wp-social-link-linkedin{color:#0d66c2}.wp-block-social-links.is-style-logos-only .wp-social-link-mastodon{color:#3288d4}.wp-block-social-links.is-style-logos-only .wp-social-link-medium{color:#02ab6c}.wp-block-social-links.is-style-logos-only .wp-social-link-meetup{color:#f6405f}.wp-block-social-links.is-style-logos-only .wp-social-link-patreon{color:#ff424d}.wp-block-social-links.is-style-logos-only .wp-social-link-pinterest{color:#e60122}.wp-block-social-links.is-style-logos-only .wp-social-link-pocket{color:#ef4155}.wp-block-social-links.is-style-logos-only .wp-social-link-reddit{color:#fe4500}.wp-block-social-links.is-style-logos-only .wp-social-link-skype{color:#0478d7}.wp-block-social-links.is-style-logos-only .wp-social-link-snapchat{color:#fff;stroke:#000}.wp-block-social-links.is-style-logos-only .wp-social-link-soundcloud{color:#ff5600}.wp-block-social-links.is-style-logos-only .wp-social-link-spotify{color:#1bd760}.wp-block-social-links.is-style-logos-only .wp-social-link-telegram{color:#2aabee}.wp-block-social-links.is-style-logos-only .wp-social-link-tiktok{color:#000}.wp-block-social-links.is-style-logos-only .wp-social-link-tumblr{color:#011835}.wp-block-social-links.is-style-logos-only .wp-social-link-twitch{color:#6440a4}.wp-block-social-links.is-style-logos-only .wp-social-link-twitter{color:#1da1f2}.wp-block-social-links.is-style-logos-only .wp-social-link-vimeo{color:#1eb7ea}.wp-block-social-links.is-style-logos-only .wp-social-link-vk{color:#4680c2}.wp-block-social-links.is-style-logos-only .wp-social-link-wordpress{color:#3499cd}.wp-block-social-links.is-style-logos-only .wp-social-link-yelp{background-color:#d32422;color:#fff}.wp-block-social-links.is-style-logos-only .wp-social-link-youtube{color:red}.wp-block-social-links.is-style-pill-shape .wp-social-link{width:auto}.wp-block-social-links.is-style-pill-shape .wp-social-link a{padding-left:.66667em;padding-right:.66667em}.wp-block-spacer{clear:both}p.wp-block-subhead{font-size:1.1em;font-style:italic;opacity:.75}.wp-block-tag-cloud.aligncenter{text-align:center}.wp-block-tag-cloud.alignfull{padding-left:1em;padding-right:1em}.wp-block-table{overflow-x:auto}.wp-block-table table{width:100%}.wp-block-table .has-fixed-layout{table-layout:fixed;width:100%}.wp-block-table .has-fixed-layout td,.wp-block-table .has-fixed-layout th{word-break:break-word}.wp-block-table.aligncenter,.wp-block-table.alignleft,.wp-block-table.alignright{display:table;width:auto}.wp-block-table.aligncenter td,.wp-block-table.aligncenter th,.wp-block-table.alignleft td,.wp-block-table.alignleft th,.wp-block-table.alignright td,.wp-block-table.alignright th{word-break:break-word}.wp-block-table .has-subtle-light-gray-background-color{background-color:#f3f4f5}.wp-block-table .has-subtle-pale-green-background-color{background-color:#e9fbe5}.wp-block-table .has-subtle-pale-blue-background-color{background-color:#e7f5fe}.wp-block-table .has-subtle-pale-pink-background-color{background-color:#fcf0ef}.wp-block-table.is-style-stripes{border-spacing:0;border-collapse:inherit;background-color:transparent;border-bottom:1px solid #f0f0f0}.wp-block-table.is-style-stripes tbody tr:nth-child(odd){background-color:#f0f0f0}.wp-block-table.is-style-stripes.has-subtle-light-gray-background-color tbody tr:nth-child(odd){background-color:#f3f4f5}.wp-block-table.is-style-stripes.has-subtle-pale-green-background-color tbody tr:nth-child(odd){background-color:#e9fbe5}.wp-block-table.is-style-stripes.has-subtle-pale-blue-background-color tbody tr:nth-child(odd){background-color:#e7f5fe}.wp-block-table.is-style-stripes.has-subtle-pale-pink-background-color tbody tr:nth-child(odd){background-color:#fcf0ef}.wp-block-table.is-style-stripes td,.wp-block-table.is-style-stripes th{border-color:transparent}.wp-block-text-columns,.wp-block-text-columns.aligncenter{display:flex}.wp-block-text-columns .wp-block-column{margin:0 1em;padding:0}.wp-block-text-columns .wp-block-column:first-child{margin-left:0}.wp-block-text-columns .wp-block-column:last-child{margin-right:0}.wp-block-text-columns.columns-2 .wp-block-column{width:50%}.wp-block-text-columns.columns-3 .wp-block-column{width:33.33333%}.wp-block-text-columns.columns-4 .wp-block-column{width:25%}pre.wp-block-verse{font-family:inherit;overflow:auto;white-space:pre-wrap}.wp-block-video{margin-left:0;margin-right:0}.wp-block-video video{width:100%}@supports ((position:-webkit-sticky) or (position:sticky)){.wp-block-video [poster]{-o-object-fit:cover;object-fit:cover}}.wp-block-video.aligncenter{text-align:center}.wp-block-video figcaption{margin-top:.5em;margin-bottom:1em}.wp-block-post-featured-image a{display:inline-block}.wp-block-post-featured-image img{max-width:100%;height:auto}:root .has-pale-pink-background-color{background-color:#f78da7}:root .has-vivid-red-background-color{background-color:#cf2e2e}:root .has-luminous-vivid-orange-background-color{background-color:#ff6900}:root .has-luminous-vivid-amber-background-color{background-color:#fcb900}:root .has-light-green-cyan-background-color{background-color:#7bdcb5}:root .has-vivid-green-cyan-background-color{background-color:#00d084}:root .has-pale-cyan-blue-background-color{background-color:#8ed1fc}:root .has-vivid-cyan-blue-background-color{background-color:#0693e3}:root .has-vivid-purple-background-color{background-color:#9b51e0}:root .has-white-background-color{background-color:#fff}:root .has-very-light-gray-background-color{background-color:#eee}:root .has-cyan-bluish-gray-background-color{background-color:#abb8c3}:root .has-very-dark-gray-background-color{background-color:#313131}:root .has-black-background-color{background-color:#000}:root .has-pale-pink-color{color:#f78da7}:root .has-vivid-red-color{color:#cf2e2e}:root .has-luminous-vivid-orange-color{color:#ff6900}:root .has-luminous-vivid-amber-color{color:#fcb900}:root .has-light-green-cyan-color{color:#7bdcb5}:root .has-vivid-green-cyan-color{color:#00d084}:root .has-pale-cyan-blue-color{color:#8ed1fc}:root .has-vivid-cyan-blue-color{color:#0693e3}:root .has-vivid-purple-color{color:#9b51e0}:root .has-white-color{color:#fff}:root .has-very-light-gray-color{color:#eee}:root .has-cyan-bluish-gray-color{color:#abb8c3}:root .has-very-dark-gray-color{color:#313131}:root .has-black-color{color:#000}:root .has-vivid-cyan-blue-to-vivid-purple-gradient-background{background:linear-gradient(135deg,#0693e3,#9b51e0)}:root .has-vivid-green-cyan-to-vivid-cyan-blue-gradient-background{background:linear-gradient(135deg,#00d084,#0693e3)}:root .has-light-green-cyan-to-vivid-green-cyan-gradient-background{background:linear-gradient(135deg,#7adcb4,#00d082)}:root .has-luminous-vivid-amber-to-luminous-vivid-orange-gradient-background{background:linear-gradient(135deg,#fcb900,#ff6900)}:root .has-luminous-vivid-orange-to-vivid-red-gradient-background{background:linear-gradient(135deg,#ff6900,#cf2e2e)}:root .has-very-light-gray-to-cyan-bluish-gray-gradient-background{background:linear-gradient(135deg,#eee,#a9b8c3)}:root .has-cool-to-warm-spectrum-gradient-background{background:linear-gradient(135deg,#4aeadc,#9778d1 20%,#cf2aba 40%,#ee2c82 60%,#fb6962 80%,#fef84c)}:root .has-blush-light-purple-gradient-background{background:linear-gradient(135deg,#ffceec,#9896f0)}:root .has-blush-bordeaux-gradient-background{background:linear-gradient(135deg,#fecda5,#fe2d2d 50%,#6b003e)}:root .has-purple-crush-gradient-background{background:linear-gradient(135deg,#34e2e4,#4721fb 50%,#ab1dfe)}:root .has-luminous-dusk-gradient-background{background:linear-gradient(135deg,#ffcb70,#c751c0 50%,#4158d0)}:root .has-hazy-dawn-gradient-background{background:linear-gradient(135deg,#faaca8,#dad0ec)}:root .has-pale-ocean-gradient-background{background:linear-gradient(135deg,#fff5cb,#b6e3d4 50%,#33a7b5)}:root .has-electric-grass-gradient-background{background:linear-gradient(135deg,#caf880,#71ce7e)}:root .has-subdued-olive-gradient-background{background:linear-gradient(135deg,#fafae1,#67a671)}:root .has-atomic-cream-gradient-background{background:linear-gradient(135deg,#fdd79a,#004a59)}:root .has-nightshade-gradient-background{background:linear-gradient(135deg,#330968,#31cdcf)}:root .has-midnight-gradient-background{background:linear-gradient(135deg,#020381,#2874fc)}:root .has-link-color a{color:#00e;color:var(--wp--style--color--link,#00e)}.has-small-font-size{font-size:.8125em}.has-normal-font-size,.has-regular-font-size{font-size:1em}.has-medium-font-size{font-size:1.25em}.has-large-font-size{font-size:2.25em}.has-huge-font-size,.has-larger-font-size{font-size:2.625em}.has-text-align-center{text-align:center}.has-text-align-left{text-align:left}.has-text-align-right{text-align:right}#end-resizable-editor-section{display:none}.aligncenter{clear:both} .wpcf7 .screen-reader-response{position:absolute;overflow:hidden;clip:rect(1px,1px,1px,1px);height:1px;width:1px;margin:0;padding:0;border:0}.wpcf7 form .wpcf7-response-output{margin:2em .5em 1em;padding:.2em 1em;border:2px solid #00a0d2}.wpcf7 form.init .wpcf7-response-output,.wpcf7 form.resetting .wpcf7-response-output,.wpcf7 form.submitting .wpcf7-response-output{display:none}.wpcf7 form.sent .wpcf7-response-output{border-color:#46b450}.wpcf7 form.failed .wpcf7-response-output,.wpcf7 form.aborted .wpcf7-response-output{border-color:#dc3232}.wpcf7 form.spam .wpcf7-response-output{border-color:#f56e28}.wpcf7 form.invalid .wpcf7-response-output,.wpcf7 form.unaccepted .wpcf7-response-output{border-color:#ffb900}.wpcf7-form-control-wrap{position:relative}.wpcf7-not-valid-tip{color:#dc3232;font-size:1em;font-weight:400;display:block}.use-floating-validation-tip .wpcf7-not-valid-tip{position:relative;top:-2ex;left:1em;z-index:100;border:1px solid #dc3232;background:#fff;padding:.2em .8em;width:24em}.wpcf7-list-item{display:inline-block;margin:0 0 0 1em}.wpcf7-list-item-label:before,.wpcf7-list-item-label:after{content:" "}.wpcf7 .ajax-loader{visibility:hidden;display:inline-block;background-color:#23282d;opacity:.75;width:24px;height:24px;border:none;border-radius:100%;padding:0;margin:0 24px;position:relative}.wpcf7 form.submitting .ajax-loader{visibility:visible}.wpcf7 .ajax-loader:before{content:'';position:absolute;background-color:#fbfbfc;top:4px;left:4px;width:6px;height:6px;border:none;border-radius:100%;transform-origin:8px 8px;animation-name:spin;animation-duration:1s;animation-timing-function:linear;animation-iteration-count:infinite}@media (prefers-reduced-motion:reduce){.wpcf7 .ajax-loader:before{animation-name:blink;animation-duration:2s}}@keyframes spin{from{transform:rotate(0deg)}to{transform:rotate(360deg)}}@keyframes blink{from{opacity:0}50%{opacity:1}to{opacity:0}}.wpcf7 input[type=file]{cursor:pointer}.wpcf7 input[type=file]:disabled{cursor:default}.wpcf7 .wpcf7-submit:disabled{cursor:not-allowed}.wpcf7 input[type=url],.wpcf7 input[type=email],.wpcf7 input[type=tel]{direction:ltr} /*! normalize.css v7.0.0 | MIT License | github.com/necolas/normalize.css */ button,hr,input{overflow:visible}audio,canvas,progress,video{display:inline-block}progress,sub,sup{vertical-align:baseline}[type=checkbox],[type=radio],legend{box-sizing:border-box;padding:0}html{line-height:1.15;-ms-text-size-adjust:100%;-webkit-text-size-adjust:100%}body,h1,h2,h3,h4,h5,h6{margin:0}article,aside,details,figcaption,figure,footer,header,main,menu,nav,section{display:block}figure{margin:1em 40px}hr{box-sizing:content-box;height:0}code,kbd,pre,samp{font-family:monospace,monospace;font-size:1em}a{background-color:transparent;-webkit-text-decoration-skip:objects}abbr[title]{border-bottom:none;text-decoration:underline;text-decoration:underline dotted}b,strong{font-weight:bolder}dfn{font-style:italic}mark{background-color:#ff0;color:#000}small{font-size:80%}sub,sup{font-size:75%;line-height:0;position:relative}sub{bottom:-.25em}sup{top:-.5em}audio:not([controls]){display:none;height:0}img{border-style:none}svg:not(:root){overflow:hidden}button,input,optgroup,select,textarea{font-size:100%;line-height:1.15;margin:0}button,select{text-transform:none}[type=reset],[type=submit],button,html [type=button]{-webkit-appearance:button}[type=button]::-moz-focus-inner,[type=reset]::-moz-focus-inner,[type=submit]::-moz-focus-inner,button::-moz-focus-inner{border-style:none;padding:0}[type=button]:-moz-focusring,[type=reset]:-moz-focusring,[type=submit]:-moz-focusring,button:-moz-focusring{outline:ButtonText dotted 1px}fieldset{padding:.35em .75em .625em}legend{color:inherit;display:table;max-width:100%;white-space:normal}textarea{overflow:auto}[type=number]::-webkit-inner-spin-button,[type=number]::-webkit-outer-spin-button{height:auto}[type=search]{-webkit-appearance:textfield;outline-offset:-2px}[type=search]::-webkit-search-cancel-button,[type=search]::-webkit-search-decoration{-webkit-appearance:none}::-webkit-file-upload-button{-webkit-appearance:button;font:inherit}summary{display:list-item}[hidden],template{display:none}html{box-sizing:border-box}body{font-size:16px;color:rgba(64,64,64,1)}body.oxygen-aos-enabled{overflow-x:hidden}*,:after,:before{box-sizing:inherit}.ct-section-inner-wrap{margin-left:auto;margin-right:auto;height:100%}div.ct-svg-icon>svg,svg.ct-svg-icon{height:1em !important;fill:currentColor}.ct-columns-inner-wrap{display:-webkit-flex !important;display:-ms-flexbox !important;display:flex !important}.ct-column{float:left !important;word-break:break-word}svg.ct-svg-icon{display:inline-block;width:1em !important}div.ct-svg-icon{display:inline-block;box-sizing:content-box;border-radius:50%;width:auto}div.ct-svg-icon>svg{width:1em !important;display:block}div.ct-fancy-icon{display:inline-flex;border-radius:50%}.ct-fancy-icon>svg{fill:currentColor}.ct-columns-inner-wrap>.ct-column:first-child{margin-left:0 !important}.ct-columns-inner-wrap>.ct-column:last-child{margin-right:0 !important}.ct-video{width:100%}.ct-video>.oxygen-vsb-responsive-video-wrapper{position:relative}.ct-video>.oxygen-vsb-responsive-video-wrapper>iframe{position:absolute;top:0;left:0;width:100%;height:100%}.oxy-nav-menu-list{display:flex;padding:0;margin:0}.oxy-nav-menu .oxy-nav-menu-list li.menu-item{list-style-type:none;display:flex;flex-direction:column}.oxy-nav-menu .oxy-nav-menu-list li.menu-item a{text-decoration:none;border-style:solid;border-width:0;transition-timing-function:ease-in-out;transition-property:background-color,color,border-color;border-color:transparent}.oxy-nav-menu .oxy-nav-menu-list li.current-menu-item>a,.oxy-nav-menu .oxy-nav-menu-list li.menu-item:hover>a{border-color:currentColor}.oxy-nav-menu .menu-item,.oxy-nav-menu .sub-menu{position:relative}.oxy-nav-menu .menu-item .sub-menu{padding:0;flex-direction:column;white-space:nowrap;transition-timing-function:ease-in-out;transition-property:visibility,opacity;visibility:hidden;opacity:0;display:flex;position:absolute;top:100%}.oxy-nav-menu .sub-menu .sub-menu,.oxy-nav-menu.oxy-nav-menu-vertical .sub-menu{left:100%;top:0}.oxy-nav-menu .menu-item:hover>.sub-menu{visibility:visible;opacity:1}.oxy-nav-menu .sub-menu li.menu-item{flex-direction:column}@keyframes oxy_sticky_header_fadein{0%{opacity:0}100%{opacity:1}}.oxy-sticky-header-fade-in{animation-name:oxy_sticky_header_fadein;animation-duration:.5s;animation-iteration-count:1}.oxy-header-wrapper{position:relative}.oxy-header-row{width:100%;display:block}.oxy-header-container{height:100%;margin-left:auto;margin-right:auto;display:flex;flex-wrap:nowrap;justify-content:flex-start;align-items:stretch}.oxy-header-center,.oxy-header-left,.oxy-header-right{display:flex;align-items:center}.oxy-header .oxygen-only-show-in-overlay,.oxy-video-container{display:none}.oxy-header-left{justify-content:flex-start}.oxy-header-center{flex-grow:1;justify-content:center}.oxy-header-right{justify-content:flex-end}.admin-bar .oxy-sticky-header-active{top:32px !important}@media screen and (max-width:782px){.admin-bar .oxy-sticky-header-active{top:46px !important}}@media screen and (max-width:600px){.admin-bar .oxy-sticky-header-active{top:0 !important}}.oxy-video-background{position:relative;z-index:1}.oxy-video-background .oxy-video-container{display:block;position:absolute;top:0;left:0;right:0;bottom:0;overflow:hidden;z-index:-1}.oxy-video-background .oxy-video-container video{min-width:100%;min-height:100%;width:auto;height:auto;top:50%;left:50%;position:absolute;transform:translate(-50%,-50%)}.oxy-video-overlay{position:absolute;top:0;bottom:0;left:0;right:0}.oxy-map iframe{width:100%;height:100%;display:block}.unslider .unslider-fade ul li.unslider-active{position:relative}.oxy-menu-toggle{cursor:pointer;display:none}.oxy-nav-menu.oxy-nav-menu-open{width:100%;position:fixed;top:0;right:0;left:0;bottom:0;display:flex;align-items:center;justify-content:center;flex-direction:column;overflow:auto;z-index:2147483642 !important;background-color:#fff}.oxy-nav-menu.oxy-nav-menu-open>div:last-child{max-height:100%;overflow:auto;padding-top:2em;padding-bottom:2em;width:100%}.oxy-nav-menu-prevent-overflow{overflow:hidden;height:100%}.oxy-nav-menu.oxy-nav-menu-open .oxy-menu-toggle{display:initial}.oxy-nav-menu.oxy-nav-menu-open .oxy-nav-menu-list{flex-direction:column !important;width:100%}.oxy-nav-menu.oxy-nav-menu-open .oxy-nav-menu-list .menu-item a{text-align:center;border:0 !important;background-color:transparent !important;justify-content:center}.oxy-nav-menu.oxy-nav-menu-open .oxy-nav-menu-hamburger-wrap{position:absolute;top:20px;right:20px;z-index:1}.oxy-nav-menu:not(.oxy-nav-menu-open) .sub-menu{background-color:#fff;z-index:2147483641}.oxy-nav-menu.oxy-nav-menu-open .menu-item .sub-menu,.oxy-nav-menu.oxy-nav-menu-open .menu-item-has-children>a:after{display:none}.oxy-nav-menu.oxy-nav-menu-open.oxy-nav-menu-responsive-dropdowns .menu-item .sub-menu{display:flex;position:static;animation-name:none;visibility:visible;opacity:1;transition-duration:0s !important}.oxy-nav-menu.oxy-nav-menu-open a:not([href]){display:none}.oxy-nav-menu-hamburger-wrap{display:flex;align-items:center;justify-content:center}.oxy-nav-menu-hamburger{display:flex;justify-content:space-between;flex-direction:column}.oxy-nav-menu-hamburger-line{border-radius:2px}.oxy-nav-menu-open .oxy-nav-menu-hamburger{transform:rotate(45deg)}.oxy-nav-menu-open .oxy-nav-menu-hamburger .oxy-nav-menu-hamburger-line{display:none}.oxy-nav-menu-open .oxy-nav-menu-hamburger .oxy-nav-menu-hamburger-line:first-child{display:initial;position:relative}.oxy-nav-menu-open .oxy-nav-menu-hamburger .oxy-nav-menu-hamburger-line:last-child{display:initial;position:relative;transform:rotate(90deg)}.oxy-nav-menu .menu-item a{display:flex;align-items:center}.oxy-nav-menu.oxy-nav-menu-vertical .menu-item a{flex-direction:row}.oxy-nav-menu-dropdowns.oxy-nav-menu-dropdown-arrow .menu-item-has-children>a:after{width:.35em;height:.35em;margin-left:.5em;border-right:.1em solid;border-top:.1em solid;transform:rotate(135deg);content:""}.oxy-nav-menu-dropdowns.oxy-nav-menu-dropdown-arrow .sub-menu .menu-item-has-children>a:after,.oxy-nav-menu-dropdowns.oxy-nav-menu-dropdown-arrow.oxy-nav-menu-vertical .menu-item-has-children>a:after{transform:rotate(45deg)}.oxy-social-icons{display:flex;flex-wrap:wrap;align-items:flex-start;justify-content:flex-start}.oxy-social-icons a{line-height:1;width:1em;height:1em;display:flex;align-items:center;justify-content:center;text-decoration:none}.oxy-social-icons a svg{stroke-width:0;stroke:currentColor;fill:currentColor}.oxy-soundcloud{min-width:300px;min-height:120px}.oxy-soundcloud iframe{width:100%;height:100%}.comment-body .alignleft,.oxy-stock-content-styles .alignleft{margin-right:1em;float:left}.comment-body .alignright,.oxy-stock-content-styles .alignright{margin-left:1em;float:right}.comment-body .aligncenter,.oxy-stock-content-styles .aligncenter{margin-left:auto;margin-right:auto}.comment-body img,.oxy-stock-content-styles img{max-width:100%}.oxy-comment-form .comment-reply-title{margin-bottom:.5em}.oxy-comment-form .logged-in-as{margin-bottom:1em;font-size:.75em}.oxy-comment-form #submit{padding:1em 2em;background-color:#000;color:#fff;cursor:pointer;margin-top:.5em;border:none;font-weight:700}.oxy-comment-form input,.oxy-comment-form textarea{padding:.5em;border-radius:0;border:1px solid #000;color:gray;width:100%}.oxy-comment-form label{font-weight:700}.oxy-comment-form .comment-form>p{margin-top:0;margin-bottom:1em}.oxy-comments h3.comments-title{margin-bottom:1em}.oxy-comments ol.children,.oxy-comments ol.comments-list{list-style:none;margin:0;padding:0}.oxy-comments ol.children{margin-left:50px}.oxy-comments li.comment .comment-body{margin-left:0;margin-right:0;margin-bottom:50px}.oxy-comments li.comment .comment-body .comment-content{margin-bottom:1em}.oxy-comments .comment-meta .comment-author{display:flex;flex-direction:row;align-items:center}.oxy-comments .comment-meta .comment-author .avatar{max-width:64px;max-height:64px;margin-right:.5em}.oxy-comments .comment-meta .comment-author span.says:before{content:" ";white-space:pre}.oxy-progress-bar-overlay-percent,.oxy-progress-bar-overlay-text{line-height:1;white-space:nowrap;color:#fff}.oxy-comments .comment-meta .comment-metadata{font-size:.75em;margin-top:.75em}.oxy-comments .comment-meta .edit-link{margin-left:.5em}.oxy-comments .reply{display:flex}.oxy-comments .reply .comment-reply-link{font-size:.75em}.oxy-comments .comment-meta{flex-wrap:wrap}.oxy-comments .comment-awaiting-moderation{flex-basis:100%}.oxy-login-form p{display:flex;flex-direction:column}.oxy-login-form input{padding:.5em;border-radius:0;border:1px solid #000}.oxy-login-form input[type=submit]{padding:1em 2em;background-color:#000;color:#fff;cursor:pointer;border:none;font-weight:700}.oxy-search-form input{padding:.5em;border-radius:0;border:1px solid #000}.oxy-search-form input[type=submit]{padding:calc(.5em + 1px) 1em;background-color:#000;color:#fff;cursor:pointer;border:none}.oxy-search-form label.screen-reader-text{display:none}.oxy-icon-box-icon{display:flex;flex-shrink:0;flex-grow:0}.oxy-icon-box-content{flex-grow:1;width:100%}.oxy-icon-box-heading,.oxy-icon-box-text{margin:0}.oxy-icon-box{display:flex;align-items:flex-start}.oxy-pricing-box{display:flex;flex-direction:column;position:relative;overflow:hidden}.oxy-pricing-box .oxy-pricing-box-section.oxy-pricing-box-graphic{order:10;display:flex;flex-direction:row}.oxy-pricing-box-graphic>img{max-width:100%;display:block}.oxy-pricing-box .oxy-pricing-box-section.oxy-pricing-box-title{order:20}.oxy-pricing-box .oxy-pricing-box-section.oxy-pricing-box-price{order:30;display:flex;flex-wrap:wrap;flex-direction:row;align-items:baseline;justify-content:center}.oxy-pricing-box-amount{display:flex;align-items:baseline;flex-direction:row}.oxy-pricing-box-currency{align-self:flex-start}.oxy-pricing-box-amount-decimal{align-self:baseline}.oxy-pricing-box-term{margin-left:.4em}.oxy-pricing-box-sale-price{width:100%;flex-grow:0;flex-shrink:0}.oxy-pricing-box .oxy-pricing-box-section.oxy-pricing-box-content{order:40}.oxy-pricing-box .oxy-pricing-box-section.oxy-pricing-box-cta{order:60}@keyframes oxy_progress_bar_width{0%{width:0}100%{width:100%}}@keyframes oxy_progress_bar_stripes{from{background-position:44px 0}to{background-position:0 0}}.oxy-progress-bar-background,.oxy-progress-bar-progress{background-position:top left;background-attachment:fixed;background-size:44px 44px}.oxy-progress-bar{display:flex;flex-direction:column;align-items:center;width:100%}.oxy-progress-bar-background{background-color:#d3d3d3;width:100%}.oxy-progress-bar-progress{padding:20px;display:flex;background-color:#a9a9a9;align-items:center}.oxy-progress-bar-overlay-percent{margin-left:auto;padding-left:1em;font-size:.8em}.oxy-tab,.oxy-tab-content{padding:20px}.oxy-progress-bar-overlay-percent:empty{display:none}.oxy-superbox{display:inline-flex}.oxy-superbox-primary,.oxy-superbox-secondary,.oxy-tabs-wrapper{display:flex}.oxy-superbox-wrap{position:relative;overflow:hidden;display:flex;width:100%}.oxy-superbox-primary{position:relative;top:0;left:0;width:100%}.oxy-superbox-secondary{position:absolute;top:0;left:0;width:100%;height:100%}.oxy-tab{cursor:pointer}.oxy-tabs-contents-content-hidden{display:none !important}.oxy-testimonial{display:flex;width:100%}.oxy-testimonial .oxy-testimonial-photo-wrap{display:flex;flex-direction:column}.oxy-testimonial .oxy-testimonial-photo{border-radius:50%}.oxy-testimonial .oxy-testimonial-content-wrap{display:flex;flex-direction:column;order:2}.oxy-testimonial .oxy-testimonial-author-wrap{display:flex;flex-direction:column}.oxy-testimonial .oxy-testimonial-author,.oxy-testimonial .oxy-testimonial-author-info{display:flex}.oxy-toggle{display:flex;flex-direction:row;cursor:pointer}.oxy-toggle-content{align-self:stretch;flex-grow:1;display:flex;flex-direction:column;justify-content:center}.oxy-expand-collapse-icon{align-self:center;flex-shrink:0;flex-grow:0;margin-right:.4em;text-align:initial;width:1em;height:1em;position:relative;display:inline-block}.oxy-expand-collapse-icon:after,.oxy-expand-collapse-icon:before{content:"";background-color:#000;position:absolute;width:1em;height:.16em;top:calc((1em/2) - .08em);transition:.3s ease-in-out all;border-radius:.03em}.oxy-expand-collapse-icon:after{transform:rotate(-90deg) scale(0)}.oxy-eci-collapsed.oxy-expand-collapse-icon:after{transform:rotate(-180deg)}.oxy-eci-collapsed.oxy-expand-collapse-icon:before{transform:rotate(-90deg)}[data-aos][data-aos=""]{transition-duration:0s !important}.oxy-modal-backdrop{display:flex;align-items:center;justify-content:center}body:not(.oxygen-builder-body) .oxy-modal-backdrop{display:none}body.oxygen-builder-body .oxy-modal-backdrop{height:100vh}.oxy-modal-backdrop.live{position:fixed;top:0;left:0;width:100%;height:100%;z-index:1400}.oxy-modal-backdrop.hidden{display:none}.oxy-modal-backdrop.left{flex-direction:column;align-items:flex-start}.oxy-modal-backdrop.right{flex-direction:column;align-items:flex-end}.oxy-modal-backdrop.top{flex-direction:row;align-items:flex-start}.oxy-modal-backdrop.bottom{flex-direction:row;align-items:flex-end}.oxy-modal-backdrop.upper_left{flex-direction:row;align-items:flex-start;justify-content:flex-start}.oxy-modal-backdrop.upper_right{flex-direction:row;align-items:flex-start;justify-content:flex-end}.oxy-modal-backdrop.bottom_left{flex-direction:row;align-items:flex-end;justify-content:flex-start}.oxy-modal-backdrop.bottom_right{flex-direction:row;align-items:flex-end;justify-content:flex-end}.oxy-modal-backdrop .ct-modal{background-color:#fff}div.oxy-dynamic-list div.oxy-product-images.oxy-woo-element{align-self:stretch}div.oxy-repeater-pages,div.oxy-repeater-pages-wrap{display:flex}.oxy-rich-text p:first-child{margin-block-start:0}.oxy-rich-text p:last-child{margin-block-end:0} #toc_container li,#toc_container ul{margin:0;padding:0}#toc_container.no_bullets li,#toc_container.no_bullets ul,#toc_container.no_bullets ul li,.toc_widget_list.no_bullets,.toc_widget_list.no_bullets li{background:0 0;list-style-type:none;list-style:none}#toc_container.have_bullets li{padding-left:12px}#toc_container ul ul{margin-left:1.5em}#toc_container{background:#f9f9f9;border:1px solid #aaa;padding:10px;margin-bottom:1em;width:auto;display:table;font-size:95%}#toc_container.toc_light_blue{background:#edf6ff}#toc_container.toc_white{background:#fff}#toc_container.toc_black{background:#000}#toc_container.toc_transparent{background:none transparent}#toc_container p.toc_title{text-align:center;font-weight:700;margin:0;padding:0}#toc_container.toc_black p.toc_title{color:#aaa}#toc_container span.toc_toggle{font-weight:400;font-size:90%}#toc_container p.toc_title+ul.toc_list{margin-top:1em}.toc_wrap_left{float:left;margin-right:10px}.toc_wrap_right{float:right;margin-left:10px}#toc_container a{text-decoration:none;text-shadow:none}#toc_container a:hover{text-decoration:underline}.toc_sitemap_posts_letter{font-size:1.5em;font-style:italic} /*! * Plugin: AAWP * URL: https://getaawp.com * Name: main.css */ .aawp-clearfix:after{content:".";display:block;clear:both;visibility:hidden;line-height:0;height:0}.aawp-clearfix{display:inline-block}html[xmlns] .aawp-clearfix{display:block}* html .aawp-clearfix{height:1%}.aawp .align-center{text-align:center}.aawp-button,.aawp .aawp-button{box-sizing:border-box;display:inline-block;margin:0;padding:7px 12px 6px;cursor:pointer;font-size:14px;font-weight:400;line-height:19px;text-align:center;text-decoration:none!important;background-color:#fff;border:1px solid #ccc!important;color:#333!important}.aawp-button:hover,.aawp .aawp-button:hover{text-decoration:none!important}.aawp-button:active,.aawp-button:focus,.aawp .aawp-button:active,.aawp .aawp-button:focus{box-shadow:none;text-decoration:none!important;outline:none}.aawp-button:visited,.aawp .aawp-button:visited{color:#333!important}.aawp-button:focus,.aawp-button:hover,.aawp .aawp-button:focus,.aawp .aawp-button:hover{border:1px solid #ccc!important;color:#333!important;background-color:#fafafa}.aawp-button.rounded,.aawp .aawp-button.rounded{border-radius:3px}.aawp-button.shadow,.aawp .aawp-button.shadow{box-shadow:0 1px 2px rgba(0,0,0,.3),inset 0 0 40px rgba(0,0,0,.1)}.aawp-button.aawp-button--amazon,.aawp .aawp-button.aawp-button--amazon{border-color:#9c7e31 #90742d #786025!important;border-radius:3px;box-shadow:inset 0 1px 0 hsla(0,0%,100%,.4);background:#f0c14b;background:linear-gradient(180deg,#f7dfa5,#f0c14b) repeat scroll 0 0 transparent;color:#111!important}.aawp-button.aawp-button--amazon:active,.aawp-button.aawp-button--amazon:focus,.aawp-button.aawp-button--amazon:hover,.aawp .aawp-button.aawp-button--amazon:active,.aawp .aawp-button.aawp-button--amazon:focus,.aawp .aawp-button.aawp-button--amazon:hover{background:#eeb933;background:linear-gradient(180deg,#f5d78e,#eeb933) repeat scroll 0 0 transparent;color:#111!important}.aawp-button.aawp-button--blue,.aawp .aawp-button.aawp-button--blue{background-color:#3498db;border-color:#3498db!important;color:#fff!important}.aawp-button.aawp-button--blue:visited,.aawp .aawp-button.aawp-button--blue:visited{color:#fff!important}.aawp-button.aawp-button--blue:focus,.aawp-button.aawp-button--blue:hover,.aawp .aawp-button.aawp-button--blue:focus,.aawp .aawp-button.aawp-button--blue:hover{border:1px solid #3498db!important;color:#fff!important;background-color:#2b94d9}.aawp-button.aawp-button--red,.aawp .aawp-button.aawp-button--red{background-color:#e74c3c;border-color:#e74c3c!important;color:#fff!important}.aawp-button.aawp-button--red:visited,.aawp .aawp-button.aawp-button--red:visited{color:#fff!important}.aawp-button.aawp-button--red:focus,.aawp-button.aawp-button--red:hover,.aawp .aawp-button.aawp-button--red:focus,.aawp .aawp-button.aawp-button--red:hover{border:1px solid #e74c3c!important;color:#fff!important;background-color:#e64433}.aawp-button.aawp-button--green,.aawp .aawp-button.aawp-button--green{background-color:#27ae60;border-color:#27ae60!important;color:#fff!important}.aawp-button.aawp-button--green:visited,.aawp .aawp-button.aawp-button--green:visited{color:#fff!important}.aawp-button.aawp-button--green:focus,.aawp-button.aawp-button--green:hover,.aawp .aawp-button.aawp-button--green:focus,.aawp .aawp-button.aawp-button--green:hover{border:1px solid #27ae60!important;color:#fff!important;background-color:#25a65b}.aawp-button.aawp-button--yellow,.aawp .aawp-button.aawp-button--yellow{background-color:#ffdf88;border-color:#ffdf88!important;color:#333!important}.aawp-button.aawp-button--yellow:visited,.aawp .aawp-button.aawp-button--yellow:visited{color:#333!important}.aawp-button.aawp-button--yellow:focus,.aawp-button.aawp-button--yellow:hover,.aawp .aawp-button.aawp-button--yellow:focus,.aawp .aawp-button.aawp-button--yellow:hover{border:1px solid #ffdf88!important;color:#333!important;background-color:#ffdc7e}.aawp-button.aawp-button--orange,.aawp .aawp-button.aawp-button--orange{background-color:#f39c12;border-color:#f39c12!important;color:#fff!important}.aawp-button.aawp-button--orange:visited,.aawp .aawp-button.aawp-button--orange:visited{color:#fff!important}.aawp-button.aawp-button--orange:focus,.aawp-button.aawp-button--orange:hover,.aawp .aawp-button.aawp-button--orange:focus,.aawp .aawp-button.aawp-button--orange:hover{border:1px solid #f39c12!important;color:#fff!important;background-color:#ef970c}.aawp-button.aawp-button--dark,.aawp .aawp-button.aawp-button--dark{background-color:#363636;border-color:#363636!important;color:#fff!important}.aawp-button.aawp-button--dark:visited,.aawp .aawp-button.aawp-button--dark:visited{color:#fff!important}.aawp-button.aawp-button--dark:focus,.aawp-button.aawp-button--dark:hover,.aawp .aawp-button.aawp-button--dark:focus,.aawp .aawp-button.aawp-button--dark:hover{border:1px solid #363636!important;color:#fff!important;background-color:#313131}.aawp-button.aawp-button--icon,.aawp .aawp-button.aawp-button--icon{position:relative;padding-left:32px}.aawp-button.aawp-button--icon:before,.aawp .aawp-button.aawp-button--icon:before{position:absolute;content:"";top:0;right:0;bottom:0;left:0;background-repeat:no-repeat;background-size:14px 14px;background-position:9px}.aawp-button.aawp-button--icon-amazon-black:before,.aawp .aawp-button.aawp-button--icon-amazon-black:before{background-image:url(//best-binoculars.uk/wp-content/plugins/aawp/assets/dist/css/../../img/icon-amazon-black.svg)}.aawp-button.aawp-button--icon-black:before,.aawp .aawp-button.aawp-button--icon-black:before{background-image:url(//best-binoculars.uk/wp-content/plugins/aawp/assets/dist/css/../../img/icon-cart-black.svg)}.aawp-button.aawp-button--icon-amazon-white:before,.aawp .aawp-button.aawp-button--icon-amazon-white:before{background-image:url(//best-binoculars.uk/wp-content/plugins/aawp/assets/dist/css/../../img/icon-amazon-white.svg)}.aawp-button.aawp-button--icon-white:before,.aawp .aawp-button.aawp-button--icon-white:before{background-image:url(//best-binoculars.uk/wp-content/plugins/aawp/assets/dist/css/../../img/icon-cart-white.svg)}a.aawp-star-rating,a.aawp-star-rating:active,a.aawp-star-rating:focus,a.aawp-star-rating:hover{border:none;box-shadow:none;outline:none;text-decoration:none}.aawp-star-rating{position:relative;display:inline-block;background-image:url(//best-binoculars.uk/wp-content/plugins/aawp/assets/dist/css/../../img/stars/v1.svg);height:16px;width:80px;background-size:16px 16px}.aawp-star-rating,.aawp-star-rating>span{background-repeat:repeat-x;background-position:0;vertical-align:middle}.aawp-star-rating>span{position:absolute;top:0;bottom:0;left:0;display:block;background-image:url(//best-binoculars.uk/wp-content/plugins/aawp/assets/dist/css/../../img/stars/v1-active.svg);height:16px;width:80px;background-size:16px 16px}.aawp-star-rating--medium,.aawp-star-rating--medium>span{height:20px;width:100px;background-size:20px 20px}.aawp-star-rating--large,.aawp-star-rating--large>span{height:30px;width:150px;background-size:30px 30px}.aawp-star-rating--v2{background-image:url(//best-binoculars.uk/wp-content/plugins/aawp/assets/dist/css/../../img/stars/v2.svg)}.aawp-star-rating--v2>span{background-image:url(//best-binoculars.uk/wp-content/plugins/aawp/assets/dist/css/../../img/stars/v2-active.svg)}.aawp-star-rating--v3{background-image:url(//best-binoculars.uk/wp-content/plugins/aawp/assets/dist/css/../../img/stars/v3.svg)}.aawp-star-rating--v3>span{background-image:url(//best-binoculars.uk/wp-content/plugins/aawp/assets/dist/css/../../img/stars/v3-active.svg)}.aawp-star-rating--v4{background-image:url(//best-binoculars.uk/wp-content/plugins/aawp/assets/dist/css/../../img/stars/v4.svg)}.aawp-star-rating--v4>span{background-image:url(//best-binoculars.uk/wp-content/plugins/aawp/assets/dist/css/../../img/stars/v4-active.svg)}.aawp-star-rating--v5{background-image:url(//best-binoculars.uk/wp-content/plugins/aawp/assets/dist/css/../../img/stars/v5.svg)}.aawp-star-rating--v5>span{background-image:url(//best-binoculars.uk/wp-content/plugins/aawp/assets/dist/css/../../img/stars/v5-active.svg)}.aawp-star-rating--v6{background-image:url(//best-binoculars.uk/wp-content/plugins/aawp/assets/dist/css/../../img/stars/v6.svg)}.aawp-star-rating--v6>span{background-image:url(//best-binoculars.uk/wp-content/plugins/aawp/assets/dist/css/../../img/stars/v6-active.svg)}.aawp-star-rating--v7{background-image:url(//best-binoculars.uk/wp-content/plugins/aawp/assets/dist/css/../../img/stars/v7.svg)}.aawp-star-rating--v7>span{background-image:url(//best-binoculars.uk/wp-content/plugins/aawp/assets/dist/css/../../img/stars/v7-active.svg)}.aawp-star-rating--wayl{background-image:url(//best-binoculars.uk/wp-content/plugins/aawp/assets/dist/css/../../img/stars/wayl.svg)}.aawp-star-rating--wayl>span{background-image:url(//best-binoculars.uk/wp-content/plugins/aawp/assets/dist/css/../../img/stars/wayl-active.svg)}.aawp-star-rating--wayl.aawp-star-rating--small,.aawp-star-rating--wayl.aawp-star-rating--small>span{height:16px;width:60px;background-size:12px 16px}.aawp-star-rating--wayl.aawp-star-rating--medium,.aawp-star-rating--wayl.aawp-star-rating--medium>span{height:20px;width:75px;background-size:15px 20px}.aawp-star-rating--wayl.aawp-star-rating--large,.aawp-star-rating--wayl.aawp-star-rating--large>span{height:30px;width:115px;background-size:23px 30px}.aawp-product{position:relative;margin:0 0 30px;width:100%}.aawp-product .aawp-product__title{word-wrap:break-word}.aawp-product__ribbon{padding:0 20px;font-weight:400;font-size:12px;line-height:20px;text-transform:uppercase}.aawp-product__ribbon--sale{background:#27ae60;border-bottom-left-radius:2px;color:#fff}.aawp-product__ribbon--bestseller{background:#e47911;border-bottom-right-radius:2px;color:#fff}.aawp-product__ribbon--new{background:#d9534f;border-bottom-right-radius:2px;color:#fff}.aawp.aawp-box.box--widget,.widget .aawp-box{box-sizing:border-box;margin-bottom:15px;padding:15px 10px 10px}.aawp.aawp-box.box--widget *,.aawp.aawp-box.box--widget :after,.aawp.aawp-box.box--widget :before,.widget .aawp-box *,.widget .aawp-box :after,.widget .aawp-box :before{box-sizing:border-box}.aawp.aawp-box.box--widget:last-child,.widget .aawp-box:last-child{margin-bottom:0}.aawp.aawp-box.box--widget.sale,.widget .aawp-box.sale{padding-top:30px}.aawp.aawp-box.box--widget .aawp-box__thumb,.widget .aawp-box .aawp-box__thumb{float:none;width:100%;margin-bottom:10px}.aawp.aawp-box.box--widget .aawp-box__image,.widget .aawp-box .aawp-box__image{max-width:120px;margin-bottom:5px}.aawp.aawp-box.box--widget .aawp-box__content,.widget .aawp-box .aawp-box__content{margin-left:0;padding-left:0}.aawp.aawp-box.box--widget .aawp-box__title,.widget .aawp-box .aawp-box__title{font-size:14px!important;line-height:1.3!important;text-align:center}.aawp.aawp-box.box--widget .aawp-box__footer,.widget .aawp-box .aawp-box__footer{text-align:center;margin-left:0;padding-left:0}.aawp.aawp-box.box--widget .aawp-box__footer p,.widget .aawp-box .aawp-box__footer p{margin:0}.aawp.aawp-box.box--widget .aawp-box__rating,.widget .aawp-box .aawp-box__rating{margin-left:0}.aawp.aawp-box.box--widget .aawp-box__pricing,.widget .aawp-box .aawp-box__pricing{margin:0 0 10px}.aawp.aawp-box.box--widget .aawp-box__price,.widget .aawp-box .aawp-box__price{line-height:1!important;margin-bottom:5px}.aawp.aawp-box.box--widget .aawp-box__price--old,.widget .aawp-box .aawp-box__price--old{font-size:13px!important}.aawp.aawp-box.box--widget .aawp-box__price--saved,.widget .aawp-box .aawp-box__price--saved{margin-top:0}.aawp.aawp-box.box--widget .aawp-box__price--current,.widget .aawp-box .aawp-box__price--current{display:block!important;font-size:18px!important;margin:0}.aawp.aawp-box.box--widget .aawp-box__prime,.widget .aawp-box .aawp-box__prime{margin:5px 0 0!important}.aawp.aawp-box.box--widget .aawp-box__btn,.widget .aawp-box .aawp-box__btn{margin-top:5px;margin-left:0}.aawp.aawp-box.box--widget .aawp-box__info,.widget .aawp-box .aawp-box__info{position:static;display:block;margin-top:10px;max-width:100%;text-align:center}.aawp.aawp-box.box--widget.inline-info .aawp-box__thumb,.widget .aawp-box.inline-info .aawp-box__thumb{margin-bottom:10px}.aawp.aawp-box.box--widget .aawp-box__description,.aawp.aawp-box.box--widget .aawp-box__reviews,.widget .aawp-box .aawp-box__description,.widget .aawp-box .aawp-box__reviews{display:none}.aawp .aawp-product--horizontal{zoom:1;display:block;max-width:100%;padding:20px;background:#fff;border:1px solid #ececec;font-size:15px;line-height:1.6;white-space:normal}.aawp .aawp-product--horizontal:after,.aawp .aawp-product--horizontal:before{content:" ";display:table}.aawp .aawp-product--horizontal:after{clear:both}.aawp .aawp-product--horizontal.aawp-product--ribbon{padding-top:35px}@media (min-width:769px){.aawp .aawp-product--horizontal.aawp-product--css-adjust-image-large .aawp-product__thumb{width:250px}.aawp .aawp-product--horizontal.aawp-product--css-adjust-image-large .aawp-product__content{margin-left:250px;padding-left:40px}}.aawp .aawp-product--horizontal .aawp-product__thumb{float:left;width:160px}@media (max-width:768px){.aawp .aawp-product--horizontal .aawp-product__thumb{float:none;width:100%}}.aawp .aawp-product--horizontal .aawp-product__image{display:block;height:auto;margin:0 auto 15px;max-height:200px;max-width:100%;width:auto;border:none;box-shadow:none}.aawp .aawp-product--horizontal .aawp-product__rating{margin:0 auto 10px;text-align:center}.aawp .aawp-product--horizontal .aawp-product__reviews{margin-top:5px;font-size:12px;color:#666;text-align:center}.aawp .aawp-product--horizontal .aawp-product__content{margin-left:160px;padding-left:20px}@media (max-width:768px){.aawp .aawp-product--horizontal .aawp-product__content{margin:0;padding:0}}.aawp .aawp-product--horizontal .aawp-product__title{display:block;margin:0 0 15px;font-size:18px;font-weight:700}@media (max-width:480px){.aawp .aawp-product--horizontal .aawp-product__title{margin-bottom:5px;font-size:16px}}.aawp .aawp-product--horizontal .aawp-product__description{margin:0}.aawp .aawp-product--horizontal .aawp-product__description>p{margin:0 0 5px}.aawp .aawp-product--horizontal .aawp-product__description>p:empty{display:none}.aawp .aawp-product--horizontal .aawp-product__description>ul{margin:0 0 5px;padding:0 0 0 20px;list-style-type:disc;list-style-position:outside!important}.aawp .aawp-product--horizontal .aawp-product__description>ul li{margin:0;padding:0;background:0 0;word-wrap:break-word}@media (max-width:480px){.aawp .aawp-product--horizontal .aawp-product__description{display:none}}.aawp .aawp-product--horizontal .aawp-product__footer{text-align:right;margin-left:160px;padding-left:20px}@media (max-width:768px){.aawp .aawp-product--horizontal .aawp-product__footer{margin:0;padding:0}}.aawp .aawp-product--horizontal .aawp-product__pricing{display:block;margin-bottom:5px}.aawp .aawp-product--horizontal .aawp-product__pricing .aawp-product__price--current:empty,.aawp .aawp-product--horizontal .aawp-product__pricing .aawp-product__price--old:empty,.aawp .aawp-product--horizontal .aawp-product__pricing .aawp-product__price:empty,.aawp .aawp-product--horizontal .aawp-product__pricing:empty{display:none;margin:0}.aawp .aawp-product--horizontal .aawp-product__pricing span+span{margin-left:15px}.aawp .aawp-product--horizontal .aawp-product__pricing span+span.aawp-check-premium,.aawp .aawp-product--horizontal .aawp-product__pricing span+span.aawp-check-prime{margin-left:5px}@media (max-width:480px){.aawp .aawp-product--horizontal .aawp-product__pricing{margin-bottom:0}}.aawp .aawp-product--horizontal .aawp-product__price{display:inline-block;line-height:34px;vertical-align:middle}.aawp .aawp-product--horizontal .aawp-product__price--old{font-size:14px;text-decoration:line-through;color:#666}.aawp .aawp-product--horizontal .aawp-product__price--current{font-size:20px;font-weight:700}@media (max-width:480px){.aawp .aawp-product--horizontal .aawp-product__price--current{font-size:16px}}.aawp .aawp-product--horizontal .aawp-product__price--saved{border-radius:2px;background:#27ae60;background:rgba(39,174,96,.8);padding:4px 6px;color:#fff;font-size:12px;line-height:12px;margin-top:11px;margin-bottom:11px}.aawp .aawp-product--horizontal .aawp-button+.aawp-button{margin-left:15px;margin-top:5px}.aawp .aawp-product--horizontal .aawp-product__ribbon{position:absolute;padding:0 15px}.aawp .aawp-product--horizontal .aawp-product__ribbon--bestseller,.aawp .aawp-product--horizontal .aawp-product__ribbon--new{top:-1px;left:-1px}.aawp .aawp-product--horizontal .aawp-product__ribbon--sale{top:-1px;right:-1px}.aawp .aawp-product--horizontal .aawp-product__info{position:absolute;bottom:10px;left:15px;max-width:225px;color:#666;font-size:11px;text-align:left}@media (max-width:768px){.aawp .aawp-product--horizontal .aawp-product__info{position:static;display:block;margin-top:10px;max-width:100%}}@media (min-width:768px){.aawp .aawp-product--horizontal.aawp-product--inline-info .aawp-product__thumb{margin-bottom:30px}}.aawp .aawp-product--horizontal.aawp-product--style-light{box-shadow:0 1px 2px rgba(0,0,0,.3),inset 0 0 40px rgba(0,0,0,.1)}.aawp .aawp-product--horizontal.aawp-product--style-dark{background:#232f3e;color:#e2e2e2}.aawp .aawp-product--horizontal.aawp-product--style-dark .aawp-product__title,.aawp .aawp-product--horizontal.aawp-product--style-dark .aawp-product__title:visited{color:#fff}.aawp .aawp-product--horizontal.aawp-product--style-dark .aawp-product__teaser,.aawp .aawp-product--horizontal.aawp-product--style-dark .aawp-product__title:focus,.aawp .aawp-product--horizontal.aawp-product--style-dark .aawp-product__title:hover{color:#e2e2e2}.aawp .aawp-product--horizontal.aawp-product--style-dark .aawp-product__price--current{color:#fff}.aawp .aawp-product--horizontal.aawp-product--style-dark .aawp-product__info,.aawp .aawp-product--horizontal.aawp-product--style-dark .aawp-product__price--old,.aawp .aawp-product--horizontal.aawp-product--style-dark .aawp-product__reviews{color:#ccc}.aawp .aawp-product--horizontal.aawp-product--style-dark .aawp-star-rating--wayl{background-image:url(//best-binoculars.uk/wp-content/plugins/aawp/assets/dist/css/img/stars/wayl-inverted.svg)}.aawp .aawp-product--horizontal.aawp-product--style-dark .aawp-star-rating--wayl>span{background-image:url(//best-binoculars.uk/wp-content/plugins/aawp/assets/dist/css/img/stars/wayl-inverted-active.svg)}.aawp .aawp-product--horizontal.aawp-product--style-wayl{background:#96281b;color:#e2e2e2}.aawp .aawp-product--horizontal.aawp-product--style-wayl .aawp-product__title,.aawp .aawp-product--horizontal.aawp-product--style-wayl .aawp-product__title:visited{color:#fff}.aawp .aawp-product--horizontal.aawp-product--style-wayl .aawp-product__teaser,.aawp .aawp-product--horizontal.aawp-product--style-wayl .aawp-product__title:focus,.aawp .aawp-product--horizontal.aawp-product--style-wayl .aawp-product__title:hover{color:#e2e2e2}.aawp .aawp-product--horizontal.aawp-product--style-wayl .aawp-product__price--current{color:#fff}.aawp .aawp-product--horizontal.aawp-product--style-wayl .aawp-product__info,.aawp .aawp-product--horizontal.aawp-product--style-wayl .aawp-product__price--old,.aawp .aawp-product--horizontal.aawp-product--style-wayl .aawp-product__reviews{color:#ccc}.aawp .aawp-product--horizontal.aawp-product--style-wayl .aawp-star-rating--wayl{background-image:url(//best-binoculars.uk/wp-content/plugins/aawp/assets/dist/css/img/stars/wayl-inverted.svg)}.aawp .aawp-product--horizontal.aawp-product--style-wayl .aawp-star-rating--wayl>span{background-image:url(//best-binoculars.uk/wp-content/plugins/aawp/assets/dist/css/img/stars/wayl-inverted-active.svg)}.aawp .aawp-product--widget-vertical{zoom:1;background:#fff;border:1px solid #ececec;color:inherit;position:relative;display:block;max-width:100%;font-size:15px;line-height:1.6;white-space:normal;min-width:100%;padding:15px;margin:0 0 20px}.aawp .aawp-product--widget-vertical:after,.aawp .aawp-product--widget-vertical:before{content:" ";display:table}.aawp .aawp-product--widget-vertical:after{clear:both}@media (max-width:480px){.aawp .aawp-product--widget-vertical{margin-bottom:15px}}.aawp .aawp-product--widget-vertical.ribbon{padding-top:35px}.aawp .aawp-product--widget-vertical .aawp-box__thumb{float:left;width:160px}@media (max-width:768px){.aawp .aawp-product--widget-vertical .aawp-box__thumb{float:none;width:100%}}.aawp .aawp-product--widget-vertical .aawp-box__image{display:block;height:auto;margin:0 auto 15px;max-width:100%;border:none;box-shadow:none}.aawp .aawp-product--widget-vertical .aawp-box__rating{margin:0 auto 10px;text-align:center}.aawp .aawp-product--widget-vertical .aawp-box__reviews{margin-top:5px;font-size:12px;color:#666;text-align:center}.aawp .aawp-product--widget-vertical .aawp-box__content{margin-left:160px;padding-left:20px}@media (max-width:768px){.aawp .aawp-product--widget-vertical .aawp-box__content{margin:0;padding:0}}.aawp .aawp-product--widget-vertical .aawp-box__title{display:block;margin:0 0 15px;font-size:18px;font-weight:700}@media (max-width:480px){.aawp .aawp-product--widget-vertical .aawp-box__title{margin-bottom:5px;font-size:16px}}.aawp .aawp-product--widget-vertical .aawp-box__description{margin:0}.aawp .aawp-product--widget-vertical .aawp-box__description>p{margin:0 0 5px}.aawp .aawp-product--widget-vertical .aawp-box__description>p:empty{display:none}.aawp .aawp-product--widget-vertical .aawp-box__description>ul{margin:0 0 5px;padding:0 0 0 20px;list-style-position:outside!important}.aawp .aawp-product--widget-vertical .aawp-box__description>ul li{margin:0;padding:0}@media (max-width:480px){.aawp .aawp-product--widget-vertical .aawp-box__description{display:none}}.aawp .aawp-product--widget-vertical .aawp-box__footer{text-align:right;margin-left:160px;padding-left:20px}@media (max-width:768px){.aawp .aawp-product--widget-vertical .aawp-box__footer{margin:0;padding:0}}.aawp .aawp-product--widget-vertical .aawp-box__pricing{display:block;margin-bottom:5px}.aawp .aawp-product--widget-vertical .aawp-box__pricing:empty{display:none}.aawp .aawp-product--widget-vertical .aawp-box__pricing span+span{margin-left:15px}.aawp .aawp-product--widget-vertical .aawp-box__pricing span+span.aawp-check-premium,.aawp .aawp-product--widget-vertical .aawp-box__pricing span+span.aawp-check-prime{margin-left:5px}@media (max-width:480px){.aawp .aawp-product--widget-vertical .aawp-box__pricing{margin-bottom:0}}.aawp .aawp-product--widget-vertical .aawp-box__price{display:inline-block;line-height:34px;vertical-align:middle}.aawp .aawp-product--widget-vertical .aawp-box__price--old{font-size:14px;text-decoration:line-through;color:#666}.aawp .aawp-product--widget-vertical .aawp-box__price--current{font-size:20px;font-weight:700}@media (max-width:480px){.aawp .aawp-product--widget-vertical .aawp-box__price--current{font-size:16px}}.aawp .aawp-product--widget-vertical .aawp-box__price--saved{border-radius:2px;background:#27ae60;background:rgba(39,174,96,.8);padding:4px 6px;color:#fff;font-size:12px;line-height:12px;margin-top:11px;margin-bottom:11px}.aawp .aawp-product--widget-vertical .aawp-button+.aawp-button{margin-left:15px;margin-top:5px}.aawp .aawp-product--widget-vertical .aawp-box__ribbon{position:absolute;font-weight:400;font-size:12px;text-transform:uppercase;color:#fff;line-height:20px;padding:0 15px}.aawp .aawp-product--widget-vertical .aawp-box__bestseller{top:-1px;left:-1px;background:#e47911;background:rgba(228,121,17,.8);border-bottom-right-radius:2px}.aawp .aawp-product--widget-vertical .aawp-box__sale{top:-1px;right:-1px;background:#27ae60;background:rgba(39,174,96,.8);border-bottom-left-radius:2px}.aawp .aawp-product--widget-vertical .aawp-box__info{position:absolute;bottom:10px;left:15px;max-width:225px;color:#666;font-size:11px;text-align:left}@media (max-width:768px){.aawp .aawp-product--widget-vertical .aawp-box__info{position:static;display:block;margin-top:10px;max-width:100%}}@media (min-width:768px){.aawp .aawp-product--widget-vertical.inline-info .aawp-box__thumb{margin-bottom:30px}}.aawp .aawp-product--widget-vertical.aawp-product--ribbon{padding-top:25px}.aawp .aawp-product--widget-vertical .aawp-product__ribbon{padding:0 10px}.aawp .aawp-product--widget-vertical .aawp-product__ribbon--sale{position:absolute;top:-1px;right:-1px}.aawp .aawp-product--widget-vertical .aawp-product__ribbon--bestseller,.aawp .aawp-product--widget-vertical .aawp-product__ribbon--new{position:absolute;top:-1px;left:-1px}.aawp .aawp-product--widget-vertical .aawp-product__image-link{margin:0;border:none;box-shadow:none;outline:none;text-decoration:none}.aawp .aawp-product--widget-vertical .aawp-product__image-link:active,.aawp .aawp-product--widget-vertical .aawp-product__image-link:focus,.aawp .aawp-product--widget-vertical .aawp-product__image-link:hover{border:none;box-shadow:none;outline:none;text-decoration:none}.aawp .aawp-product--widget-vertical .aawp-product__image{display:block;width:100%\9;max-width:100%;height:auto;margin:0 auto;max-height:200px;-o-object-fit:contain;object-fit:contain}.aawp .aawp-product--widget-vertical .aawp-product__content{position:relative}.aawp .aawp-product--widget-vertical .aawp-product__title{display:block;margin-top:10px;border:none;box-shadow:none;outline:none;text-decoration:none;font-size:14px;font-weight:700;line-height:1.3;text-align:center}.aawp .aawp-product--widget-vertical .aawp-product__meta{margin-top:5px;text-align:center}.aawp .aawp-product--widget-vertical .aawp-product__meta .aawp-check-prime,.aawp .aawp-product--widget-vertical .aawp-product__meta .aawp-star-rating{margin:0 5px}.aawp .aawp-product--widget-vertical .aawp-product__reviews{display:inline-block;color:#666;font-size:14px;line-height:14px;vertical-align:-10%}.aawp .aawp-product--widget-vertical .aawp-product__footer{text-align:center}.aawp .aawp-product--widget-vertical .aawp-product__footer .aawp-button{margin-top:10px}.aawp .aawp-product--widget-vertical .aawp-product__pricing{margin-top:10px;width:100%}.aawp .aawp-product--widget-vertical .aawp-product__pricing .aawp-check-prime{display:block;margin:7px auto 0}.aawp .aawp-product--widget-vertical .aawp-product__pricing .aawp-product__price--current:empty,.aawp .aawp-product--widget-vertical .aawp-product__pricing .aawp-product__price--old:empty,.aawp .aawp-product--widget-vertical .aawp-product__pricing .aawp-product__price:empty,.aawp .aawp-product--widget-vertical .aawp-product__pricing:empty{display:none;margin:0}.aawp .aawp-product--widget-vertical .aawp-product__price{margin:0 5px;line-height:18px}.aawp .aawp-product--widget-vertical .aawp-product__price--old{color:#666;font-size:13px;text-decoration:line-through}.aawp .aawp-product--widget-vertical .aawp-product__price--current{font-size:18px;font-weight:700}.aawp .aawp-product--widget-vertical .aawp-product__info{display:block;margin-top:10px;color:#666;font-size:11px;text-align:center}.aawp .aawp-product--widget-vertical.aawp-product--style-light{box-shadow:0 1px 2px rgba(0,0,0,.3),inset 0 0 40px rgba(0,0,0,.1)}.aawp .aawp-product--widget-vertical.aawp-product--style-dark{background:#232f3e;color:#e2e2e2}.aawp .aawp-product--widget-vertical.aawp-product--style-dark .aawp-product__title,.aawp .aawp-product--widget-vertical.aawp-product--style-dark .aawp-product__title:visited{color:#fff}.aawp .aawp-product--widget-vertical.aawp-product--style-dark .aawp-product__teaser,.aawp .aawp-product--widget-vertical.aawp-product--style-dark .aawp-product__title:focus,.aawp .aawp-product--widget-vertical.aawp-product--style-dark .aawp-product__title:hover{color:#e2e2e2}.aawp .aawp-product--widget-vertical.aawp-product--style-dark .aawp-product__price--current{color:#fff}.aawp .aawp-product--widget-vertical.aawp-product--style-dark .aawp-product__info,.aawp .aawp-product--widget-vertical.aawp-product--style-dark .aawp-product__price--old,.aawp .aawp-product--widget-vertical.aawp-product--style-dark .aawp-product__reviews{color:#ccc}.aawp .aawp-product--widget-vertical.aawp-product--style-dark .aawp-star-rating--wayl{background-image:url(//best-binoculars.uk/wp-content/plugins/aawp/assets/dist/css/img/stars/wayl-inverted.svg)}.aawp .aawp-product--widget-vertical.aawp-product--style-dark .aawp-star-rating--wayl>span{background-image:url(//best-binoculars.uk/wp-content/plugins/aawp/assets/dist/css/img/stars/wayl-inverted-active.svg)}.aawp .aawp-product--widget-vertical.aawp-product--style-dark .aawp-product__price--current{color:#e2e2e2}.aawp .aawp-product--widget-vertical.aawp-product--style-wayl{background:#96281b;color:#e2e2e2}.aawp .aawp-product--widget-vertical.aawp-product--style-wayl .aawp-product__title,.aawp .aawp-product--widget-vertical.aawp-product--style-wayl .aawp-product__title:visited{color:#fff}.aawp .aawp-product--widget-vertical.aawp-product--style-wayl .aawp-product__teaser,.aawp .aawp-product--widget-vertical.aawp-product--style-wayl .aawp-product__title:focus,.aawp .aawp-product--widget-vertical.aawp-product--style-wayl .aawp-product__title:hover{color:#e2e2e2}.aawp .aawp-product--widget-vertical.aawp-product--style-wayl .aawp-product__price--current{color:#fff}.aawp .aawp-product--widget-vertical.aawp-product--style-wayl .aawp-product__info,.aawp .aawp-product--widget-vertical.aawp-product--style-wayl .aawp-product__price--old,.aawp .aawp-product--widget-vertical.aawp-product--style-wayl .aawp-product__reviews{color:#ccc}.aawp .aawp-product--widget-vertical.aawp-product--style-wayl .aawp-star-rating--wayl{background-image:url(//best-binoculars.uk/wp-content/plugins/aawp/assets/dist/css/img/stars/wayl-inverted.svg)}.aawp .aawp-product--widget-vertical.aawp-product--style-wayl .aawp-star-rating--wayl>span{background-image:url(//best-binoculars.uk/wp-content/plugins/aawp/assets/dist/css/img/stars/wayl-inverted-active.svg)}.aawp .aawp-product--widget-vertical.aawp-product--style-wayl .aawp-product__price--current{color:#e2e2e2}.thrv_wrapper div.aawp,.thrv_wrapper div.aawp div{box-sizing:border-box}.thrv_wrapper .aawp .aawp-product--vertical{min-width:auto}.aawp,.aawp *,.aawp :after,.aawp :before,.aawp div,.aawp div *,.aawp div :after,.aawp div :before,.aawp span,.aawp span *,.aawp span :after,.aawp span :before{box-sizing:border-box}.aawp-credits,.aawp-disclaimer{font-size:12px}.aawp a.aawp-check-premium,.aawp a.aawp-check-premium:active,.aawp a.aawp-check-premium:focus,.aawp a.aawp-check-premium:hover,.aawp a.aawp-check-premium:visited,.aawp a.aawp-check-prime,.aawp a.aawp-check-prime:active,.aawp a.aawp-check-prime:focus,.aawp a.aawp-check-prime:hover,.aawp a.aawp-check-prime:visited,a.aawp-check-premium,a.aawp-check-premium:active,a.aawp-check-premium:focus,a.aawp-check-premium:hover,a.aawp-check-premium:visited,a.aawp-check-prime,a.aawp-check-prime:active,a.aawp-check-prime:focus,a.aawp-check-prime:hover,a.aawp-check-prime:visited{border:none;box-shadow:none;outline:none;text-decoration:none}.aawp-check-prime,.aawp .aawp-check-prime{display:inline-block;width:55px;height:16px;background-image:url(//best-binoculars.uk/wp-content/plugins/aawp/assets/dist/css/../../img/icon-check-prime.png);vertical-align:middle}@media (-webkit-min-device-pixel-ratio:2),(min-resolution:192dpi){.aawp-check-prime,.aawp .aawp-check-prime{background-image:url(//best-binoculars.uk/wp-content/plugins/aawp/assets/dist/css/../../img/icon-check-prime@2x.png);background-size:55px 16px}}.aawp-check-prime.aawp-check-prime--jp,.aawp .aawp-check-prime.aawp-check-prime--jp{background-image:url(//best-binoculars.uk/wp-content/plugins/aawp/assets/dist/css/../../img/icon-check-prime-jp.png)}@media (-webkit-min-device-pixel-ratio:2),(min-resolution:192dpi){.aawp-check-prime.aawp-check-prime--jp,.aawp .aawp-check-prime.aawp-check-prime--jp{background-image:url(//best-binoculars.uk/wp-content/plugins/aawp/assets/dist/css/../../img/icon-check-prime-jp.png)}}.aawp-check-premium,.aawp .aawp-check-premium{display:inline-block;width:75px;height:16px;background-image:url(//best-binoculars.uk/wp-content/plugins/aawp/assets/dist/css/../../img/icon-check-premium.png);vertical-align:middle}.aawp-link{position:relative}.aawp-link-icon-container{position:relative;display:inline-block;height:16px;width:16px;box-shadow:none;text-decoration:none;outline:none;border:none;overflow:visible}.aawp-link-icon-container--large{width:66px}.aawp-link-icon{position:absolute;bottom:-2px;left:0;display:block;height:16px;width:16px;max-width:none;max-height:none;min-width:0;min-height:0;background-repeat:no-repeat;background-size:100%;background-position:50%;transition:all .5s;overflow:visible}.aawp-link-icon.amazon{background-image:url(//best-binoculars.uk/wp-content/plugins/aawp/assets/dist/css/../../img/icon-amazon.svg)}.aawp-link-icon.cart{background-color:#fff;background-color:hsla(0,0%,100%,.8);background-image:url(//best-binoculars.uk/wp-content/plugins/aawp/assets/dist/css/../../img/icon-cart-black.svg)}.aawp-link-icon.amazon-logo{bottom:-5px;height:20px;width:66px;background-image:url(//best-binoculars.uk/wp-content/plugins/aawp/assets/dist/css/../../img/icon-amazon-logo.png)}.aawp-link-icon-container:hover .aawp-link-icon,.aawp-link:hover+.aawp-link-icon-container .aawp-link-icon{height:30px;width:30px}.aawp-link-icon-container:hover .aawp-link-icon.amazon-logo,.aawp-link:hover+.aawp-link-icon-container .aawp-link-icon.amazon-logo{height:30px;width:99px}.aawp.aawp-box{zoom:1;position:relative;display:block;margin:0 0 20px;max-width:100%;padding:20px;background:#fff;border:1px solid #ececec;font-size:15px;line-height:1.6;white-space:normal}.aawp.aawp-box,.aawp.aawp-box *,.aawp.aawp-box :after,.aawp.aawp-box :before{box-sizing:border-box}.aawp.aawp-box:after,.aawp.aawp-box:before{content:" ";display:table}.aawp.aawp-box:after{clear:both}@media (max-width:480px){.aawp.aawp-box{margin-bottom:15px}}.aawp.aawp-box.ribbon{padding-top:35px}.aawp.aawp-box .aawp-box__thumb{float:left;width:160px}@media (max-width:768px){.aawp.aawp-box .aawp-box__thumb{float:none;width:100%}}.aawp.aawp-box .aawp-box__image{display:block;height:auto;margin:0 auto 15px;max-width:100%;border:none;box-shadow:none}.aawp.aawp-box .aawp-box__rating{margin:0 auto 10px;text-align:center}.aawp.aawp-box .aawp-box__rating .aawp-star-rating,.aawp.aawp-box .aawp-box__rating .aawp-star-rating:active,.aawp.aawp-box .aawp-box__rating .aawp-star-rating:focus,.aawp.aawp-box .aawp-box__rating .aawp-star-rating:hover{border:none;box-shadow:none;outline:none;text-decoration:none}.aawp.aawp-box .aawp-box__reviews{margin-top:5px;font-size:12px;color:#666;text-align:center}.aawp.aawp-box .aawp-box__content{margin-left:160px;padding-left:20px}@media (max-width:768px){.aawp.aawp-box .aawp-box__content{margin:0;padding:0}}.aawp.aawp-box .aawp-box__title{display:block;margin:0 0 15px;font-size:18px;font-weight:700}@media (max-width:480px){.aawp.aawp-box .aawp-box__title{margin-bottom:5px;font-size:16px}}.aawp.aawp-box .aawp-box__description{margin:0}.aawp.aawp-box .aawp-box__description>p{margin:0 0 5px}.aawp.aawp-box .aawp-box__description>p:empty{display:none}.aawp.aawp-box .aawp-box__description>ul{margin:0 0 5px;padding:0 0 0 20px;list-style-position:outside!important}.aawp.aawp-box .aawp-box__description>ul li{margin:0;padding:0}@media (max-width:480px){.aawp.aawp-box .aawp-box__description{display:none}}.aawp.aawp-box .aawp-box__footer{text-align:right;margin-left:160px;padding-left:20px}@media (max-width:768px){.aawp.aawp-box .aawp-box__footer{margin:0;padding:0}}.aawp.aawp-box .aawp-box__pricing{display:block;margin-bottom:5px}.aawp.aawp-box .aawp-box__pricing:empty{display:none}.aawp.aawp-box .aawp-box__pricing span+span{margin-left:15px}.aawp.aawp-box .aawp-box__pricing span+span.aawp-check-premium,.aawp.aawp-box .aawp-box__pricing span+span.aawp-check-prime{margin-left:5px}@media (max-width:480px){.aawp.aawp-box .aawp-box__pricing{margin-bottom:0}}.aawp.aawp-box .aawp-box__price{display:inline-block;line-height:34px;vertical-align:middle}.aawp.aawp-box .aawp-box__price--old{font-size:14px;text-decoration:line-through;color:#666}.aawp.aawp-box .aawp-box__price--current{font-size:20px;font-weight:700}@media (max-width:480px){.aawp.aawp-box .aawp-box__price--current{font-size:16px}}.aawp.aawp-box .aawp-box__price--saved{border-radius:2px;background:#27ae60;background:rgba(39,174,96,.8);padding:4px 6px;color:#fff;font-size:12px;line-height:12px;margin-top:11px;margin-bottom:11px}.aawp.aawp-box .aawp-button+.aawp-button{margin-left:15px;margin-top:5px}.aawp.aawp-box .aawp-box__ribbon{position:absolute;font-weight:400;font-size:12px;text-transform:uppercase;color:#fff;line-height:20px;padding:0 15px}.aawp.aawp-box .aawp-box__bestseller{top:-1px;left:-1px;background:#e47911;background:rgba(228,121,17,.8);border-bottom-right-radius:2px}.aawp.aawp-box .aawp-box__sale{top:-1px;right:-1px;background:#27ae60;background:rgba(39,174,96,.8);border-bottom-left-radius:2px}.aawp.aawp-box .aawp-box__info{position:absolute;bottom:10px;left:15px;max-width:225px;color:#666;font-size:11px;text-align:left}@media (max-width:768px){.aawp.aawp-box .aawp-box__info{position:static;display:block;margin-top:10px;max-width:100%}}@media (min-width:768px){.aawp.aawp-box.inline-info .aawp-box__thumb{margin-bottom:30px}}.aawp.aawp-responsive-table{overflow-y:scroll;-webkit-overflow-scrolling:touch}@media (min-width:768px){.aawp.aawp-responsive-table{overflow:visible}}.aawp.aawp-table{box-sizing:border-box;margin:0 0 30px;table-layout:auto;width:100%;border:none;border-collapse:collapse;border-spacing:0;font-size:14px;line-height:1.4}.aawp.aawp-table tr{border:none}.aawp.aawp-table td,.aawp.aawp-table th{padding:5px;vertical-align:top}.aawp.aawp-table th{border:none;border-bottom:2px solid #ccc;font-size:16px;text-align:center;white-space:nowrap}.aawp.aawp-table td{border:none;border-bottom:1px solid #ccc;text-align:center;vertical-align:middle}.aawp.aawp-table a{text-decoration:none}.aawp.aawp-table .position{max-width:30px;font-weight:700}.aawp.aawp-table .thumb img{display:block;width:100%\9;max-width:100%;height:auto;margin:0 auto}.aawp.aawp-table .title{min-width:150px;text-align:left}.aawp.aawp-table .description ul{margin:0;padding:0}.aawp.aawp-table .links{white-space:nowrap}.aawp-responsive-table-note{font-size:14px;color:#666}@media (min-width:768px){.aawp-responsive-table-note{display:none}}.aawp-box{zoom:1;padding:20px;background:#fff;border:1px solid #ececec;color:inherit;position:relative;display:block;margin:0 0 20px;max-width:100%;font-size:15px;line-height:1.6;white-space:normal}.aawp-box:after,.aawp-box:before{content:" ";display:table}.aawp-box:after{clear:both}@media (max-width:480px){.aawp-box{margin-bottom:15px}}.aawp-box.ribbon{padding-top:35px}.aawp-box .aawp-box__thumb{float:left;width:160px}@media (max-width:768px){.aawp-box .aawp-box__thumb{float:none;width:100%}}.aawp-box .aawp-box__image{display:block;height:auto;margin:0 auto 15px;max-width:100%;border:none;box-shadow:none}.aawp-box .aawp-box__rating{margin:0 auto 10px;text-align:center}.aawp-box .aawp-box__reviews{margin-top:5px;font-size:12px;color:#666;text-align:center}.aawp-box .aawp-box__content{margin-left:160px;padding-left:20px}@media (max-width:768px){.aawp-box .aawp-box__content{margin:0;padding:0}}.aawp-box .aawp-box__title{display:block;margin:0 0 15px;font-size:18px;font-weight:700}@media (max-width:480px){.aawp-box .aawp-box__title{margin-bottom:5px;font-size:16px}}.aawp-box .aawp-box__description{margin:0}.aawp-box .aawp-box__description>p{margin:0 0 5px}.aawp-box .aawp-box__description>p:empty{display:none}.aawp-box .aawp-box__description>ul{margin:0 0 5px;padding:0 0 0 20px;list-style-position:outside!important}.aawp-box .aawp-box__description>ul li{margin:0;padding:0}@media (max-width:480px){.aawp-box .aawp-box__description{display:none}}.aawp-box .aawp-box__footer{text-align:right;margin-left:160px;padding-left:20px}@media (max-width:768px){.aawp-box .aawp-box__footer{margin:0;padding:0}}.aawp-box .aawp-box__pricing{display:block;margin-bottom:5px}.aawp-box .aawp-box__pricing:empty{display:none}.aawp-box .aawp-box__pricing span+span{margin-left:15px}.aawp-box .aawp-box__pricing span+span.aawp-check-premium,.aawp-box .aawp-box__pricing span+span.aawp-check-prime{margin-left:5px}@media (max-width:480px){.aawp-box .aawp-box__pricing{margin-bottom:0}}.aawp-box .aawp-box__price{display:inline-block;line-height:34px;vertical-align:middle}.aawp-box .aawp-box__price--old{font-size:14px;text-decoration:line-through;color:#666}.aawp-box .aawp-box__price--current{font-size:20px;font-weight:700}@media (max-width:480px){.aawp-box .aawp-box__price--current{font-size:16px}}.aawp-box .aawp-box__price--saved{border-radius:2px;background:#27ae60;background:rgba(39,174,96,.8);padding:4px 6px;color:#fff;font-size:12px;line-height:12px;margin-top:11px;margin-bottom:11px}.aawp-box .aawp-button+.aawp-button{margin-left:15px;margin-top:5px}.aawp-box .aawp-box__ribbon{position:absolute;font-weight:400;font-size:12px;text-transform:uppercase;color:#fff;line-height:20px;padding:0 15px}.aawp-box .aawp-box__bestseller{top:-1px;left:-1px;background:#e47911;background:rgba(228,121,17,.8);border-bottom-right-radius:2px}.aawp-box .aawp-box__sale{top:-1px;right:-1px;background:#27ae60;background:rgba(39,174,96,.8);border-bottom-left-radius:2px}.aawp-box .aawp-box__info{position:absolute;bottom:10px;left:15px;max-width:225px;color:#666;font-size:11px;text-align:left}@media (max-width:768px){.aawp-box .aawp-box__info{position:static;display:block;margin-top:10px;max-width:100%}}@media (min-width:768px){.aawp-box.inline-info .aawp-box__thumb{margin-bottom:30px}}.aawp-not-available-info,.aawp-not-available-notice{font-size:80%}.aawp-not-available-info{color:#4189a5}.aawp-not-available-notice{color:#f0ad4e}.aawp.aawp-box.light{box-shadow:0 1px 2px rgba(0,0,0,.3),inset 0 0 40px rgba(0,0,0,.1)}.aawp.aawp-box.dark{background:#232f3e;color:#f2f2f2}.aawp.aawp-box.dark .aawp-box__title,.aawp.aawp-box.dark .aawp-box__title:visited{color:#fff}.aawp.aawp-box.dark .aawp-box__title:focus,.aawp.aawp-box.dark .aawp-box__title:hover{color:#f2f2f2}.aawp.aawp-box.dark .aawp-box__price--current{color:#fff}.aawp.aawp-box.dark .aawp-box__info,.aawp.aawp-box.dark .aawp-box__price--old,.aawp.aawp-box.dark .aawp-box__reviews{color:#ccc}.aawp.aawp-box.dark .aawp-box__bestseller{top:0;left:0}.aawp.aawp-box.dark .aawp-box__sale{right:0;top:0}.aawp-grid{display:flex;flex-flow:row wrap;justify-content:flex-start;margin:0 -2%}.aawp-grid__item{width:100%;margin:0 2%}@media (min-width:481px){.aawp-grid__item{display:flex}.aawp-grid__item>*{max-width:100%}}@media (min-width:601px){.aawp-grid--col-2 .aawp-grid__item{width:46%}.aawp-grid--col-3 .aawp-grid__item{width:29.33333333%}.aawp-grid--col-4 .aawp-grid__item{width:21%}.aawp-grid--col-5 .aawp-grid__item{width:16%}.aawp-grid--col-6 .aawp-grid__item{width:12.66666667%}}@media (min-width:601px) and (max-width:1024px){.aawp-grid--col-3 .aawp-grid__item,.aawp-grid--col-4 .aawp-grid__item,.aawp-grid--col-5 .aawp-grid__item,.aawp-grid--col-6 .aawp-grid__item{width:46%}}.aawp table.aawp-table{display:block;margin:10px 0 30px;border:none;border-collapse:collapse;border-spacing:0;font-size:16px}.aawp table.aawp-table,.aawp table.aawp-table tbody,.aawp table.aawp-table td,.aawp table.aawp-table th,.aawp table.aawp-table thead,.aawp table.aawp-table tr{display:block;border:none}.aawp table.aawp-table thead tr{position:absolute;top:-9999px;left:-9999px}.aawp table.aawp-table tr{margin-bottom:20px}.aawp table.aawp-table tr:nth-child(odd){background-color:#fafafa}.aawp table.aawp-table th{border:none}.aawp table.aawp-table td{padding:10px;border:1px solid #ededed;border-bottom:none}.aawp table.aawp-table td:last-child{border-bottom:1px solid #ededed}.aawp table.aawp-table td:before{content:attr(data-label) ": ";display:inline-block;font-weight:700;width:125px}.aawp table.aawp-table td img{display:inline-block;width:100%\9;max-width:100%;height:auto;margin:0 auto;max-height:200px}.aawp table.aawp-table td.aawp-table__td-position{font-weight:700;text-align:center}.aawp table.aawp-table td.aawp-table__td-position:before{content:attr(data-label) "";width:auto;margin-right:5px}.aawp table.aawp-table td.aawp-table__td-links,.aawp table.aawp-table td.aawp-table__td-thumb,.aawp table.aawp-table td.aawp-table__td-title{text-align:center}.aawp table.aawp-table td .aawp-product__reviews,.aawp table.aawp-table td.aawp-table__td-links:before,.aawp table.aawp-table td.aawp-table__td-thumb:before,.aawp table.aawp-table td.aawp-table__td-title:before{display:none}.aawp table.aawp-table td.aawp-table__td-pricing .aawp-product__price{display:inline-block;margin-right:10px;vertical-align:middle}.aawp table.aawp-table td.aawp-table__td-pricing .aawp-product__price--old{color:#666;font-size:11.2px;text-decoration:line-through}@media (min-width:800px){.aawp table.aawp-table{display:table;table-layout:auto;width:100%;border:1px solid #ededed;font-size:14px;line-height:1.4}.aawp table.aawp-table thead{display:table-header-group}.aawp table.aawp-table thead tr{position:static;top:auto;left:auto}.aawp table.aawp-table tbody{display:table-row-group}.aawp table.aawp-table tr{display:table-row}.aawp table.aawp-table td,.aawp table.aawp-table th{display:table-cell;padding:10px 12px;text-align:left}.aawp table.aawp-table td:before{display:none;content:"";width:auto}.aawp table.aawp-table thead{background:#fafafa}.aawp table.aawp-table tr:nth-child(odd){background:0 0}.aawp table.aawp-table td,.aawp table.aawp-table th{vertical-align:middle}.aawp table.aawp-table td.aawp-table__td-position,.aawp table.aawp-table td.aawp-table__th-position,.aawp table.aawp-table th.aawp-table__td-position,.aawp table.aawp-table th.aawp-table__th-position{max-width:50px;font-weight:700;white-space:nowrap}.aawp table.aawp-table td.aawp-table__td-thumb img,.aawp table.aawp-table td.aawp-table__th-thumb img,.aawp table.aawp-table th.aawp-table__td-thumb img,.aawp table.aawp-table th.aawp-table__th-thumb img{display:block;width:100%\9;max-width:100%;height:auto;margin:0 auto;max-width:65px;max-height:100px}.aawp table.aawp-table td.aawp-table__td-title,.aawp table.aawp-table td.aawp-table__th-title,.aawp table.aawp-table th.aawp-table__td-title,.aawp table.aawp-table th.aawp-table__th-title{min-width:150px;text-align:left}.aawp table.aawp-table td.aawp-table__td-rating .aawp-product__reviews,.aawp table.aawp-table td.aawp-table__th-rating .aawp-product__reviews,.aawp table.aawp-table th.aawp-table__td-rating .aawp-product__reviews,.aawp table.aawp-table th.aawp-table__th-rating .aawp-product__reviews{display:block;margin-top:5px;color:#666;font-size:12px;white-space:nowrap}.aawp table.aawp-table td.aawp-table__td-pricing,.aawp table.aawp-table td.aawp-table__th-pricing,.aawp table.aawp-table th.aawp-table__td-pricing,.aawp table.aawp-table th.aawp-table__th-pricing{white-space:nowrap}.aawp table.aawp-table td.aawp-table__td-pricing .aawp-product__price,.aawp table.aawp-table td.aawp-table__th-pricing .aawp-product__price,.aawp table.aawp-table th.aawp-table__td-pricing .aawp-product__price,.aawp table.aawp-table th.aawp-table__th-pricing .aawp-product__price{display:block;font-weight:700}.aawp table.aawp-table td.aawp-table__td-pricing .aawp-product__price--old,.aawp table.aawp-table td.aawp-table__th-pricing .aawp-product__price--old,.aawp table.aawp-table th.aawp-table__td-pricing .aawp-product__price--old,.aawp table.aawp-table th.aawp-table__th-pricing .aawp-product__price--old{font-weight:400}.aawp table.aawp-table td.aawp-table__td-pricing .aawp-check-prime,.aawp table.aawp-table td.aawp-table__th-pricing .aawp-check-prime,.aawp table.aawp-table th.aawp-table__td-pricing .aawp-check-prime,.aawp table.aawp-table th.aawp-table__th-pricing .aawp-check-prime{margin-top:5px}.aawp table.aawp-table td.aawp-table__td-links,.aawp table.aawp-table td.aawp-table__th-links,.aawp table.aawp-table th.aawp-table__td-links,.aawp table.aawp-table th.aawp-table__th-links{white-space:nowrap}.aawp table.aawp-table td.aawp-table__td-links .aawp-button,.aawp table.aawp-table td.aawp-table__th-links .aawp-button,.aawp table.aawp-table th.aawp-table__td-links .aawp-button,.aawp table.aawp-table th.aawp-table__th-links .aawp-button{word-break:break-all}.aawp table.aawp-table tr th{font-weight:700;text-align:left}.aawp table.aawp-table tr td{border-left:none;border-right:none}.aawp table.aawp-table a{border:none;box-shadow:none;outline:none;text-decoration:none}}.aawp table.aawp-comparison-table{margin:10px 0 30px;border:none;border-collapse:separate;border-spacing:0;font-size:16px}.aawp table.aawp-comparison-table,.aawp table.aawp-comparison-table tbody,.aawp table.aawp-comparison-table td,.aawp table.aawp-comparison-table th,.aawp table.aawp-comparison-table thead,.aawp table.aawp-comparison-table tr{display:block;overflow:hidden;border:none}.aawp table.aawp-comparison-table thead tr{position:absolute;top:-9999px;left:-9999px}.aawp table.aawp-comparison-table tr{margin-bottom:20px}.aawp table.aawp-comparison-table tr:nth-child(odd){background-color:#fafafa}.aawp table.aawp-comparison-table td,.aawp table.aawp-comparison-table th{border-right:1px solid #ededed;border-bottom:1px solid #ededed}.aawp table.aawp-comparison-table td{padding:10px}.aawp table.aawp-comparison-table td:before{content:attr(data-label) ": ";display:inline-block;font-weight:700;width:125px}.aawp table.aawp-comparison-table td img{display:inline-block;width:100%\9;max-width:100%;height:auto}.aawp table.aawp-comparison-table td.position{font-weight:700;text-align:center}.aawp table.aawp-comparison-table td.position:before{content:attr(data-label) "";width:auto}.aawp table.aawp-comparison-table td.links,.aawp table.aawp-comparison-table td.thumb,.aawp table.aawp-comparison-table td.title{text-align:center}.aawp table.aawp-comparison-table td.links:before,.aawp table.aawp-comparison-table td.thumb:before,.aawp table.aawp-comparison-table td.title:before{display:none}.aawp table.aawp-comparison-table td.pricing .price{display:block;min-height:20px;line-height:20px}.aawp table.aawp-comparison-table td.pricing .price--current{font-size:16px;font-weight:700}.aawp table.aawp-comparison-table td.pricing .price--old{color:#666;font-size:12px;text-decoration:line-through}@media (min-width:800px){.aawp table.aawp-comparison-table{display:table;table-layout:fixed;width:100%;background:#fff;border-top:1px solid #ededed;border-left:1px solid #ededed;font-size:14px;line-height:1.4}.aawp table.aawp-comparison-table thead{display:table-header-group}.aawp table.aawp-comparison-table thead tr{position:static;top:auto;left:auto}.aawp table.aawp-comparison-table tbody{display:table-row-group}.aawp table.aawp-comparison-table tr{display:table-row}.aawp table.aawp-comparison-table td,.aawp table.aawp-comparison-table th{display:table-cell;padding:10px 12px;text-align:left}.aawp table.aawp-comparison-table td:before{display:none;content:"";width:auto}.aawp table.aawp-comparison-table tr:nth-child(odd){background:0 0}.aawp table.aawp-comparison-table tr:nth-child(2n){background:#fafafa}.aawp table.aawp-comparison-table th{font-weight:700;text-align:left}.aawp table.aawp-comparison-table td{text-align:center}.aawp table.aawp-comparison-table td.thumb img{margin:0 auto;height:auto;max-height:115px;max-width:100%;width:auto}.aawp table.aawp-comparison-table td.rating .reviews{display:block;margin-top:5px;color:#666;font-size:12px;white-space:nowrap}.aawp table.aawp-comparison-table td.pricing .price{display:block;font-weight:700}.aawp table.aawp-comparison-table td.pricing .aawp-check-prime{margin-top:5px}.aawp table.aawp-comparison-table a{border:none;box-shadow:none;outline:none;text-decoration:none}}.aawp-icon-globe{background-image:url(//best-binoculars.uk/wp-content/plugins/aawp/assets/dist/css/../../img/icon-globe.svg)}.aawp-icon-globe,.aawp-icon-yes{display:inline-block;height:16px;width:16px;background-repeat:no-repeat;background-size:16px;background-position:50%;vertical-align:-15%}.aawp-icon-yes{background-image:url(//best-binoculars.uk/wp-content/plugins/aawp/assets/dist/css/../../img/icon-yes.svg)}.aawp-icon-no{display:inline-block;height:16px;width:16px;background-image:url(//best-binoculars.uk/wp-content/plugins/aawp/assets/dist/css/../../img/icon-no.svg);background-repeat:no-repeat;background-size:16px;background-position:50%;vertical-align:-15%}.aawp-tb{margin:20px 0 0;border-collapse:collapse;border-spacing:1px;color:#444;font-size:13px;line-height:20px;table-layout:fixed}.aawp-tb__data,.aawp-tb__head{position:relative;padding:10px 9px;background-clip:padding-box;border:1px solid #d7d7d7;text-align:center}.aawp-tb__head{font-weight:700;text-align:left}.aawp-tb__data,.aawp-tb__head{vertical-align:middle}.aawp-tb-ribbon{display:none;padding:10px 5px;background:0 0;color:#fff;font-size:13px;line-height:20px;text-align:center}.aawp-tb-thumb{display:block;margin:10px}.aawp-tb-thumb img{display:block;height:150px;max-width:100%;width:150px;-o-object-fit:contain;object-fit:contain;background-color:transparent;box-shadow:none;float:none;opacity:1}.aawp-tb__data--highlight .aawp-tb-thumb img,.aawp-tb__row--highlight .aawp-tb-thumb img{border:none;box-shadow:none}.aawp-tb--desktop{display:table;margin-bottom:1.75em;width:100%}@media (max-width:767px){.aawp-tb--desktop{display:none}}.aawp-tb--desktop .aawp-tb__row{display:table-row}.aawp-tb--desktop .aawp-tb__row:not(.aawp-tb__row--highlight):nth-child(2n+2) .aawp-tb__data:not(.aawp-tb__data--highlight),.aawp-tb--desktop .aawp-tb__row:not(.aawp-tb__row--highlight):nth-child(2n+2) .aawp-tb__head{background-color:#f5f5f5}.aawp-tb--desktop .aawp-tb__data,.aawp-tb--desktop .aawp-tb__head{display:table-cell}.aawp-tb--desktop .aawp-tb__data,.aawp-tb--desktop .aawp-tb__data--highlight{position:relative}.aawp-tb--desktop .aawp-tb__data--highlight:after{position:absolute;top:-1px;left:-1px;bottom:0;display:block;width:0;border-left:1px solid transparent;content:""}.aawp-tb--desktop .aawp-tb-ribbon{position:absolute;top:-1px;left:-1px;right:0}.aawp-tb--desktop.aawp-tb--hide-desktop-labels .aawp-tb__head,.aawp-tb--desktop.aawp-tb--hide-labels .aawp-tb__head{display:none}.aawp-tb--desktop.aawp-tb--ribbon .aawp-tb__row:first-child .aawp-tb__data,.aawp-tb--desktop.aawp-tb--ribbon .aawp-tb__row:first-child .aawp-tb__head{padding-top:52px}.aawp-tb--desktop.aawp-tb--ribbon .aawp-tb-ribbon{display:block}.aawp-tb--desktop.aawp-tb--cols-1 .aawp-tb__data,.aawp-tb--desktop.aawp-tb--cols-1 .aawp-tb__head{width:100%}.aawp-tb--desktop.aawp-tb--cols-2 .aawp-tb__data,.aawp-tb--desktop.aawp-tb--cols-2 .aawp-tb__head{width:50%}.aawp-tb--desktop.aawp-tb--cols-3 .aawp-tb__data,.aawp-tb--desktop.aawp-tb--cols-3 .aawp-tb__head{width:33.33333333%}.aawp-tb--desktop.aawp-tb--cols-4 .aawp-tb__data,.aawp-tb--desktop.aawp-tb--cols-4 .aawp-tb__head{width:25%}.aawp-tb--desktop.aawp-tb--cols-5 .aawp-tb__data,.aawp-tb--desktop.aawp-tb--cols-5 .aawp-tb__head{width:20%}.aawp-tb--desktop.aawp-tb--cols-6 .aawp-tb__data,.aawp-tb--desktop.aawp-tb--cols-6 .aawp-tb__head{width:16.66666667%}.aawp-tb--desktop.aawp-tb--cols-7 .aawp-tb__data,.aawp-tb--desktop.aawp-tb--cols-7 .aawp-tb__head{width:14.28571429%}@media (max-width:1200px){.aawp-tb--desktop .aawp-tb__data:nth-child(7){display:none}}@media (max-width:1100px){.aawp-tb--desktop .aawp-tb__data:nth-child(6){display:none}}@media (max-width:1000px){.aawp-tb--desktop .aawp-tb__data:nth-child(5){display:none}}.aawp-tb--mobile{display:none}@media (max-width:767px){.aawp-tb--mobile{display:block}}.aawp-tb--mobile .aawp-tb__product{position:relative;margin:0 0 30px;border:1px solid transparent}.aawp-tb--mobile .aawp-tb__row{display:table;width:100%}.aawp-tb--mobile .aawp-tb__row:not(.aawp-tb__row--highlight):nth-of-type(2n) .aawp-tb__data,.aawp-tb--mobile .aawp-tb__row:not(.aawp-tb__row--highlight):nth-of-type(2n) .aawp-tb__head{background-color:#f5f5f5}.aawp-tb--mobile .aawp-tb__data,.aawp-tb--mobile .aawp-tb__head{display:table-cell}.aawp-tb--mobile .aawp-tb__data,.aawp-tb--mobile .aawp-tb__head{width:50%}.aawp-tb--mobile .aawp-tb__product--highlight .aawp-tb-ribbon{display:block}.aawp-tb--mobile.aawp-tb--hide-labels .aawp-tb__head,.aawp-tb--mobile.aawp-tb--hide-mobile-labels .aawp-tb__head{display:none}.aawp-tb--mobile.aawp-tb--hide-labels .aawp-tb__data,.aawp-tb--mobile.aawp-tb--hide-mobile-labels .aawp-tb__data{width:100%}.aawp-tb--mobile .aawp-tb-product-data-thumb img{background:0 0}.aawp-tb-product-data-thumb img{display:block;margin:0 auto}.aawp .aawp-product--vertical{zoom:1;background:#fff;border:1px solid #ececec;color:inherit;position:relative;display:block;margin:0 0 20px;max-width:100%;font-size:15px;line-height:1.6;white-space:normal;min-width:100%;padding:25px 15px 15px}.aawp .aawp-product--vertical:after,.aawp .aawp-product--vertical:before{content:" ";display:table}.aawp .aawp-product--vertical:after{clear:both}@media (max-width:480px){.aawp .aawp-product--vertical{margin-bottom:15px}}.aawp .aawp-product--vertical.ribbon{padding-top:35px}.aawp .aawp-product--vertical .aawp-box__thumb{float:left;width:160px}@media (max-width:768px){.aawp .aawp-product--vertical .aawp-box__thumb{float:none;width:100%}}.aawp .aawp-product--vertical .aawp-box__image{display:block;height:auto;margin:0 auto 15px;max-width:100%;border:none;box-shadow:none}.aawp .aawp-product--vertical .aawp-box__rating{margin:0 auto 10px;text-align:center}.aawp .aawp-product--vertical .aawp-box__reviews{margin-top:5px;font-size:12px;color:#666;text-align:center}.aawp .aawp-product--vertical .aawp-box__content{margin-left:160px;padding-left:20px}@media (max-width:768px){.aawp .aawp-product--vertical .aawp-box__content{margin:0;padding:0}}.aawp .aawp-product--vertical .aawp-box__title{display:block;margin:0 0 15px;font-size:18px;font-weight:700}@media (max-width:480px){.aawp .aawp-product--vertical .aawp-box__title{margin-bottom:5px;font-size:16px}}.aawp .aawp-product--vertical .aawp-box__description{margin:0}.aawp .aawp-product--vertical .aawp-box__description>p{margin:0 0 5px}.aawp .aawp-product--vertical .aawp-box__description>p:empty{display:none}.aawp .aawp-product--vertical .aawp-box__description>ul{margin:0 0 5px;padding:0 0 0 20px;list-style-position:outside!important}.aawp .aawp-product--vertical .aawp-box__description>ul li{margin:0;padding:0}@media (max-width:480px){.aawp .aawp-product--vertical .aawp-box__description{display:none}}.aawp .aawp-product--vertical .aawp-box__footer{text-align:right;margin-left:160px;padding-left:20px}@media (max-width:768px){.aawp .aawp-product--vertical .aawp-box__footer{margin:0;padding:0}}.aawp .aawp-product--vertical .aawp-box__pricing{display:block;margin-bottom:5px}.aawp .aawp-product--vertical .aawp-box__pricing:empty{display:none}.aawp .aawp-product--vertical .aawp-box__pricing span+span{margin-left:15px}.aawp .aawp-product--vertical .aawp-box__pricing span+span.aawp-check-premium,.aawp .aawp-product--vertical .aawp-box__pricing span+span.aawp-check-prime{margin-left:5px}@media (max-width:480px){.aawp .aawp-product--vertical .aawp-box__pricing{margin-bottom:0}}.aawp .aawp-product--vertical .aawp-box__price{display:inline-block;line-height:34px;vertical-align:middle}.aawp .aawp-product--vertical .aawp-box__price--old{font-size:14px;text-decoration:line-through;color:#666}.aawp .aawp-product--vertical .aawp-box__price--current{font-size:20px;font-weight:700}@media (max-width:480px){.aawp .aawp-product--vertical .aawp-box__price--current{font-size:16px}}.aawp .aawp-product--vertical .aawp-box__price--saved{border-radius:2px;background:#27ae60;background:rgba(39,174,96,.8);padding:4px 6px;color:#fff;font-size:12px;line-height:12px;margin-top:11px;margin-bottom:11px}.aawp .aawp-product--vertical .aawp-button+.aawp-button{margin-left:15px;margin-top:5px}.aawp .aawp-product--vertical .aawp-box__ribbon{position:absolute;font-weight:400;font-size:12px;text-transform:uppercase;color:#fff;line-height:20px;padding:0 15px}.aawp .aawp-product--vertical .aawp-box__bestseller{top:-1px;left:-1px;background:#e47911;background:rgba(228,121,17,.8);border-bottom-right-radius:2px}.aawp .aawp-product--vertical .aawp-box__sale{top:-1px;right:-1px;background:#27ae60;background:rgba(39,174,96,.8);border-bottom-left-radius:2px}.aawp .aawp-product--vertical .aawp-box__info{position:absolute;bottom:10px;left:15px;max-width:225px;color:#666;font-size:11px;text-align:left}@media (max-width:768px){.aawp .aawp-product--vertical .aawp-box__info{position:static;display:block;margin-top:10px;max-width:100%}}@media (min-width:768px){.aawp .aawp-product--vertical.inline-info .aawp-box__thumb{margin-bottom:30px}}.aawp .aawp-product--vertical .aawp-product__ribbon{padding:0 10px}.aawp .aawp-product--vertical .aawp-product__ribbon--sale{position:absolute;top:-1px;right:-1px}.aawp .aawp-product--vertical .aawp-product__ribbon--bestseller,.aawp .aawp-product--vertical .aawp-product__ribbon--new{position:absolute;top:-1px;left:-1px}.aawp .aawp-product--vertical .aawp-product__image{display:block;height:250px;margin:0 auto;max-width:100%;width:250px;border:none;box-shadow:none;-o-object-fit:contain;object-fit:contain}.aawp .aawp-product--vertical.aawp-product--bestseller .aawp-product__image,.aawp .aawp-product--vertical.aawp-product--new .aawp-product__image{margin-top:3px}.aawp .aawp-product--vertical .aawp-product__content{position:relative;min-height:75px}.aawp .aawp-product--vertical .aawp-product__title{display:block;height:40px;margin-top:10px;border:none;box-shadow:none;outline:none;text-decoration:none;font-size:16px;font-weight:700;line-height:20px;overflow:hidden;text-overflow:ellipsis}.aawp .aawp-product--vertical .aawp-product__meta{display:inline-block;display:block;margin-top:5px}.aawp .aawp-product--vertical .aawp-product__meta .aawp-check-prime{float:right;margin-top:7px}.aawp .aawp-product--vertical .aawp-product__reviews{display:inline-block;color:#666;font-size:14px;line-height:14px;vertical-align:-10%}.aawp .aawp-product--vertical .aawp-product__footer{text-align:right}.aawp .aawp-product--vertical .aawp-product__footer .aawp-check-prime{margin-bottom:5px}.aawp .aawp-product--vertical .aawp-product__footer .aawp-button{display:block;margin:0;width:100%}.aawp .aawp-product--vertical .aawp-product__footer .aawp-button+.aawp-button{margin-top:10px}.aawp .aawp-product--vertical .aawp-product__pricing{display:inline-block;margin-top:10px;width:100%}.aawp .aawp-product--vertical .aawp-product__pricing .aawp-product__price--current:empty,.aawp .aawp-product--vertical .aawp-product__pricing .aawp-product__price--old:empty,.aawp .aawp-product--vertical .aawp-product__pricing .aawp-product__price:empty,.aawp .aawp-product--vertical .aawp-product__pricing:empty{display:none;margin:0}.aawp .aawp-product--vertical .aawp-product__price{line-height:18px}.aawp .aawp-product--vertical .aawp-product__price--old{float:left;color:#666;font-size:14px;text-decoration:line-through}.aawp .aawp-product--vertical .aawp-product__price--current{float:right;font-size:18px;font-weight:700}.aawp .aawp-product--vertical .aawp-product__info{display:block;margin-top:10px;color:#666;font-size:11px;text-align:center}.aawp .aawp-product--vertical.aawp-product--style-light{box-shadow:0 1px 2px rgba(0,0,0,.3),inset 0 0 40px rgba(0,0,0,.1)}.aawp .aawp-product--vertical.aawp-product--style-dark{background:#232f3e;color:#e2e2e2}.aawp .aawp-product--vertical.aawp-product--style-dark .aawp-product__title,.aawp .aawp-product--vertical.aawp-product--style-dark .aawp-product__title:visited{color:#fff}.aawp .aawp-product--vertical.aawp-product--style-dark .aawp-product__teaser,.aawp .aawp-product--vertical.aawp-product--style-dark .aawp-product__title:focus,.aawp .aawp-product--vertical.aawp-product--style-dark .aawp-product__title:hover{color:#e2e2e2}.aawp .aawp-product--vertical.aawp-product--style-dark .aawp-product__price--current{color:#fff}.aawp .aawp-product--vertical.aawp-product--style-dark .aawp-product__info,.aawp .aawp-product--vertical.aawp-product--style-dark .aawp-product__price--old,.aawp .aawp-product--vertical.aawp-product--style-dark .aawp-product__reviews{color:#ccc}.aawp .aawp-product--vertical.aawp-product--style-dark .aawp-star-rating--wayl{background-image:url(//best-binoculars.uk/wp-content/plugins/aawp/assets/dist/css/img/stars/wayl-inverted.svg)}.aawp .aawp-product--vertical.aawp-product--style-dark .aawp-star-rating--wayl>span{background-image:url(//best-binoculars.uk/wp-content/plugins/aawp/assets/dist/css/img/stars/wayl-inverted-active.svg)}.aawp .aawp-product--vertical.aawp-product--style-wayl{background:#96281b;color:#e2e2e2}.aawp .aawp-product--vertical.aawp-product--style-wayl .aawp-product__title,.aawp .aawp-product--vertical.aawp-product--style-wayl .aawp-product__title:visited{color:#fff}.aawp .aawp-product--vertical.aawp-product--style-wayl .aawp-product__teaser,.aawp .aawp-product--vertical.aawp-product--style-wayl .aawp-product__title:focus,.aawp .aawp-product--vertical.aawp-product--style-wayl .aawp-product__title:hover{color:#e2e2e2}.aawp .aawp-product--vertical.aawp-product--style-wayl .aawp-product__price--current{color:#fff}.aawp .aawp-product--vertical.aawp-product--style-wayl .aawp-product__info,.aawp .aawp-product--vertical.aawp-product--style-wayl .aawp-product__price--old,.aawp .aawp-product--vertical.aawp-product--style-wayl .aawp-product__reviews{color:#ccc}.aawp .aawp-product--vertical.aawp-product--style-wayl .aawp-star-rating--wayl{background-image:url(//best-binoculars.uk/wp-content/plugins/aawp/assets/dist/css/img/stars/wayl-inverted.svg)}.aawp .aawp-product--vertical.aawp-product--style-wayl .aawp-star-rating--wayl>span{background-image:url(//best-binoculars.uk/wp-content/plugins/aawp/assets/dist/css/img/stars/wayl-inverted-active.svg)}.aawp .aawp-product--list{zoom:1;background:#fff;border:1px solid #ececec;color:inherit;position:relative;display:block;max-width:100%;font-size:15px;line-height:1.6;white-space:normal;min-width:100%;margin:0 0 20px;padding:10px}.aawp .aawp-product--list:after,.aawp .aawp-product--list:before{content:" ";display:table}.aawp .aawp-product--list:after{clear:both}@media (max-width:480px){.aawp .aawp-product--list{margin-bottom:15px}}.aawp .aawp-product--list.ribbon{padding-top:35px}.aawp .aawp-product--list .aawp-box__thumb{float:left;width:160px}@media (max-width:768px){.aawp .aawp-product--list .aawp-box__thumb{float:none;width:100%}}.aawp .aawp-product--list .aawp-box__image{display:block;height:auto;margin:0 auto 15px;max-width:100%;border:none;box-shadow:none}.aawp .aawp-product--list .aawp-box__rating{margin:0 auto 10px;text-align:center}.aawp .aawp-product--list .aawp-box__reviews{margin-top:5px;font-size:12px;color:#666;text-align:center}.aawp .aawp-product--list .aawp-box__content{margin-left:160px;padding-left:20px}@media (max-width:768px){.aawp .aawp-product--list .aawp-box__content{margin:0;padding:0}}.aawp .aawp-product--list .aawp-box__title{display:block;margin:0 0 15px;font-size:18px;font-weight:700}@media (max-width:480px){.aawp .aawp-product--list .aawp-box__title{margin-bottom:5px;font-size:16px}}.aawp .aawp-product--list .aawp-box__description{margin:0}.aawp .aawp-product--list .aawp-box__description>p{margin:0 0 5px}.aawp .aawp-product--list .aawp-box__description>p:empty{display:none}.aawp .aawp-product--list .aawp-box__description>ul{margin:0 0 5px;padding:0 0 0 20px;list-style-position:outside!important}.aawp .aawp-product--list .aawp-box__description>ul li{margin:0;padding:0}@media (max-width:480px){.aawp .aawp-product--list .aawp-box__description{display:none}}.aawp .aawp-product--list .aawp-box__footer{text-align:right;margin-left:160px;padding-left:20px}@media (max-width:768px){.aawp .aawp-product--list .aawp-box__footer{margin:0;padding:0}}.aawp .aawp-product--list .aawp-box__pricing{display:block;margin-bottom:5px}.aawp .aawp-product--list .aawp-box__pricing:empty{display:none}.aawp .aawp-product--list .aawp-box__pricing span+span{margin-left:15px}.aawp .aawp-product--list .aawp-box__pricing span+span.aawp-check-premium,.aawp .aawp-product--list .aawp-box__pricing span+span.aawp-check-prime{margin-left:5px}@media (max-width:480px){.aawp .aawp-product--list .aawp-box__pricing{margin-bottom:0}}.aawp .aawp-product--list .aawp-box__price{display:inline-block;line-height:34px;vertical-align:middle}.aawp .aawp-product--list .aawp-box__price--old{font-size:14px;text-decoration:line-through;color:#666}.aawp .aawp-product--list .aawp-box__price--current{font-size:20px;font-weight:700}@media (max-width:480px){.aawp .aawp-product--list .aawp-box__price--current{font-size:16px}}.aawp .aawp-product--list .aawp-box__price--saved{border-radius:2px;background:#27ae60;background:rgba(39,174,96,.8);padding:4px 6px;color:#fff;font-size:12px;line-height:12px;margin-top:11px;margin-bottom:11px}.aawp .aawp-product--list .aawp-button+.aawp-button{margin-left:15px;margin-top:5px}.aawp .aawp-product--list .aawp-box__ribbon{position:absolute;font-weight:400;font-size:12px;text-transform:uppercase;color:#fff;line-height:20px;padding:0 15px}.aawp .aawp-product--list .aawp-box__bestseller{top:-1px;left:-1px;background:#e47911;background:rgba(228,121,17,.8);border-bottom-right-radius:2px}.aawp .aawp-product--list .aawp-box__sale{top:-1px;right:-1px;background:#27ae60;background:rgba(39,174,96,.8);border-bottom-left-radius:2px}.aawp .aawp-product--list .aawp-box__info{position:absolute;bottom:10px;left:15px;max-width:225px;color:#666;font-size:11px;text-align:left}@media (max-width:768px){.aawp .aawp-product--list .aawp-box__info{position:static;display:block;margin-top:10px;max-width:100%}}@media (min-width:768px){.aawp .aawp-product--list.inline-info .aawp-box__thumb{margin-bottom:30px}}.aawp .aawp-product--list:first-child.aawp-product--ribbon{margin-top:10px}.aawp .aawp-product--list.aawp-product--bestseller,.aawp .aawp-product--list.aawp-product--new{padding-top:20px}.aawp .aawp-product--list .aawp-product__ribbon{z-index:10;padding:0 20px;font-size:11px;line-height:18px}.aawp .aawp-product--list .aawp-product__ribbon--sale{position:absolute;top:-10px;right:-5px;border-radius:0}.aawp .aawp-product--list .aawp-product__ribbon--bestseller,.aawp .aawp-product--list .aawp-product__ribbon--new{position:absolute;top:-10px;left:-5px}.aawp .aawp-product--list .aawp-product__inner{position:relative;display:block}.aawp .aawp-product--list .aawp-product__image-link,.aawp .aawp-product--list .aawp-product__image-link:active,.aawp .aawp-product--list .aawp-product__image-link:focus,.aawp .aawp-product--list .aawp-product__image-link:hover{border:none;box-shadow:none;outline:none;text-decoration:none}.aawp .aawp-product--list .aawp-product__image{position:absolute;top:0;bottom:0;left:0;z-index:5;display:block;height:75px;width:75px;-o-object-fit:contain;object-fit:contain}.aawp .aawp-product--list .aawp-product__content{display:block;margin-left:75px;min-height:75px;padding:3px 10px 5px}.aawp .aawp-product--list .aawp-product__title{display:block;margin-top:5px;border:none;box-shadow:none;outline:none;text-decoration:none;font-size:16px;font-weight:700;line-height:20px;overflow:hidden;text-overflow:ellipsis;white-space:nowrap}@media (min-width:769px){.aawp .aawp-product--list .aawp-product__title{width:100%}}.aawp .aawp-product--list .aawp-product__teaser{margin:5px 0 0;color:#666;font-size:14px;line-height:18px}.aawp .aawp-product--list .aawp-product__meta{zoom:1}.aawp .aawp-product--list .aawp-product__meta:after,.aawp .aawp-product--list .aawp-product__meta:before{content:" ";display:table}.aawp .aawp-product--list .aawp-product__meta:after{clear:both}.aawp .aawp-product--list .aawp-product__price,.aawp .aawp-product--list .aawp-star-rating{margin-bottom:0}.aawp .aawp-product--list .aawp-star-rating{margin-top:-1px;margin-right:10px}.aawp .aawp-product--list .aawp-product__price{display:inline-block;margin-right:10px;color:inherit;font-size:15px;line-height:20px;vertical-align:middle}.aawp .aawp-product--list .aawp-product__price--old{color:#666;font-size:14px;text-decoration:line-through}.aawp .aawp-product--list .aawp-product__price--current{font-weight:700}.aawp .aawp-product--list .aawp-product__price--saved{padding:4px 6px;border-radius:2px;background:#27ae60;background:rgba(39,174,96,.8);color:#fff;font-size:12px;line-height:12px}.aawp .aawp-product--list.aawp-product--style-light{box-shadow:0 1px 2px rgba(0,0,0,.3),inset 0 0 40px rgba(0,0,0,.1)}.aawp .aawp-product--list.aawp-product--style-dark{background:#232f3e;color:#e2e2e2}.aawp .aawp-product--list.aawp-product--style-dark .aawp-product__title,.aawp .aawp-product--list.aawp-product--style-dark .aawp-product__title:visited{color:#fff}.aawp .aawp-product--list.aawp-product--style-dark .aawp-product__teaser,.aawp .aawp-product--list.aawp-product--style-dark .aawp-product__title:focus,.aawp .aawp-product--list.aawp-product--style-dark .aawp-product__title:hover{color:#e2e2e2}.aawp .aawp-product--list.aawp-product--style-dark .aawp-product__price--current{color:#fff}.aawp .aawp-product--list.aawp-product--style-dark .aawp-product__info,.aawp .aawp-product--list.aawp-product--style-dark .aawp-product__price--old,.aawp .aawp-product--list.aawp-product--style-dark .aawp-product__reviews{color:#ccc}.aawp .aawp-product--list.aawp-product--style-dark .aawp-star-rating--wayl{background-image:url(//best-binoculars.uk/wp-content/plugins/aawp/assets/dist/css/img/stars/wayl-inverted.svg)}.aawp .aawp-product--list.aawp-product--style-dark .aawp-star-rating--wayl>span{background-image:url(//best-binoculars.uk/wp-content/plugins/aawp/assets/dist/css/img/stars/wayl-inverted-active.svg)}.aawp .aawp-product--list.aawp-product--style-wayl{background:#96281b;color:#e2e2e2}.aawp .aawp-product--list.aawp-product--style-wayl .aawp-product__title,.aawp .aawp-product--list.aawp-product--style-wayl .aawp-product__title:visited{color:#fff}.aawp .aawp-product--list.aawp-product--style-wayl .aawp-product__teaser,.aawp .aawp-product--list.aawp-product--style-wayl .aawp-product__title:focus,.aawp .aawp-product--list.aawp-product--style-wayl .aawp-product__title:hover{color:#e2e2e2}.aawp .aawp-product--list.aawp-product--style-wayl .aawp-product__price--current{color:#fff}.aawp .aawp-product--list.aawp-product--style-wayl .aawp-product__info,.aawp .aawp-product--list.aawp-product--style-wayl .aawp-product__price--old,.aawp .aawp-product--list.aawp-product--style-wayl .aawp-product__reviews{color:#ccc}.aawp .aawp-product--list.aawp-product--style-wayl .aawp-star-rating--wayl{background-image:url(//best-binoculars.uk/wp-content/plugins/aawp/assets/dist/css/img/stars/wayl-inverted.svg)}.aawp .aawp-product--list.aawp-product--style-wayl .aawp-star-rating--wayl>span{background-image:url(//best-binoculars.uk/wp-content/plugins/aawp/assets/dist/css/img/stars/wayl-inverted-active.svg)}.aawp .aawp-product--widget-small{zoom:1;background:#fff;border:1px solid #ececec;color:inherit;position:relative;display:block;max-width:100%;font-size:15px;line-height:1.6;white-space:normal;min-width:100%;margin:0 0 20px;padding:5px}.aawp .aawp-product--widget-small:after,.aawp .aawp-product--widget-small:before{content:" ";display:table}.aawp .aawp-product--widget-small:after{clear:both}@media (max-width:480px){.aawp .aawp-product--widget-small{margin-bottom:15px}}.aawp .aawp-product--widget-small.ribbon{padding-top:35px}.aawp .aawp-product--widget-small .aawp-box__thumb{float:left;width:160px}@media (max-width:768px){.aawp .aawp-product--widget-small .aawp-box__thumb{float:none;width:100%}}.aawp .aawp-product--widget-small .aawp-box__image{display:block;height:auto;margin:0 auto 15px;max-width:100%;border:none;box-shadow:none}.aawp .aawp-product--widget-small .aawp-box__rating{margin:0 auto 10px;text-align:center}.aawp .aawp-product--widget-small .aawp-box__reviews{margin-top:5px;font-size:12px;color:#666;text-align:center}.aawp .aawp-product--widget-small .aawp-box__content{margin-left:160px;padding-left:20px}@media (max-width:768px){.aawp .aawp-product--widget-small .aawp-box__content{margin:0;padding:0}}.aawp .aawp-product--widget-small .aawp-box__title{display:block;margin:0 0 15px;font-size:18px;font-weight:700}@media (max-width:480px){.aawp .aawp-product--widget-small .aawp-box__title{margin-bottom:5px;font-size:16px}}.aawp .aawp-product--widget-small .aawp-box__description{margin:0}.aawp .aawp-product--widget-small .aawp-box__description>p{margin:0 0 5px}.aawp .aawp-product--widget-small .aawp-box__description>p:empty{display:none}.aawp .aawp-product--widget-small .aawp-box__description>ul{margin:0 0 5px;padding:0 0 0 20px;list-style-position:outside!important}.aawp .aawp-product--widget-small .aawp-box__description>ul li{margin:0;padding:0}@media (max-width:480px){.aawp .aawp-product--widget-small .aawp-box__description{display:none}}.aawp .aawp-product--widget-small .aawp-box__footer{text-align:right;margin-left:160px;padding-left:20px}@media (max-width:768px){.aawp .aawp-product--widget-small .aawp-box__footer{margin:0;padding:0}}.aawp .aawp-product--widget-small .aawp-box__pricing{display:block;margin-bottom:5px}.aawp .aawp-product--widget-small .aawp-box__pricing:empty{display:none}.aawp .aawp-product--widget-small .aawp-box__pricing span+span{margin-left:15px}.aawp .aawp-product--widget-small .aawp-box__pricing span+span.aawp-check-premium,.aawp .aawp-product--widget-small .aawp-box__pricing span+span.aawp-check-prime{margin-left:5px}@media (max-width:480px){.aawp .aawp-product--widget-small .aawp-box__pricing{margin-bottom:0}}.aawp .aawp-product--widget-small .aawp-box__price{display:inline-block;line-height:34px;vertical-align:middle}.aawp .aawp-product--widget-small .aawp-box__price--old{font-size:14px;text-decoration:line-through;color:#666}.aawp .aawp-product--widget-small .aawp-box__price--current{font-size:20px;font-weight:700}@media (max-width:480px){.aawp .aawp-product--widget-small .aawp-box__price--current{font-size:16px}}.aawp .aawp-product--widget-small .aawp-box__price--saved{border-radius:2px;background:#27ae60;background:rgba(39,174,96,.8);padding:4px 6px;color:#fff;font-size:12px;line-height:12px;margin-top:11px;margin-bottom:11px}.aawp .aawp-product--widget-small .aawp-button+.aawp-button{margin-left:15px;margin-top:5px}.aawp .aawp-product--widget-small .aawp-box__ribbon{position:absolute;font-weight:400;font-size:12px;text-transform:uppercase;color:#fff;line-height:20px;padding:0 15px}.aawp .aawp-product--widget-small .aawp-box__bestseller{top:-1px;left:-1px;background:#e47911;background:rgba(228,121,17,.8);border-bottom-right-radius:2px}.aawp .aawp-product--widget-small .aawp-box__sale{top:-1px;right:-1px;background:#27ae60;background:rgba(39,174,96,.8);border-bottom-left-radius:2px}.aawp .aawp-product--widget-small .aawp-box__info{position:absolute;bottom:10px;left:15px;max-width:225px;color:#666;font-size:11px;text-align:left}@media (max-width:768px){.aawp .aawp-product--widget-small .aawp-box__info{position:static;display:block;margin-top:10px;max-width:100%}}@media (min-width:768px){.aawp .aawp-product--widget-small.inline-info .aawp-box__thumb{margin-bottom:30px}}.aawp .aawp-product--widget-small:first-child.aawp-product--ribbon{margin-top:10px}.aawp .aawp-product--widget-small.aawp-product--bestseller,.aawp .aawp-product--widget-small.aawp-product--new{padding-top:15px}.aawp .aawp-product--widget-small .aawp-product__ribbon{z-index:10;padding:0 10px;font-size:11px;line-height:18px}.aawp .aawp-product--widget-small .aawp-product__ribbon--sale{position:absolute;top:-10px;right:-5px;border-radius:0}.aawp .aawp-product--widget-small .aawp-product__ribbon--bestseller,.aawp .aawp-product--widget-small .aawp-product__ribbon--new{position:absolute;top:-10px;left:-5px}.aawp .aawp-product--widget-small .aawp-product__inner{position:relative;display:block}.aawp .aawp-product--widget-small .aawp-product__image-link,.aawp .aawp-product--widget-small .aawp-product__image-link:active,.aawp .aawp-product--widget-small .aawp-product__image-link:focus,.aawp .aawp-product--widget-small .aawp-product__image-link:hover{border:none;box-shadow:none;outline:none;text-decoration:none}.aawp .aawp-product--widget-small .aawp-product__image{position:absolute;top:0;bottom:0;left:0;z-index:5;display:block;height:75px;width:75px;-o-object-fit:contain;object-fit:contain}.aawp .aawp-product--widget-small .aawp-product__content{display:block;margin-left:75px;min-height:75px;padding:3px 10px 5px}.aawp .aawp-product--widget-small .aawp-product__title{display:block;margin-top:5px;border:none;box-shadow:none;outline:none;text-decoration:none;font-size:14px;font-weight:700;line-height:20px;overflow:hidden;text-overflow:ellipsis}@media (min-width:769px){.aawp .aawp-product--widget-small .aawp-product__title{height:40px}}.aawp .aawp-product--widget-small .aawp-product__meta{zoom:1;margin-top:5px}.aawp .aawp-product--widget-small .aawp-product__meta:after,.aawp .aawp-product--widget-small .aawp-product__meta:before{content:" ";display:table}.aawp .aawp-product--widget-small .aawp-product__meta:after{clear:both}.aawp .aawp-product--widget-small .aawp-product__price,.aawp .aawp-product--widget-small .aawp-star-rating{margin-bottom:0}.aawp .aawp-product--widget-small .aawp-star-rating{margin-right:5px}.aawp .aawp-product--widget-small .aawp-product__price{display:inline-block;color:inherit;font-size:15px;font-weight:700;line-height:1;vertical-align:middle}.aawp .aawp-product--widget-small.aawp-product--style-light{box-shadow:0 1px 2px rgba(0,0,0,.3),inset 0 0 40px rgba(0,0,0,.1)}.aawp .aawp-product--widget-small.aawp-product--style-dark{background:#232f3e;color:#e2e2e2}.aawp .aawp-product--widget-small.aawp-product--style-dark .aawp-product__title,.aawp .aawp-product--widget-small.aawp-product--style-dark .aawp-product__title:visited{color:#fff}.aawp .aawp-product--widget-small.aawp-product--style-dark .aawp-product__teaser,.aawp .aawp-product--widget-small.aawp-product--style-dark .aawp-product__title:focus,.aawp .aawp-product--widget-small.aawp-product--style-dark .aawp-product__title:hover{color:#e2e2e2}.aawp .aawp-product--widget-small.aawp-product--style-dark .aawp-product__price--current{color:#fff}.aawp .aawp-product--widget-small.aawp-product--style-dark .aawp-product__info,.aawp .aawp-product--widget-small.aawp-product--style-dark .aawp-product__price--old,.aawp .aawp-product--widget-small.aawp-product--style-dark .aawp-product__reviews{color:#ccc}.aawp .aawp-product--widget-small.aawp-product--style-dark .aawp-star-rating--wayl{background-image:url(//best-binoculars.uk/wp-content/plugins/aawp/assets/dist/css/img/stars/wayl-inverted.svg)}.aawp .aawp-product--widget-small.aawp-product--style-dark .aawp-star-rating--wayl>span{background-image:url(//best-binoculars.uk/wp-content/plugins/aawp/assets/dist/css/img/stars/wayl-inverted-active.svg)}.aawp .aawp-product--widget-small.aawp-product--style-dark .aawp-product__price--current{color:#e2e2e2}.aawp .aawp-product--widget-small.aawp-product--style-wayl{background:#96281b;color:#e2e2e2}.aawp .aawp-product--widget-small.aawp-product--style-wayl .aawp-product__title,.aawp .aawp-product--widget-small.aawp-product--style-wayl .aawp-product__title:visited{color:#fff}.aawp .aawp-product--widget-small.aawp-product--style-wayl .aawp-product__teaser,.aawp .aawp-product--widget-small.aawp-product--style-wayl .aawp-product__title:focus,.aawp .aawp-product--widget-small.aawp-product--style-wayl .aawp-product__title:hover{color:#e2e2e2}.aawp .aawp-product--widget-small.aawp-product--style-wayl .aawp-product__price--current{color:#fff}.aawp .aawp-product--widget-small.aawp-product--style-wayl .aawp-product__info,.aawp .aawp-product--widget-small.aawp-product--style-wayl .aawp-product__price--old,.aawp .aawp-product--widget-small.aawp-product--style-wayl .aawp-product__reviews{color:#ccc}.aawp .aawp-product--widget-small.aawp-product--style-wayl .aawp-star-rating--wayl{background-image:url(//best-binoculars.uk/wp-content/plugins/aawp/assets/dist/css/img/stars/wayl-inverted.svg)}.aawp .aawp-product--widget-small.aawp-product--style-wayl .aawp-star-rating--wayl>span{background-image:url(//best-binoculars.uk/wp-content/plugins/aawp/assets/dist/css/img/stars/wayl-inverted-active.svg)}.aawp .aawp-product--widget-small.aawp-product--style-wayl .aawp-product__price--current{color:#e2e2e2}.aawp-floating-wrapper,div.aawp-floating-wrapper{box-sizing:border-box}@media (min-width:601px){.aawp-floating-wrapper--left,.aawp-floating-wrapper--right{max-width:250px}.aawp-floating-wrapper--left{float:left;margin:0 1em 1em 0}.aawp-floating-wrapper--right{float:right;margin:0 0 1em 1em}} .aawp .aawp-tb__row--highlight{background-color:#256aaf}.aawp .aawp-tb__row--highlight{color:#fff}.aawp .aawp-tb__row--highlight a{color:#fff} span.wplmi-user-avatar{width:16px;display:inline-block !important;flex-shrink:0}img.wplmi-elementor-avatar{border-radius:100%;margin-right:3px} html{scroll-behavior:smooth}.post-modified-info{color:#fff;font-weight:700}@media only screen and (max-width:900px){.post-modified-info{font-size:12px}}{background-color:#add8e6}}.logo{padding-left:30px}.header-search-form-wrapper{padding-right:30px}.article-inner.has-shadow .entry-content,.article-inner.has-shadow footer.entry-meta,.article-inner.has-shadow .entry-header-text,.article-inner.has-shadow .author-box{padding-left:1.5em;padding-right:1.5em;padding-top:1em}.post{width:135%}.category-blog{width:100%}.category-guides-tips{width:100%}.nav>li>a{color:#01569a;font-weight:700}.header,.header-wrapper{border-bottom:.01em solid currentColor}.nav-vertical li li{font-size:1.3em}.badge.post-date{display:none}.blog-featured-title+#main .post-sidebar{display:none}.rows{padding-right:70%}.entry-header-text{padding:0 1.5em}.entry-date{display:none}.posted-on{display:none}.byline{display:none}.entry-header-text{padding:0 1.5em}@media screen and (max-width:849px){.logo{padding-right:30px !important}}.wpcf7 input[type=submit],.wpcf7 input[type=button]{background-color:#01569a;padding:15px 45px !important;color:#fff !important;border:none;border-radius:6px !important}input[type=text],input[type=email],textarea{background-color:#fff;padding:10px;font-size px;width:60%;border:1px solid #ccc;border-radius:5px !important}.wpcf7 label{font-size:14px}@media only screen and (max-width:600px){input[type=text],input[type=email],textarea{width:100%}} #aawp-tb-1175 .aawp-tb--desktop .aawp-tb__row:first-child .aawp-tb-product-0.aawp-tb__data--highlight{border-top-color:#87261f}#aawp-tb-1175 .aawp-tb--desktop .aawp-tb__row:last-child .aawp-tb-product-0.aawp-tb__data--highlight{border-bottom-color:#87261f}#aawp-tb-1175 .aawp-tb--desktop .aawp-tb-product-0.aawp-tb__data--highlight:not(.aawp-tb__data--type-thumb){background-color:rgba(135,38,31,.1)}#aawp-tb-1175 .aawp-tb--desktop .aawp-tb-product-0.aawp-tb__data--highlight{border-right-color:#87261f}#aawp-tb-1175 .aawp-tb--desktop .aawp-tb-product-0.aawp-tb__data--highlight:after{border-color:#87261f}#aawp-tb-1175 .aawp-tb--desktop .aawp-tb-product-0.aawp-tb__data--highlight .aawp-tb-ribbon{background-color:#87261f}#aawp-tb-1175 .aawp-tb--mobile .aawp-tb-product-0.aawp-tb__product--highlight{border-color:#87261f}#aawp-tb-1175 .aawp-tb--mobile .aawp-tb-product-0.aawp-tb__product--highlight .aawp-tb-ribbon{background-color:#87261f}#aawp-tb-1175 .aawp-tb--desktop .aawp-tb__row:first-child .aawp-tb-product-1.aawp-tb__data--highlight{border-top-color:#0a0d63}#aawp-tb-1175 .aawp-tb--desktop .aawp-tb__row:last-child .aawp-tb-product-1.aawp-tb__data--highlight{border-bottom-color:#0a0d63}#aawp-tb-1175 .aawp-tb--desktop .aawp-tb-product-1.aawp-tb__data--highlight:not(.aawp-tb__data--type-thumb){background-color:rgba(10,13,99,.1)}#aawp-tb-1175 .aawp-tb--desktop .aawp-tb-product-1.aawp-tb__data--highlight{border-right-color:#0a0d63}#aawp-tb-1175 .aawp-tb--desktop .aawp-tb-product-1.aawp-tb__data--highlight:after{border-color:#0a0d63}#aawp-tb-1175 .aawp-tb--desktop .aawp-tb-product-1.aawp-tb__data--highlight .aawp-tb-ribbon{background-color:#0a0d63}#aawp-tb-1175 .aawp-tb--mobile .aawp-tb-product-1.aawp-tb__product--highlight{border-color:#0a0d63}#aawp-tb-1175 .aawp-tb--mobile .aawp-tb-product-1.aawp-tb__product--highlight .aawp-tb-ribbon{background-color:#0a0d63}#aawp-tb-1175 .aawp-tb--desktop .aawp-tb__row:first-child .aawp-tb-product-2.aawp-tb__data--highlight{border-top-color:#2f6d21}#aawp-tb-1175 .aawp-tb--desktop .aawp-tb__row:last-child .aawp-tb-product-2.aawp-tb__data--highlight{border-bottom-color:#2f6d21}#aawp-tb-1175 .aawp-tb--desktop .aawp-tb-product-2.aawp-tb__data--highlight:not(.aawp-tb__data--type-thumb){background-color:rgba(47,109,33,.1)}#aawp-tb-1175 .aawp-tb--desktop .aawp-tb-product-2.aawp-tb__data--highlight{border-right-color:#2f6d21}#aawp-tb-1175 .aawp-tb--desktop .aawp-tb-product-2.aawp-tb__data--highlight:after{border-color:#2f6d21}#aawp-tb-1175 .aawp-tb--desktop .aawp-tb-product-2.aawp-tb__data--highlight .aawp-tb-ribbon{background-color:#2f6d21}#aawp-tb-1175 .aawp-tb--mobile .aawp-tb-product-2.aawp-tb__product--highlight{border-color:#2f6d21}#aawp-tb-1175 .aawp-tb--mobile .aawp-tb-product-2.aawp-tb__product--highlight .aawp-tb-ribbon{background-color:#2f6d21} .ct-FontAwesomeicon-close{width:.78571428571429em} .ct-FontAwesomeicon-bars{width:.85714285714286em} [data-aos][data-aos][data-aos-duration="50"],body[data-aos-duration="50"] [data-aos]{transition-duration:50ms}[data-aos][data-aos][data-aos-delay="50"],body[data-aos-delay="50"] [data-aos]{transition-delay:0}[data-aos][data-aos][data-aos-delay="50"].aos-animate,body[data-aos-delay="50"] [data-aos].aos-animate{transition-delay:50ms}[data-aos][data-aos][data-aos-duration="100"],body[data-aos-duration="100"] [data-aos]{transition-duration:.1s}[data-aos][data-aos][data-aos-delay="100"],body[data-aos-delay="100"] [data-aos]{transition-delay:0}[data-aos][data-aos][data-aos-delay="100"].aos-animate,body[data-aos-delay="100"] [data-aos].aos-animate{transition-delay:.1s}[data-aos][data-aos][data-aos-duration="150"],body[data-aos-duration="150"] [data-aos]{transition-duration:.15s}[data-aos][data-aos][data-aos-delay="150"],body[data-aos-delay="150"] [data-aos]{transition-delay:0}[data-aos][data-aos][data-aos-delay="150"].aos-animate,body[data-aos-delay="150"] [data-aos].aos-animate{transition-delay:.15s}[data-aos][data-aos][data-aos-duration="200"],body[data-aos-duration="200"] [data-aos]{transition-duration:.2s}[data-aos][data-aos][data-aos-delay="200"],body[data-aos-delay="200"] [data-aos]{transition-delay:0}[data-aos][data-aos][data-aos-delay="200"].aos-animate,body[data-aos-delay="200"] [data-aos].aos-animate{transition-delay:.2s}[data-aos][data-aos][data-aos-duration="250"],body[data-aos-duration="250"] [data-aos]{transition-duration:.25s}[data-aos][data-aos][data-aos-delay="250"],body[data-aos-delay="250"] [data-aos]{transition-delay:0}[data-aos][data-aos][data-aos-delay="250"].aos-animate,body[data-aos-delay="250"] [data-aos].aos-animate{transition-delay:.25s}[data-aos][data-aos][data-aos-duration="300"],body[data-aos-duration="300"] [data-aos]{transition-duration:.3s}[data-aos][data-aos][data-aos-delay="300"],body[data-aos-delay="300"] [data-aos]{transition-delay:0}[data-aos][data-aos][data-aos-delay="300"].aos-animate,body[data-aos-delay="300"] [data-aos].aos-animate{transition-delay:.3s}[data-aos][data-aos][data-aos-duration="350"],body[data-aos-duration="350"] [data-aos]{transition-duration:.35s}[data-aos][data-aos][data-aos-delay="350"],body[data-aos-delay="350"] [data-aos]{transition-delay:0}[data-aos][data-aos][data-aos-delay="350"].aos-animate,body[data-aos-delay="350"] [data-aos].aos-animate{transition-delay:.35s}[data-aos][data-aos][data-aos-duration="400"],body[data-aos-duration="400"] [data-aos]{transition-duration:.4s}[data-aos][data-aos][data-aos-delay="400"],body[data-aos-delay="400"] [data-aos]{transition-delay:0}[data-aos][data-aos][data-aos-delay="400"].aos-animate,body[data-aos-delay="400"] [data-aos].aos-animate{transition-delay:.4s}[data-aos][data-aos][data-aos-duration="450"],body[data-aos-duration="450"] [data-aos]{transition-duration:.45s}[data-aos][data-aos][data-aos-delay="450"],body[data-aos-delay="450"] [data-aos]{transition-delay:0}[data-aos][data-aos][data-aos-delay="450"].aos-animate,body[data-aos-delay="450"] [data-aos].aos-animate{transition-delay:.45s}[data-aos][data-aos][data-aos-duration="500"],body[data-aos-duration="500"] [data-aos]{transition-duration:.5s}[data-aos][data-aos][data-aos-delay="500"],body[data-aos-delay="500"] [data-aos]{transition-delay:0}[data-aos][data-aos][data-aos-delay="500"].aos-animate,body[data-aos-delay="500"] [data-aos].aos-animate{transition-delay:.5s}[data-aos][data-aos][data-aos-duration="550"],body[data-aos-duration="550"] [data-aos]{transition-duration:.55s}[data-aos][data-aos][data-aos-delay="550"],body[data-aos-delay="550"] [data-aos]{transition-delay:0}[data-aos][data-aos][data-aos-delay="550"].aos-animate,body[data-aos-delay="550"] [data-aos].aos-animate{transition-delay:.55s}[data-aos][data-aos][data-aos-duration="600"],body[data-aos-duration="600"] [data-aos]{transition-duration:.6s}[data-aos][data-aos][data-aos-delay="600"],body[data-aos-delay="600"] [data-aos]{transition-delay:0}[data-aos][data-aos][data-aos-delay="600"].aos-animate,body[data-aos-delay="600"] [data-aos].aos-animate{transition-delay:.6s}[data-aos][data-aos][data-aos-duration="650"],body[data-aos-duration="650"] [data-aos]{transition-duration:.65s}[data-aos][data-aos][data-aos-delay="650"],body[data-aos-delay="650"] [data-aos]{transition-delay:0}[data-aos][data-aos][data-aos-delay="650"].aos-animate,body[data-aos-delay="650"] [data-aos].aos-animate{transition-delay:.65s}[data-aos][data-aos][data-aos-duration="700"],body[data-aos-duration="700"] [data-aos]{transition-duration:.7s}[data-aos][data-aos][data-aos-delay="700"],body[data-aos-delay="700"] [data-aos]{transition-delay:0}[data-aos][data-aos][data-aos-delay="700"].aos-animate,body[data-aos-delay="700"] [data-aos].aos-animate{transition-delay:.7s}[data-aos][data-aos][data-aos-duration="750"],body[data-aos-duration="750"] [data-aos]{transition-duration:.75s}[data-aos][data-aos][data-aos-delay="750"],body[data-aos-delay="750"] [data-aos]{transition-delay:0}[data-aos][data-aos][data-aos-delay="750"].aos-animate,body[data-aos-delay="750"] [data-aos].aos-animate{transition-delay:.75s}[data-aos][data-aos][data-aos-duration="800"],body[data-aos-duration="800"] [data-aos]{transition-duration:.8s}[data-aos][data-aos][data-aos-delay="800"],body[data-aos-delay="800"] [data-aos]{transition-delay:0}[data-aos][data-aos][data-aos-delay="800"].aos-animate,body[data-aos-delay="800"] [data-aos].aos-animate{transition-delay:.8s}[data-aos][data-aos][data-aos-duration="850"],body[data-aos-duration="850"] [data-aos]{transition-duration:.85s}[data-aos][data-aos][data-aos-delay="850"],body[data-aos-delay="850"] [data-aos]{transition-delay:0}[data-aos][data-aos][data-aos-delay="850"].aos-animate,body[data-aos-delay="850"] [data-aos].aos-animate{transition-delay:.85s}[data-aos][data-aos][data-aos-duration="900"],body[data-aos-duration="900"] [data-aos]{transition-duration:.9s}[data-aos][data-aos][data-aos-delay="900"],body[data-aos-delay="900"] [data-aos]{transition-delay:0}[data-aos][data-aos][data-aos-delay="900"].aos-animate,body[data-aos-delay="900"] [data-aos].aos-animate{transition-delay:.9s}[data-aos][data-aos][data-aos-duration="950"],body[data-aos-duration="950"] [data-aos]{transition-duration:.95s}[data-aos][data-aos][data-aos-delay="950"],body[data-aos-delay="950"] [data-aos]{transition-delay:0}[data-aos][data-aos][data-aos-delay="950"].aos-animate,body[data-aos-delay="950"] [data-aos].aos-animate{transition-delay:.95s}[data-aos][data-aos][data-aos-duration="1000"],body[data-aos-duration="1000"] [data-aos]{transition-duration:1s}[data-aos][data-aos][data-aos-delay="1000"],body[data-aos-delay="1000"] [data-aos]{transition-delay:0}[data-aos][data-aos][data-aos-delay="1000"].aos-animate,body[data-aos-delay="1000"] [data-aos].aos-animate{transition-delay:1s}[data-aos][data-aos][data-aos-duration="1050"],body[data-aos-duration="1050"] [data-aos]{transition-duration:1.05s}[data-aos][data-aos][data-aos-delay="1050"],body[data-aos-delay="1050"] [data-aos]{transition-delay:0}[data-aos][data-aos][data-aos-delay="1050"].aos-animate,body[data-aos-delay="1050"] [data-aos].aos-animate{transition-delay:1.05s}[data-aos][data-aos][data-aos-duration="1100"],body[data-aos-duration="1100"] [data-aos]{transition-duration:1.1s}[data-aos][data-aos][data-aos-delay="1100"],body[data-aos-delay="1100"] [data-aos]{transition-delay:0}[data-aos][data-aos][data-aos-delay="1100"].aos-animate,body[data-aos-delay="1100"] [data-aos].aos-animate{transition-delay:1.1s}[data-aos][data-aos][data-aos-duration="1150"],body[data-aos-duration="1150"] [data-aos]{transition-duration:1.15s}[data-aos][data-aos][data-aos-delay="1150"],body[data-aos-delay="1150"] [data-aos]{transition-delay:0}[data-aos][data-aos][data-aos-delay="1150"].aos-animate,body[data-aos-delay="1150"] [data-aos].aos-animate{transition-delay:1.15s}[data-aos][data-aos][data-aos-duration="1200"],body[data-aos-duration="1200"] [data-aos]{transition-duration:1.2s}[data-aos][data-aos][data-aos-delay="1200"],body[data-aos-delay="1200"] [data-aos]{transition-delay:0}[data-aos][data-aos][data-aos-delay="1200"].aos-animate,body[data-aos-delay="1200"] [data-aos].aos-animate{transition-delay:1.2s}[data-aos][data-aos][data-aos-duration="1250"],body[data-aos-duration="1250"] [data-aos]{transition-duration:1.25s}[data-aos][data-aos][data-aos-delay="1250"],body[data-aos-delay="1250"] [data-aos]{transition-delay:0}[data-aos][data-aos][data-aos-delay="1250"].aos-animate,body[data-aos-delay="1250"] [data-aos].aos-animate{transition-delay:1.25s}[data-aos][data-aos][data-aos-duration="1300"],body[data-aos-duration="1300"] [data-aos]{transition-duration:1.3s}[data-aos][data-aos][data-aos-delay="1300"],body[data-aos-delay="1300"] [data-aos]{transition-delay:0}[data-aos][data-aos][data-aos-delay="1300"].aos-animate,body[data-aos-delay="1300"] [data-aos].aos-animate{transition-delay:1.3s}[data-aos][data-aos][data-aos-duration="1350"],body[data-aos-duration="1350"] [data-aos]{transition-duration:1.35s}[data-aos][data-aos][data-aos-delay="1350"],body[data-aos-delay="1350"] [data-aos]{transition-delay:0}[data-aos][data-aos][data-aos-delay="1350"].aos-animate,body[data-aos-delay="1350"] [data-aos].aos-animate{transition-delay:1.35s}[data-aos][data-aos][data-aos-duration="1400"],body[data-aos-duration="1400"] [data-aos]{transition-duration:1.4s}[data-aos][data-aos][data-aos-delay="1400"],body[data-aos-delay="1400"] [data-aos]{transition-delay:0}[data-aos][data-aos][data-aos-delay="1400"].aos-animate,body[data-aos-delay="1400"] [data-aos].aos-animate{transition-delay:1.4s}[data-aos][data-aos][data-aos-duration="1450"],body[data-aos-duration="1450"] [data-aos]{transition-duration:1.45s}[data-aos][data-aos][data-aos-delay="1450"],body[data-aos-delay="1450"] [data-aos]{transition-delay:0}[data-aos][data-aos][data-aos-delay="1450"].aos-animate,body[data-aos-delay="1450"] [data-aos].aos-animate{transition-delay:1.45s}[data-aos][data-aos][data-aos-duration="1500"],body[data-aos-duration="1500"] [data-aos]{transition-duration:1.5s}[data-aos][data-aos][data-aos-delay="1500"],body[data-aos-delay="1500"] [data-aos]{transition-delay:0}[data-aos][data-aos][data-aos-delay="1500"].aos-animate,body[data-aos-delay="1500"] [data-aos].aos-animate{transition-delay:1.5s}[data-aos][data-aos][data-aos-duration="1550"],body[data-aos-duration="1550"] [data-aos]{transition-duration:1.55s}[data-aos][data-aos][data-aos-delay="1550"],body[data-aos-delay="1550"] [data-aos]{transition-delay:0}[data-aos][data-aos][data-aos-delay="1550"].aos-animate,body[data-aos-delay="1550"] [data-aos].aos-animate{transition-delay:1.55s}[data-aos][data-aos][data-aos-duration="1600"],body[data-aos-duration="1600"] [data-aos]{transition-duration:1.6s}[data-aos][data-aos][data-aos-delay="1600"],body[data-aos-delay="1600"] [data-aos]{transition-delay:0}[data-aos][data-aos][data-aos-delay="1600"].aos-animate,body[data-aos-delay="1600"] [data-aos].aos-animate{transition-delay:1.6s}[data-aos][data-aos][data-aos-duration="1650"],body[data-aos-duration="1650"] [data-aos]{transition-duration:1.65s}[data-aos][data-aos][data-aos-delay="1650"],body[data-aos-delay="1650"] [data-aos]{transition-delay:0}[data-aos][data-aos][data-aos-delay="1650"].aos-animate,body[data-aos-delay="1650"] [data-aos].aos-animate{transition-delay:1.65s}[data-aos][data-aos][data-aos-duration="1700"],body[data-aos-duration="1700"] [data-aos]{transition-duration:1.7s}[data-aos][data-aos][data-aos-delay="1700"],body[data-aos-delay="1700"] [data-aos]{transition-delay:0}[data-aos][data-aos][data-aos-delay="1700"].aos-animate,body[data-aos-delay="1700"] [data-aos].aos-animate{transition-delay:1.7s}[data-aos][data-aos][data-aos-duration="1750"],body[data-aos-duration="1750"] [data-aos]{transition-duration:1.75s}[data-aos][data-aos][data-aos-delay="1750"],body[data-aos-delay="1750"] [data-aos]{transition-delay:0}[data-aos][data-aos][data-aos-delay="1750"].aos-animate,body[data-aos-delay="1750"] [data-aos].aos-animate{transition-delay:1.75s}[data-aos][data-aos][data-aos-duration="1800"],body[data-aos-duration="1800"] [data-aos]{transition-duration:1.8s}[data-aos][data-aos][data-aos-delay="1800"],body[data-aos-delay="1800"] [data-aos]{transition-delay:0}[data-aos][data-aos][data-aos-delay="1800"].aos-animate,body[data-aos-delay="1800"] [data-aos].aos-animate{transition-delay:1.8s}[data-aos][data-aos][data-aos-duration="1850"],body[data-aos-duration="1850"] [data-aos]{transition-duration:1.85s}[data-aos][data-aos][data-aos-delay="1850"],body[data-aos-delay="1850"] [data-aos]{transition-delay:0}[data-aos][data-aos][data-aos-delay="1850"].aos-animate,body[data-aos-delay="1850"] [data-aos].aos-animate{transition-delay:1.85s}[data-aos][data-aos][data-aos-duration="1900"],body[data-aos-duration="1900"] [data-aos]{transition-duration:1.9s}[data-aos][data-aos][data-aos-delay="1900"],body[data-aos-delay="1900"] [data-aos]{transition-delay:0}[data-aos][data-aos][data-aos-delay="1900"].aos-animate,body[data-aos-delay="1900"] [data-aos].aos-animate{transition-delay:1.9s}[data-aos][data-aos][data-aos-duration="1950"],body[data-aos-duration="1950"] [data-aos]{transition-duration:1.95s}[data-aos][data-aos][data-aos-delay="1950"],body[data-aos-delay="1950"] [data-aos]{transition-delay:0}[data-aos][data-aos][data-aos-delay="1950"].aos-animate,body[data-aos-delay="1950"] [data-aos].aos-animate{transition-delay:1.95s}[data-aos][data-aos][data-aos-duration="2000"],body[data-aos-duration="2000"] [data-aos]{transition-duration:2s}[data-aos][data-aos][data-aos-delay="2000"],body[data-aos-delay="2000"] [data-aos]{transition-delay:0}[data-aos][data-aos][data-aos-delay="2000"].aos-animate,body[data-aos-delay="2000"] [data-aos].aos-animate{transition-delay:2s}[data-aos][data-aos][data-aos-duration="2050"],body[data-aos-duration="2050"] [data-aos]{transition-duration:2.05s}[data-aos][data-aos][data-aos-delay="2050"],body[data-aos-delay="2050"] [data-aos]{transition-delay:0}[data-aos][data-aos][data-aos-delay="2050"].aos-animate,body[data-aos-delay="2050"] [data-aos].aos-animate{transition-delay:2.05s}[data-aos][data-aos][data-aos-duration="2100"],body[data-aos-duration="2100"] [data-aos]{transition-duration:2.1s}[data-aos][data-aos][data-aos-delay="2100"],body[data-aos-delay="2100"] [data-aos]{transition-delay:0}[data-aos][data-aos][data-aos-delay="2100"].aos-animate,body[data-aos-delay="2100"] [data-aos].aos-animate{transition-delay:2.1s}[data-aos][data-aos][data-aos-duration="2150"],body[data-aos-duration="2150"] [data-aos]{transition-duration:2.15s}[data-aos][data-aos][data-aos-delay="2150"],body[data-aos-delay="2150"] [data-aos]{transition-delay:0}[data-aos][data-aos][data-aos-delay="2150"].aos-animate,body[data-aos-delay="2150"] [data-aos].aos-animate{transition-delay:2.15s}[data-aos][data-aos][data-aos-duration="2200"],body[data-aos-duration="2200"] [data-aos]{transition-duration:2.2s}[data-aos][data-aos][data-aos-delay="2200"],body[data-aos-delay="2200"] [data-aos]{transition-delay:0}[data-aos][data-aos][data-aos-delay="2200"].aos-animate,body[data-aos-delay="2200"] [data-aos].aos-animate{transition-delay:2.2s}[data-aos][data-aos][data-aos-duration="2250"],body[data-aos-duration="2250"] [data-aos]{transition-duration:2.25s}[data-aos][data-aos][data-aos-delay="2250"],body[data-aos-delay="2250"] [data-aos]{transition-delay:0}[data-aos][data-aos][data-aos-delay="2250"].aos-animate,body[data-aos-delay="2250"] [data-aos].aos-animate{transition-delay:2.25s}[data-aos][data-aos][data-aos-duration="2300"],body[data-aos-duration="2300"] [data-aos]{transition-duration:2.3s}[data-aos][data-aos][data-aos-delay="2300"],body[data-aos-delay="2300"] [data-aos]{transition-delay:0}[data-aos][data-aos][data-aos-delay="2300"].aos-animate,body[data-aos-delay="2300"] [data-aos].aos-animate{transition-delay:2.3s}[data-aos][data-aos][data-aos-duration="2350"],body[data-aos-duration="2350"] [data-aos]{transition-duration:2.35s}[data-aos][data-aos][data-aos-delay="2350"],body[data-aos-delay="2350"] [data-aos]{transition-delay:0}[data-aos][data-aos][data-aos-delay="2350"].aos-animate,body[data-aos-delay="2350"] [data-aos].aos-animate{transition-delay:2.35s}[data-aos][data-aos][data-aos-duration="2400"],body[data-aos-duration="2400"] [data-aos]{transition-duration:2.4s}[data-aos][data-aos][data-aos-delay="2400"],body[data-aos-delay="2400"] [data-aos]{transition-delay:0}[data-aos][data-aos][data-aos-delay="2400"].aos-animate,body[data-aos-delay="2400"] [data-aos].aos-animate{transition-delay:2.4s}[data-aos][data-aos][data-aos-duration="2450"],body[data-aos-duration="2450"] [data-aos]{transition-duration:2.45s}[data-aos][data-aos][data-aos-delay="2450"],body[data-aos-delay="2450"] [data-aos]{transition-delay:0}[data-aos][data-aos][data-aos-delay="2450"].aos-animate,body[data-aos-delay="2450"] [data-aos].aos-animate{transition-delay:2.45s}[data-aos][data-aos][data-aos-duration="2500"],body[data-aos-duration="2500"] [data-aos]{transition-duration:2.5s}[data-aos][data-aos][data-aos-delay="2500"],body[data-aos-delay="2500"] [data-aos]{transition-delay:0}[data-aos][data-aos][data-aos-delay="2500"].aos-animate,body[data-aos-delay="2500"] [data-aos].aos-animate{transition-delay:2.5s}[data-aos][data-aos][data-aos-duration="2550"],body[data-aos-duration="2550"] [data-aos]{transition-duration:2.55s}[data-aos][data-aos][data-aos-delay="2550"],body[data-aos-delay="2550"] [data-aos]{transition-delay:0}[data-aos][data-aos][data-aos-delay="2550"].aos-animate,body[data-aos-delay="2550"] [data-aos].aos-animate{transition-delay:2.55s}[data-aos][data-aos][data-aos-duration="2600"],body[data-aos-duration="2600"] [data-aos]{transition-duration:2.6s}[data-aos][data-aos][data-aos-delay="2600"],body[data-aos-delay="2600"] [data-aos]{transition-delay:0}[data-aos][data-aos][data-aos-delay="2600"].aos-animate,body[data-aos-delay="2600"] [data-aos].aos-animate{transition-delay:2.6s}[data-aos][data-aos][data-aos-duration="2650"],body[data-aos-duration="2650"] [data-aos]{transition-duration:2.65s}[data-aos][data-aos][data-aos-delay="2650"],body[data-aos-delay="2650"] [data-aos]{transition-delay:0}[data-aos][data-aos][data-aos-delay="2650"].aos-animate,body[data-aos-delay="2650"] [data-aos].aos-animate{transition-delay:2.65s}[data-aos][data-aos][data-aos-duration="2700"],body[data-aos-duration="2700"] [data-aos]{transition-duration:2.7s}[data-aos][data-aos][data-aos-delay="2700"],body[data-aos-delay="2700"] [data-aos]{transition-delay:0}[data-aos][data-aos][data-aos-delay="2700"].aos-animate,body[data-aos-delay="2700"] [data-aos].aos-animate{transition-delay:2.7s}[data-aos][data-aos][data-aos-duration="2750"],body[data-aos-duration="2750"] [data-aos]{transition-duration:2.75s}[data-aos][data-aos][data-aos-delay="2750"],body[data-aos-delay="2750"] [data-aos]{transition-delay:0}[data-aos][data-aos][data-aos-delay="2750"].aos-animate,body[data-aos-delay="2750"] [data-aos].aos-animate{transition-delay:2.75s}[data-aos][data-aos][data-aos-duration="2800"],body[data-aos-duration="2800"] [data-aos]{transition-duration:2.8s}[data-aos][data-aos][data-aos-delay="2800"],body[data-aos-delay="2800"] [data-aos]{transition-delay:0}[data-aos][data-aos][data-aos-delay="2800"].aos-animate,body[data-aos-delay="2800"] [data-aos].aos-animate{transition-delay:2.8s}[data-aos][data-aos][data-aos-duration="2850"],body[data-aos-duration="2850"] [data-aos]{transition-duration:2.85s}[data-aos][data-aos][data-aos-delay="2850"],body[data-aos-delay="2850"] [data-aos]{transition-delay:0}[data-aos][data-aos][data-aos-delay="2850"].aos-animate,body[data-aos-delay="2850"] [data-aos].aos-animate{transition-delay:2.85s}[data-aos][data-aos][data-aos-duration="2900"],body[data-aos-duration="2900"] [data-aos]{transition-duration:2.9s}[data-aos][data-aos][data-aos-delay="2900"],body[data-aos-delay="2900"] [data-aos]{transition-delay:0}[data-aos][data-aos][data-aos-delay="2900"].aos-animate,body[data-aos-delay="2900"] [data-aos].aos-animate{transition-delay:2.9s}[data-aos][data-aos][data-aos-duration="2950"],body[data-aos-duration="2950"] [data-aos]{transition-duration:2.95s}[data-aos][data-aos][data-aos-delay="2950"],body[data-aos-delay="2950"] [data-aos]{transition-delay:0}[data-aos][data-aos][data-aos-delay="2950"].aos-animate,body[data-aos-delay="2950"] [data-aos].aos-animate{transition-delay:2.95s}[data-aos][data-aos][data-aos-duration="3000"],body[data-aos-duration="3000"] [data-aos]{transition-duration:3s}[data-aos][data-aos][data-aos-delay="3000"],body[data-aos-delay="3000"] [data-aos]{transition-delay:0}[data-aos][data-aos][data-aos-delay="3000"].aos-animate,body[data-aos-delay="3000"] [data-aos].aos-animate{transition-delay:3s}[data-aos][data-aos][data-aos-easing=linear],body[data-aos-easing=linear] [data-aos]{transition-timing-function:cubic-bezier(.25,.25,.75,.75)}[data-aos][data-aos][data-aos-easing=ease],body[data-aos-easing=ease] [data-aos]{transition-timing-function:ease}[data-aos][data-aos][data-aos-easing=ease-in],body[data-aos-easing=ease-in] [data-aos]{transition-timing-function:ease-in}[data-aos][data-aos][data-aos-easing=ease-out],body[data-aos-easing=ease-out] [data-aos]{transition-timing-function:ease-out}[data-aos][data-aos][data-aos-easing=ease-in-out],body[data-aos-easing=ease-in-out] [data-aos]{transition-timing-function:ease-in-out}[data-aos][data-aos][data-aos-easing=ease-in-back],body[data-aos-easing=ease-in-back] [data-aos]{transition-timing-function:cubic-bezier(.6,-.28,.735,.045)}[data-aos][data-aos][data-aos-easing=ease-out-back],body[data-aos-easing=ease-out-back] [data-aos]{transition-timing-function:cubic-bezier(.175,.885,.32,1.275)}[data-aos][data-aos][data-aos-easing=ease-in-out-back],body[data-aos-easing=ease-in-out-back] [data-aos]{transition-timing-function:cubic-bezier(.68,-.55,.265,1.55)}[data-aos][data-aos][data-aos-easing=ease-in-sine],body[data-aos-easing=ease-in-sine] [data-aos]{transition-timing-function:cubic-bezier(.47,0,.745,.715)}[data-aos][data-aos][data-aos-easing=ease-out-sine],body[data-aos-easing=ease-out-sine] [data-aos]{transition-timing-function:cubic-bezier(.39,.575,.565,1)}[data-aos][data-aos][data-aos-easing=ease-in-out-sine],body[data-aos-easing=ease-in-out-sine] [data-aos]{transition-timing-function:cubic-bezier(.445,.05,.55,.95)}[data-aos][data-aos][data-aos-easing=ease-in-quad],body[data-aos-easing=ease-in-quad] [data-aos]{transition-timing-function:cubic-bezier(.55,.085,.68,.53)}[data-aos][data-aos][data-aos-easing=ease-out-quad],body[data-aos-easing=ease-out-quad] [data-aos]{transition-timing-function:cubic-bezier(.25,.46,.45,.94)}[data-aos][data-aos][data-aos-easing=ease-in-out-quad],body[data-aos-easing=ease-in-out-quad] [data-aos]{transition-timing-function:cubic-bezier(.455,.03,.515,.955)}[data-aos][data-aos][data-aos-easing=ease-in-cubic],body[data-aos-easing=ease-in-cubic] [data-aos]{transition-timing-function:cubic-bezier(.55,.085,.68,.53)}[data-aos][data-aos][data-aos-easing=ease-out-cubic],body[data-aos-easing=ease-out-cubic] [data-aos]{transition-timing-function:cubic-bezier(.25,.46,.45,.94)}[data-aos][data-aos][data-aos-easing=ease-in-out-cubic],body[data-aos-easing=ease-in-out-cubic] [data-aos]{transition-timing-function:cubic-bezier(.455,.03,.515,.955)}[data-aos][data-aos][data-aos-easing=ease-in-quart],body[data-aos-easing=ease-in-quart] [data-aos]{transition-timing-function:cubic-bezier(.55,.085,.68,.53)}[data-aos][data-aos][data-aos-easing=ease-out-quart],body[data-aos-easing=ease-out-quart] [data-aos]{transition-timing-function:cubic-bezier(.25,.46,.45,.94)}[data-aos][data-aos][data-aos-easing=ease-in-out-quart],body[data-aos-easing=ease-in-out-quart] [data-aos]{transition-timing-function:cubic-bezier(.455,.03,.515,.955)}[data-aos^=fade][data-aos^=fade]{opacity:0;transition-property:opacity,transform}[data-aos^=fade][data-aos^=fade].aos-animate{opacity:1;transform:translateZ(0)}[data-aos=fade-up]{transform:translate3d(0,100px,0)}[data-aos=fade-down]{transform:translate3d(0,-100px,0)}[data-aos=fade-right]{transform:translate3d(-100px,0,0)}[data-aos=fade-left]{transform:translate3d(100px,0,0)}[data-aos=fade-up-right]{transform:translate3d(-100px,100px,0)}[data-aos=fade-up-left]{transform:translate3d(100px,100px,0)}[data-aos=fade-down-right]{transform:translate3d(-100px,-100px,0)}[data-aos=fade-down-left]{transform:translate3d(100px,-100px,0)}[data-aos^=zoom][data-aos^=zoom]{opacity:0;transition-property:opacity,transform}[data-aos^=zoom][data-aos^=zoom].aos-animate{opacity:1;transform:translateZ(0) scale(1)}[data-aos=zoom-in]{transform:scale(.6)}[data-aos=zoom-in-up]{transform:translate3d(0,100px,0) scale(.6)}[data-aos=zoom-in-down]{transform:translate3d(0,-100px,0) scale(.6)}[data-aos=zoom-in-right]{transform:translate3d(-100px,0,0) scale(.6)}[data-aos=zoom-in-left]{transform:translate3d(100px,0,0) scale(.6)}[data-aos=zoom-out]{transform:scale(1.2)}[data-aos=zoom-out-up]{transform:translate3d(0,100px,0) scale(1.2)}[data-aos=zoom-out-down]{transform:translate3d(0,-100px,0) scale(1.2)}[data-aos=zoom-out-right]{transform:translate3d(-100px,0,0) scale(1.2)}[data-aos=zoom-out-left]{transform:translate3d(100px,0,0) scale(1.2)}[data-aos^=slide][data-aos^=slide]{transition-property:transform}[data-aos^=slide][data-aos^=slide].aos-animate{transform:translateZ(0)}[data-aos=slide-up]{transform:translate3d(0,100%,0)}[data-aos=slide-down]{transform:translate3d(0,-100%,0)}[data-aos=slide-right]{transform:translate3d(-100%,0,0)}[data-aos=slide-left]{transform:translate3d(100%,0,0)}[data-aos^=flip][data-aos^=flip]{backface-visibility:hidden;transition-property:transform}[data-aos=flip-left]{transform:perspective(2500px) rotateY(-100deg)}[data-aos=flip-left].aos-animate{transform:perspective(2500px) rotateY(0)}[data-aos=flip-right]{transform:perspective(2500px) rotateY(100deg)}[data-aos=flip-right].aos-animate{transform:perspective(2500px) rotateY(0)}[data-aos=flip-up]{transform:perspective(2500px) rotateX(-100deg)}[data-aos=flip-up].aos-animate{transform:perspective(2500px) rotateX(0)}[data-aos=flip-down]{transform:perspective(2500px) rotateX(100deg)}[data-aos=flip-down].aos-animate{transform:perspective(2500px) rotateX(0)}
Product
Most Lightweight
Top Rated
Great Value
Image/Video Resolution
Image Resolution: 5M, 3M, 1.3M Video Resolution: 1440 x 1080px, 1280 x 720px
JPEG: 2592*1944,1600*1200, 640*480 Video: 1280*720, 640*480@30FPS with sound
Power Source
4 AA Build-in LI-ion battery
Storage
TF Card up to Class 4 32 gb
Up to 32G(Memory card is not included)
Most Lightweight
Product
Image/Video Resolution
Image Resolution: 5M, 3M, 1.3M Video Resolution: 1440 x 1080px, 1280 x 720px
Storage
TF Card up to Class 4 32 gb
Top Rated
Product
Image/Video Resolution
JPEG: 2592*1944,1600*1200, 640*480 Video: 1280*720, 640*480@30FPS with sound
Power Source
4 AA Build-in LI-ion battery
Great Value
Product
Storage
Up to 32G(Memory card is not included)
.
Top 3 Binoculars With A Camera Compared
Used by wildlife spotters, sports enthusiasts, concert goers, fisherman and security personnel, binoculars are essential for getting the best view but imagine if you saw something that you had to photograph or record there and then. By combining two useful gadgets in to one convenient device, it's no surprise binoculars with a built-in camera are taking the photography world by storm.
Why Go All-in-One?
With two separate devices you would have to waste precious time reaching for your camera or phone to get that special shot and it's doubtful their zoom function would match the power of binoculars. The result? The moment is likely to be lost. It also means you don't have to worry about carrying around two separate items when you are out of the house. One gadget does it all.
Features to Consider
Binocular Capability:  As with any set of binoculars, the more powerful their optics are, the better the view. Magnification increases the size of the image and thus the distance you can effectively shoot from while aperture affects the amount of light captured – higher aperture means you can shoot in darker environments. Bigger is always better.
Digital camera:
The higher the definition, the better the image quality, just like with televisions. Lower definitions of 480p or less tend to look quite pixelated and unprofessional now, even to an untrained eye so look for minimum definition of 720p. For video recordings, frame rate is another crucial specification, the higher the frame rate, the smoother the footage.
Dreamy FS608 2" LCD Display HD Digital Camera Binoculars Review - Our Number 1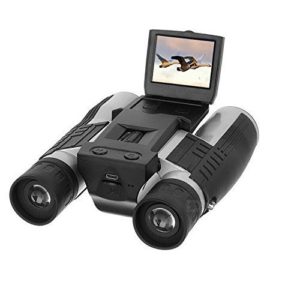 For the budding birdwatcher or the eagle-eyed celebrity spotter, the Dreamy model (view on Amazon) is a great example of these essential devices. They combine high quality, adjustable binoculars with a very capable HD camera along with a built in, brightly lit LCD display so you can see what you're shooting. Here are some of its features.
Superb quality 12x32 binoculars providing a clear view from long distances in low light.
Built-in camera capable of creating crisp, clear HD images at an impressive 1440 x1080p at 30 FPS or 1280x720p at a whopping 60 FPS.
Attached, foldable LCD screen provides quick access to your shots and videos or acts as a view finder.
Takes high quality JPEG photographs of up to 5MP, white balance technology ensures a good shot every time.
Built in Anti-Shake technology steadies the image for you.
Premium build quality - striking black and silver design with rubber gripping keeping it steady and safe in the hands.
Excellent all-rounder, useful for fun days out or for work purposes.
Replaceable lithium-ion battery means the lifespan of the device is not tethered to built-in battery life.
Weighing just 349 grams the Dreamy can easily be wielded one-handed while grabbing a quick bite to eat when you just can't look away.
TF card compatible, up to 32gb for exceptional storage – your whole holiday can be recorded.
The Dreamy FS608 is an exceptional device. Binoculars with cameras are a new technology in an emerging marketplace which means that the best devices must speak for themselves to stand out and Dreamy's FS608 does just that. Superb performance across the range of features means your footage will be worth seeing again and again. It feels good in your hands and for taking photos and video at impressive distances, the Dreamy can be counted on to produce high quality content regardless of environmental conditions.
Summary
Features: High-Def recording – Quality LCD display – Sturdy construction – Anti-shake tech – Replaceable battery
Pricing: Mid-range

FHD SGODDE Digital Camera Binoculars Review - Number 2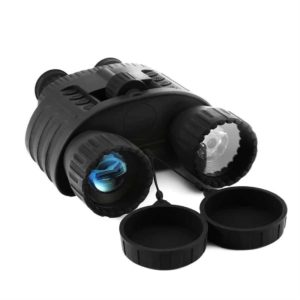 Available at an impressive price, the FHD SGODDE combines a good quality HD camera with a powerful pair of binoculars. It's a great device to have to hand when exploring the great outdoors or sightseeing as it can be switched on quickly and be recording within a few seconds. Its nifty LCD screen enables quick access to your photos and videos.
Choice of video recording options from 640x480 through to High definition 1920x1080p.
Excellent photo quality of up to 5MP creates crystal clear shots every time.
Variable exposures +2.0 / +5/3 / +4/3 / +1.0 / +2/3 / +1/3 / +0 / -1/3 / -2/3 /-1.0 / -4/3 / -5/3 /-2.0
Handy LCD screen enables easy reviewing and folds away when not in use.
Built in rechargeable Li-ion battery, can be used right out of the box.
Protected by Anti-Slip, soft rubber which makes it comfortable to hold for long periods such as sporting events or concerts.
USB 2.0 to USB mini cable, cleaning cloth, handy strap and full instructions all included in package.
Easy to use zooming and focussing – zooming controlled by central wheel, focus is achieved by turning the eye piece.
SD card compatible – 4GB up to 32GB capacity.
The FHD SGODDE is clearly a nice piece of kit and functions well as standalone binoculars, video camera and photographic camera, all in one device. If you're seeing the world or exploring the countryside these binoculars won't let you down and are versatile enough to be used in various lighting conditions. Focussing is particularly impressive as shots do not fall foul of common 'digital zooming' issues which make photos and videos appear blocky.
Summary
Features: HD Video – Foldable LCD display – Variable exposure – Built-in battery – SD card compatible
Pricing: Mid-range

Bestguarder Digital Night Vision Binoculars Review - Number 3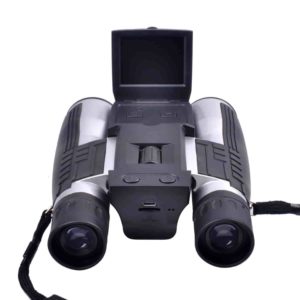 If you need a high-quality gizmo that pushes the boat in terms of capability, look no further than the Bestguarder. Serving as binoculars, video camera and one-shot camera this model also has built in night vision capability. Literally nothing will be missed with these and so they can be used anywhere you can think of, day or night.
Weather-proof design makes bird-watching, surveillance, sports or outdoor concerts possible in all seasons.
850NM Infrared Illuminator affords viewing in near total darkness at distances of up to 300m. ideal for night time events such as concerts.
Tripod compatible, these binoculars can be used for long periods in comfort.
5-megapixel photography ensures bright and realistic shots, stored in JPEG format.
Optical 4x magnification
Video output capability of 1280x720 or 640x480 with sound.
Adjustable eye pieces for maximum comfort.
9 hours runtime in daylight, 3-5 hours in Night Mode.
The Bestguarder is a unique proposition with its night vision capabilities which offers unrivalled functionality throughout your trip or if used for work purposes. While it does not have a viewing screen attached it can be connected to a TV via the USB cable if needed. Weighing in at a hefty 780g this product is not ideal for children but for most users its ergonomic grip and solid, rubber buttons make it a sturdy and reliable option.
Summary
Features: 4x Magnification – Infrared Night Mode – Built-in battery – SD card compatible – Adjustable eye-piece
Pricing: High End

Verdict
When you consider how much your video recording and photography options are increased when combined with the visual power of a set of binoculars, it's easy to see why these are becoming a must-own gizmo. After comparison, the top choice has to go to the Dreamy FS608. Although it lacks an infrared Night mode, it outperforms on every other level, providing reliable high-quality footage whenever you need it to and at a fraction of the price of a high-end model. Thanks to the FS608's replaceable battery, Dreamy have made the dream device which will last for as many holidays and adventures as you need it to.

Best-Binoculars.UK is a participant in the Amazon Services LLC Associates Program, an affiliate advertising program designed to provide a means for sites to earn advertising fees by advertising and linking to Amazon.co.uk & Amazon.com.
Copyright 2021 © Best Binoculars - Reviewing & Comparing Binoculars