Looking for a pair of new binoculars? Eager to take up bird watching, wildlife observation, watching sports or spying on the neighbours?
It's hard to find the right pair of binoculars. With so many numbers floating around, how can you know what it all means and which specifications you'll need for your chosen activity?
A binocular which is superb at bird watching may be sub-par when it comes to astronomy, so it's important you choose a model which is right for you.
Is the Steiner Safari UltraSharp the right choice for you? Find out below!
Compact Size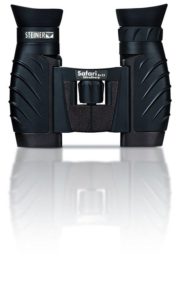 Binoculars are no good if they're annoying to take on hikes, camping trips or day-time strolls. The Steiner Safari UltraSharp binoculars (learn more here!) have a compact design and can easily fit into a jacket pocket or small purse.  
Light Weight
Weighing just 228 grams, these binoculars are super lightweight and won't weigh your bag down. This is important if you're planning on holding the binoculars for extended periods or if you want to take them hiking, because you don't want to wind up with sore arms.
Magnification
The whole point of buying binoculars is to see far away objects up close, so there's no point in buying binoculars that don't have good magnification options.
The Steiner Safari UltraSharp binoculars have 8x magnification, which means they bring objects 8 times closer to you.
Experts recommend you buy binoculars with between 7xand 12x magnification. You might assume the more magnification a pair of binoculars has the better they will be, but magnifications of 13x or more amplify the smallest hand movements.
If your hands shake or twitch, your whole image will wobble and probably go out of focus.
Larger magnifications also reduce the field of vision significantly, so you might miss out on something important.
The Steiner UltraSharp binoculars also contain high performance high-contrast optics to make the images you see sharp and clear.
Clear Pictures Every Time
We can't control the weather, so it can be disheartening if you plan a viewing day only to have it ruined by poor light conditions.
The Steiner Sari binoculars is able to capture enough light to give you vibrant, compelling images, even in bad lighting or during the darker hours.
Perfect For All Levels
Whether you're just starting out or an experienced viewer with a long history of binocular usage, the Steiner UltraSharp binoculars will give you what you need for superb quality observations.
They include maximum precision lenses and prisms which are coated to stop the light reflecting away so you can see the objects in all their glory.
The Steiner Ultrasharp binoculars also come with 3D features which are designed to help bring far away object to life.
Focus
Binoculars can be finickity and hard to get in focus, which is why the Steiner Safari UltraSharp comes with a focusing knob for super easy, smooth and accessible adjustments which can even be used when you're wearing gloves!
Ergonomic
Binoculars are best when they're comfortable, so the Steiner Safari comes with soft, silicone eyecups which are comfortable against the skin.
Do you wear glasses? Not a problem! The eye cups can be folded down so people with glasses can see the whole field of vision.
These binoculars are also designed to fit comfortable and securely in your hand, while the non-slip grips and focus wheel adds extra security no matter if you're wearing gloves or not.
Robust & Durable
Binoculars are an investment and you don't want something that is going to be ruined during bad weather conditions.
Steiner binoculars have a rugged, resilient design which his so effective the company has used it for over 60 years!
These binoculars are made from high-quality rubber which offers shock protection and absorption for ergonomic usage.
Summary
Features:  Compact – Light Weight – 8x Magnification – Maximum Precision Lenses – 3D Brilliance – Focusing Knob – Suitable For Glasses – Comfortable – Non-Slip Grip – Durable – Rugged, Resilient Design – High Quality Rubber.
Pricing:  Mid-Range
Steiner Safari UltraSharp 8x22 binoculars - Lightweight, rugged, compact, fits pocket - Perfect for travelling, hiking, sports events and nature observation 4457
HIGH-CONTRAST-OPTICS - Provide bright, brillant views, accurate colour and clear images with high contour sharpness for exceptional performance up to close range of 2 m.
TECHNICAL DETAILS - 8x magnification, 22mm objective lens diameter, 125m field of view.
FAST-CLOSE-FOCUS - Central focusing wheel requires minimal, stepless rotation for quick absolute sharpness from close-up to infinity- comfortable, easy to use.
LIGHTWEIGHT & ERGONOMIC DESIGN - The rubberized operating elements ensure comfortable long-term observations with effective noise reduction. Finger recesses provide excellent grip, even with gloves.
EXTREME RUGGEDNESS - With durable polycarbonate Makrolon housing, temperature range between -20°C to +70°C. Non-slip NBR-Longlife rubber armour protection resists oil, acid or adverse weather.
Waterproof
Water pressure proof up to 3 m
Water pressure proof up to 5 m
Top Rated
Waterproof
Water pressure proof up to 3 m
Great Value
Waterproof
Water pressure proof up to 5 m
[product_list cat="Steiner Binoculars1"]
When you're buying a new pair of binoculars, it's best to find a brand you can trust. A brand with a long history of excellent standards, a brand which is known to be reliable.
In 1947, a man called Karl Steiner set up a one man binocular making workshop which morphed into a factory in just six years. Today, German made Steiner binoculars are sold in 65 countries worldwide.
Whether you're into bird watching, wild-life, sports, game, space or something else, there is a pair of Steiner binoculars out there with your name on them. Want to learn more about the top 3 Steiner binoculars? Read on!
Steiner 2212 10 x 26mm - Our Number 1
If you're after a pair of quality, clear and powerful binoculars, you could do a lot worse than the Steiner Safari.
The Steiner Safari binoculars have 10x magnification (learn more here!), which means they are able to make your subjects appear 10 times closer than they look with the naked eye.

The second number on these binoculars (in this case 26mm) refers to the objective lens diameter measured in millimetres. Larger diameters allow more light into the binoculars, which leads to clearer images

The objective lens diameter on these binoculars is complimented by high quality coating on all lenses and prisms. Multi-coating reduces the amount of light which is reflected out of the binoculars and away from your eyes, allowing for brighter, more detailed viewing even in lower lighting conditions.

There's no point buying a pair of clunky, unresponsive binoculars that won't focus properly. The Steiner Safari binoculars comes with a FAST-Close-Focus central focusing wheel which lets you adjust the focus in seconds, even when you're wearing gloves!

Eyecups can make or break a poplar of binoculars, especially if the viewer wears glasses. The Steiner Safari binoculars have soft, smooth silicone eyecups which are comfortable against the skin. The eyecups can also be folded down if necessary, which will accommodate eyeglass wearers.

The Steiner Safari binoculars are ergonomically designed to fit comfortably in your hand, the non-slip grips provide security, and you can even use the binoculars when wearing gloves during the winter!

There's no point in buying a pair of flimsy, easily broken binoculars. The Steiner Safari has the same resistant, rugged design that Steiner has utilised for more than half a century.

The Steiner Safari binoculars have long lasting rubber armour which will protect your from shock while making the binoculars even more comfortable to handle.
Summary
Features:  10x Magnification – 26mm Objective Lens Diameter – Coating On All Lenses & Prisms – Easy To Focus – Comfortable, Foldable eyecups – Ergonomic Design – Durable Design – Rubber Armour – Shock Absorbent.
Pricing: Mid-Range.

Steiner Skyhawk 3.0 10x42 - Number 2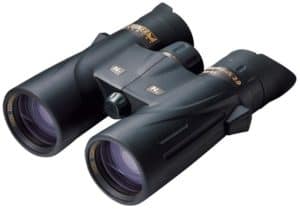 If you're looking for a pair of powerful, high-end Steiner binoculars, The Steiner Skyhawk model might be for you!
With a 42mm objective lens diameter, these binoculars will gather as much light as you need or vivid, bright viewing quality – even in low light conditions.

The Steiner Skyhawk binoculars come with thumb grips and non-slip rubber armouring, which will ensure you have a firm, comfortable grip on the model.

The Steiner Skyhawk binoculars are pretty lightweight for such a powerful model. Weighing just 750 grams, these binoculars will do fine on hikes and camping trips.

With 10x magnification and a 108m field of view, you will get to see more with the Steiner Skyhawk binoculars.

These Steiner binoculars use a nitrogen pressure system which stops them being harmed in up to 3m of water. These binoculars are also protected from fogging and condensation thanks to the nitrogen filled 2-way valve.

These binoculars incorporate sealing technologies which stops dust, dirt and other damaging substances to get into the lenses.

The Steiner Skyhawk binoculars come with a 10 year warranty, protecting you from manufactural damages and dud items.
Summary
Features: 42 mm Aperture – Thumb Grips – Weighs 750 Grams – 10X Magnification – 108M Field Of View – Water Resistant – Fog Proof – Sealing Technologies Stops Dirt Penetration – 10 Year Warranty.
Pricing: High-End.

Steiner Navigator Pro 7x50 - Number 3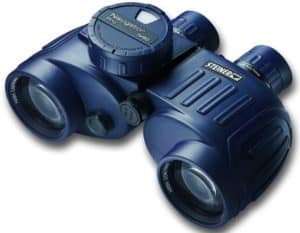 Looking for a pair of binoculars that you can safely take to see? If you need help navigating, the Steiner Navigator Pro has you covered.
Made for navigation, the Steiner navigator pro is a great choice for yacht enthusiasts, boaters, charters and more.

Featuring 7x magnification and a 50mm objective lens diameter, these binoculars have superior light gathering abilities and will help brig distant objects closer.

The Steiner Navigator Pro binoculars have a rugged, user-friendly design. The Sports-Auto-Focus re-focuses your view automatically so you are guaranteed in-focus, vivid images.

Fog can be perilous at sea, but the Steiner Navigator Pro has been built to withstand temperatures from -20 to +60 degrees centigrade and won't fog up in cold or hot weather thanks to the nitrogen filled design.

The Navigator Pro has a water pressure resistance of up to 5m depth, so there's no need to worry about damaging the binoculars at sea. The Steiner Navigator pro also makes use of sealing technologies which stops dust, dirt, water or humidity getting inside the binoculars.

Built to last, the Long-life rubber armour design on these binoculars can withstand acid, oil and adverse weather. The surface is easy to grip all year round and is slip proof even in wet conditions.

Taking ruggedness to the extreme. The Steiner Navigator Pro binoculars utilise Makrolon material to make them shockproof, strong and durable.

The prisms on these binoculars have durable, flexible silicone protecting the optical components to stop any damage.

These binoculars come with a compass to help you get your bearings, plus there is also a rain protection cap for the eyepieces, objective covers, a carry case and a carrying strap thrown in.

The Steiner Navigator Pro comes with a 10 year warranty.
Summary
Features: Made For Marine Activity – 7x Magnification – 50MM Objective Lens – Rugged – Fogproof –5M Water Pressure Resistance - Extras Included – 10 Year Warranty.
Pricing: High-End

Verdict
These are all fine Steiner binoculars, but if we had to buy just one it would be Steiner Safari binoculars because they are  user-friendly, have a high magnification range, they're ergonomic, durable and, best of all, they won't break the bank!