Sensitivity of Sensor
Sony CCD 1.3MP sensor (gen. 1+)
Resolution
VGA 752x582 (via video out)
Detection Distance
300 m (vehicle) / 100 m (man)
20-80m with IR, or 20-700m with just the moonlight or other distant light
Media Storage
To support 1GB~32GB SD card
Micro SD/SDHC memory cards up to 16 GB
Power Supply
AA battery X 4 (not included)
Operating time
20 h continuous operation
Widest Field of View
Detection Distance
300 m (vehicle) / 100 m (man)
Media Storage
To support 1GB~32GB SD card
Power Supply
AA battery X 4 (not included)
Top Rated
Operating time
20 h continuous operation
Great Value
Sensitivity of Sensor
Sony CCD 1.3MP sensor (gen. 1+)
Resolution
VGA 752x582 (via video out)
Detection Distance
20-80m with IR, or 20-700m with just the moonlight or other distant light
Media Storage
Micro SD/SDHC memory cards up to 16 GB
Top 3 Night Vision Scopes Compared
Originally used for military and surveillance purposes, night vision technology is now being deployed across the home technology market and is proving to be very popular and with good reason. For home security and hunting, night fishing, sightseeing, scouting and nature-spotting in low-light or even dark conditions, you don't have to miss the action anymore!
Imagine having a handy device which allows you to see and even record things you would easily otherwise miss, a gizmo that would provide access to the secret world of nocturnal animals or provide you with the peace of mind that you need if you hear a bump in the night, a night vision scope is a fun and functional piece of tech to have around and makes an excellent gift option.
No longer the preserve of state of the art technology fairs, night vision scope technology can now be bought online or from local electronics retailers offering everyone the chance to see the world in a whole new light, literally. Don't be left in the dark ever again, check out this selection of night vision scopes and prepare to be amazed when you finally see what you have been missing.
Solomark Digital Night Vision Monocular Review - Our Number 1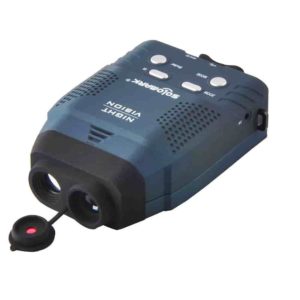 If you need an effective night vision scope (view on Amazon) to help you with your hunting needs, wildlife spotting or home security, you can't go wrong with the Solomark Digital Night Vision Monocular. This extremely popular model has a range of exciting features to help you see and capture what you need to, when you need to:
3 x 14 magnification with electronic zoom – detailed image is shown on internal LCD screen.
Infrared Illumination technology, detects up to 300m away.
Can be used in complete darkness.
Records video and photographic footage.
Rubber casing improves grip and protects from shock damage when dropped.
Easy to handle, small form design, can be used one handed.
Rubber protected zones provide added grip and protection.
Easily mounted on a tripod with industry standard quick release screw lock.
Micro SD card included.
Versatile USB and AV connection allows you to connect to computer or TV equipment.
The Solomark Digital Night Vision Monocular really packs a lot of features in to such a small package. Weighing just 325g this device is compact enough to fit in your backpack pocket and can be used for several hours on a single set of batteries. The quality of its components gives this device a genuinely professional feel and performance in low light and night time modes are startling - the image is bright, clear and full of detail giving amazing results.
Summary
Features: Infrared illumination – Bright images – Compact size – SD card included
Pricing: Affordable

Yukon NV 5 x 60 Night Vision Scope Review - Number 2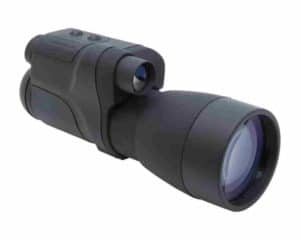 If you're looking for high tech night vision technology to help you get the most out of your wildlife spotting or scouting ahead in the night, Yukon NV 5 x 60 Night Vision Scope has the power to see where you can't, even in the darkest of conditions. You'll never get lost again with the Yukon Night Vision Scope. Here are some of its features:
Compact, futuristic monocular design.
5 x Magnification.
Infrared illumination and huge 60mm lens aperture allows you to see in total darkness.
SD card compatible (not included)
Rubber protected casing.
Precision digital sensor, provides a clear view of from up to 300m away.
4 x AA batteries included in price.
Long lasting battery life – 20 hours with Infrared, 72 hours without.
Tripod compatible.
Yukon specialise in the manufacture of quality optical gear and the Yukon NV 5 x 60 Night Vision Scope looks a lot like something you might find in a sci-fi movie. It will allow you to spot that elusive fox as it sneaks around your garden or capture footage for evidence for home security purposes as it can be connected to a TV.  It has electronic zoom so it's easy to get the image just right and can be easily attached to a tripod for longer watches outdoors. With the Yukon NV 5 x 60 by your side, you won't miss a thing.
Summary
Features: Stylish monocular design – Infra-red tech – Impressive battery life – 300m vision
Pricing: Mid-range

Rongland NV760D3+ Professional Digital Night Vision Device Review - Number 3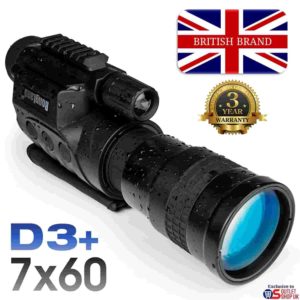 Rongland have an impressive range of devices for the seasoned adventurer and the Rongland NV760D3 performs brilliantly well in both low light and total darkness. You'll be able to catch sight of things literally invisible to the human eye. Whether you are spotting wildlife or night fishing, nearing the end of your nature trail or simply wanting to upgrade your home security system - the Rongland NV760D3 has some excellent features:
Rechargeable batteries included with power save technology, batteries can be charged via USB cable (included)
7 x magnification with 60mm aperture for exceptional image clarity and brightness.
Professional looking monocular design.
Excellent image clarity during day or night time use.
Automatic infrared and brightness adjustment which protects against over-exposure.
Reassuring 3-year warranty.
Weatherproof – water resistant and can be used at temps as lows -30 degrees.
SD card compatible.
Made by an established British company, the Rongland NV760D3 is the definition of consumer-friendly high tech.  The image is bright, clear and full of detail giving amazing results day or night, even if it's raining thanks to its weather resistant casing. Its intuitive auto adjustment takes away the guesswork making it simple to use whether you're on the nature trail or installing it for home surveillance. The Rongland NV760D3 is definitely worth a look.
Summary
Features: 7x Magnification – 3-year warranty – Weatherproof – Power save technology – Automatic brightness adjustment
Pricing: High-end

Verdict
If you want to really see what's going on, regardless of the time of day, a night vision scope is becoming the must-own addition to any tech savvy wildlife watcher, holiday maker or security conscious consumer. What was once state of the art, is now affordable and accessible. It's as clear as day that the top pick has to be the Solomark Digital Night Vision Monocular. With its extraordinary compact design and quality components it offers unbeatable image clarity at a very reasonable price, this is the best value night vision scope for sure.