Product Name
Product Name
Kowa YF II 30-6 Binoculars 6x30
National Geographic 6x21 Child Binocular
Levenhuk Rainbow 8x25 Black Tie Binoculars
Coatings
Coatings
Fully Multicoated
Multicoated
Multicoated
Prisms
Prisms
Porro
BK-7 Roof
BaK-4 Roof
Field of View
Field of View
8.0°
7.2°
7.6°
Eye Relief
Eye Relief
20mm
10mm
10mm
Close Focus Distance
Close Focus Distance
5m
2.4m
5m
Waterproof
Dimensions
Dimensions
11.4 x 16 x 4.8cm
10.9 x 8.9cm
10.0 x 6.5cm
Weight
The Best Binoculars for Children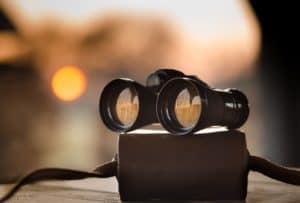 Kids are often fascinated by optics, and few things will give them more enjoyment than a good pair of binoculars. It's a great way to ignite an interest in viewing nature and the night sky.
Toddlers may be satisfied by two toilet paper tubes taped together, but the discriminating precocious observer has other requirements.
Kids' binoculars should have lower magnification and less weight than standard binoculars, so that they are easier for them to hold.
Wide fields of view are also good because kids may have a hard time aiming carefully at particular objects, and they may compulsively point their binoculars everywhere without necessarily aiming and focusing on a particular object.
Children also have relatively wide pupils, which means that low magnification coupled with relatively wide aperture is viable for giving them bright images without having to spend a lot of money on optical quality. Such binoculars are also easier for them to align with their eyes.
Optical quality still matters – children will enjoy their views more if they can see clearly, possibly making the difference between a mild diversion and a lifelong hobby. Beware of binoculars that are really just toys without proper optical components – these will just lead to frustration and disappointment.
But child binoculars are likely to get dropped on the ground or covered in water or other fluids, so it's nice to keep it cheap and make sure that they are well protected with rubber and waterproofing.
Small interpupillary distance is a crucial consideration, as kids have smaller heads and regular binoculars may not fit.
Ages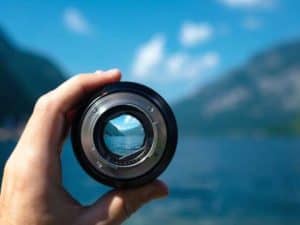 Children two or three years old often won't understand the concept of the binocular. They'll primarily mimic the behavior of their parents in placing the binoculars up to their eyes. Parents can use the binoculars to demonstrate the behavior, and then place the binoculars in front of the kids' eyes to show it to them.
Still, young children may not understand that they are magnifying faraway objects – they may think that the objects they see are really right in front of them.
Above the age of four, the concept and use of binoculars comes more naturally to kids, though they will often decide to use them backwards.
As kids become more mature they will not need specialized kids' binoculars; small models of regular adult binoculars can be better choices. Eventually they can graduate to the standard 7x35 size of compact binoculars and there will be no more need to think separately about childrens' binoculars.
Keeping all this in mind, in this article we've selected our preferred choices for kids' binoculars.
Note - Solar Safety
Viewing the sun through any optical device can cause serious permanent eye damage. Kids should be warned not to look at the sun, but if you do not trust them to learn and follow these instructions then it is recommended that they only use binoculars at night, overcast days, indoors, or supervised in the shade.
DMbaby Compact Waterproof Binocular for Kids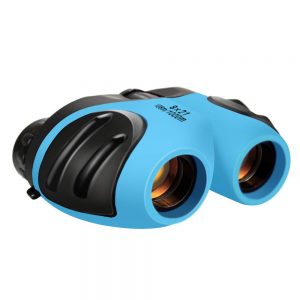 These 8x21 binoculars come in a wide range of colours and are very well protected with rubber. The BaK-4 prisms and fully multicoated optics are high quality features for such a cheap kids' binocular. The downside is that 8x is rather high for children.
National Geographic Child Binoculars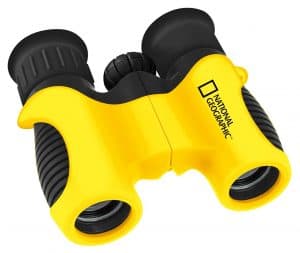 These 6x21 binoculars have a lower magnification than the DMbaby version, but approximately the same field of view. This means it will be steadier, but it won't be easier for children to locate objects.
They have multicoated optics, which is better than what you will find on many kids' binos, though not as good as full multicoatings.
Unfortunately this binocular doesn't come in such a wide range of colours as the DMbaby model. It's still bright yellow so it will be easy to find if dropped.
Levenhuk Rainbow 8x25
This pocket binocular is a great step up from dedicated childrens' binoculars, and it comes in six different colors to appeal to users of all ages.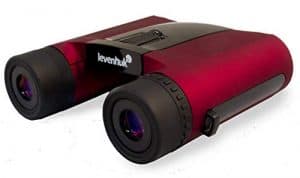 The optical quality is very good and it offers a larger 25mm aperture. The binoculars are waterproof, fogproof and nitrogen-purged to prevent internal condensation from ruining the optics in cold environments.
Unfortunately, the eye relief is too short for eyeglass wearers.
_______________

The Product Below May Be Currently Unavailable, 

Our recommended alternative is The Kowa YF II 30-6 Binoculars 6x30!
Recommended Alternative
A traditional Porro prism design and low magnification
The YF II series is 100% waterproof and has a robust and comfortable feel armour.
All optical components in the YF II series are made from high quality eco glass and all lens surfaces are fully multi-coated.
The YF II series is particularly suitable for young and old.
Kowa YF Series 6x30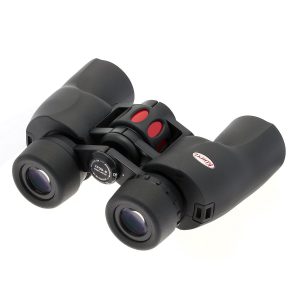 Kowa is a well-regarded manufacturer of quality optics for adults. With this binocular their range extends into a high performance instrument that older, more mature children can enjoy – and it's a perfectly good choice for adults as well.
With full multicoatings, BaK-4 prisms, and quality construction their optics are much better than what you will find on typical children's binoculars. The field of view is very wide. The wide 30mm aperture is suitable for introductory astronomy and allows children to see things in the dark.
The lenses are also protected with repellent coating to keep water and dust from sticking to the lenses. This is a handy feature for a children's binocular that is likely to see rough use. The protection goes further with waterproofing, fogproofing and nitrogen-purging. The binoculars are also covered in thick rubber armouring.
Given the price tag and the nice quality of these binoculars, you wouldn't want to give them to a kid who is likely to abuse them. But otherwise, they are a fine choice.