Product review: All you need to know about the Bushnell Powerview Binoculars
Looking for a pair of mid-range, high-magnification binoculars which are specially designed for long-range observation? The Bushnell powerview binoculars may be for you.
Magnification Power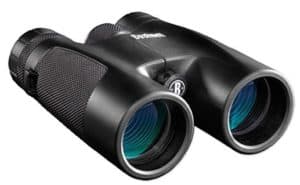 Magnification in binoculars refers to how close the model will make your subject appear, so the Bushnell Powerview binoculars (learn more here!) will make your subject appear 10 times closer than they actually are.
When you're picking out a pair of binoculars and you're comparing magnification specifications, you should be looking for the Goldilocks effect.
Anything lower than 5x magnification won't magnify your subjects adequately, so you won't get good results.
However, binoculars with a magnification of 12 or higher will amplify small hand movements, make your images seem blurry and low quality, and significantly reduce your field of view.
Binoculars like the Bushnell Powerview which have 10x magnification are a good choice because they will bring far away subjects close enough that you can observe intricate details without amplifying your hand movements or ruining the quality. (Check Price on Ebay!)
Let The Light In!
A binoculars objective lens size refers to the diameter, measured in millimetres, of the lens. Larger diameters are able to capture more light and, as a result, provide you with clearer, brighter images in lower light conditions.
The Bushnell Powerview binoculars comes with large 42-millimetre objective lenses which can capture more light than standard binoculars, providing you with crystal clear images that will give good results no matter where you go.
Don't Let The Light Out!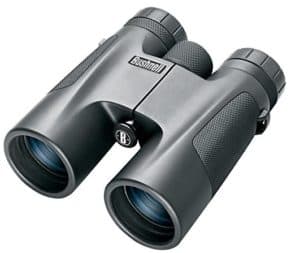 When you're shopping for binoculars, you will keep seeing specifications that refer to coated optics. But what does it mean?
Binocular lenses are used to capture light, but some of that light is reflected away. This reduces the brightness and clarity of your images.
Coated lenses reduce this reflection of light, allowing the binoculars to gather more brightness for clear, vivid images.
The Bushnell Powerview binoculars come with multi coated BaK 7 prisms that are designed to give you high quality image resolution and great clarity, allowing you to see tiny details in your subjects.
Comfort Is Important
No one wants uncomfortable binoculars that can't absorb shock and keep slipping from your hands.
The body of the Bushnell Powerview binoculars is made out of strong, shock absorbing rubber which is ergonomic, slip resistant and contains a roof prism system for extra durability.
User-Friendly Binoculars
No one wants complicated controls, un-adjustable eye cups and binoculars that have to always be used by hand.
The Bushnell Powerview binoculars come with a centre focus knob which can be used to adjust the focus until you can see your subjects perfectly clear, it contains fold down eye cups, and it has a tripod adaptable base so you can mount the binoculars onto a tripod to give your arms a rest.
Security First
It's always a good sign when binoculars come with a warranty, because it shows that the manufacturer doesn't think the model is going to break within a few months or years.
The Bushnell Powerview binoculars come with a limited lifetime warranty which protects the owner from defects which were present at the time of purchase.
If the binoculars come with a flaw, if the manufacturer made an error or if there are any problems with the binoculars, you will be able to get the replaced at any time.
Summary
Features: 10x Magnification – Large Objective Lens – Multi-Coated Optics – Ergonomic – Lifetime Warranty.
Pricing: Mid-Range
Multi or Fully-coated optics for superior light transmission and brightness
Non-slip rubber armor absorbs shock while providing a firm grip
Contemporary styling
Modern design - the ergonomic shape combined with high quality materials offer proven Bushnell quality in a modern design
Extreme robustness - the sturdy body with robust coating makes these binoculars the perfect companion The surfaces offer very good grip and are easy to wash off