Product
Top Rated
Widest Field of View
Great Value
Prism Type
Roof Prism (DCF) Central Focusing
Exit Pupil
3.5 millimeters at 7x / 1.6 millimeters at 15x
Top Rated
Product
Exit Pupil
3.5 millimeters at 7x / 1.6 millimeters at 15x
Widest Field of View
Product
Prism Type
Roof Prism (DCF) Central Focusing
Great Value
Product
Top 3 Pocket Binoculars On The Market
If you are a fan of the outdoors and enjoy nothing more than a walk in the woods with just yourself and nature, a pocket binocular is going to be your only companion.  They are ideal for daytime hiking as they small, light whilst still giving you excellent magnification. So you need to make sure you pick the best one available for your needs considering price, features and durability.
Bushnell Powerview 7-15×25 – Our Number 1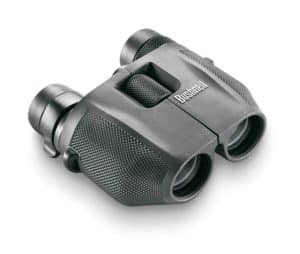 Bushnell are the leaders in binocular technology, they have been in the optic industry for over sixty years. The Powerview model combines excellent, quality optics and with a very reasonable price tag. It comes with a 7-15 magnification and a 25 objective lens (CHECK PRICE!).
The bigger the lens the easier it is to see in lower light, and likewise the smaller the lense the harder it is to see in lower light. Compact binoculars will have a smaller objective lens, which means they aren't for use in low-light but are great for daylight hikes. Making this the perfect choice if you are a daytime user.
The lens is fully coated, meaning there is an anti reflective coating on both sides of the lens, both sides of the ocular lens and the long side of the prism. All glass surfaces located in the binocular offer up a barrier to light, light must pass through these barriers. When you use a coating, you increase the amount of light passing through these barriers, which means that the end image that we look is a lot crisper and cleaner.
The adjustable zoom located on the right hand side is quite stiff which makes it a little difficult to adjust. However the stiffness prevents you from accidentally adjusting whilst in use, which is extremely convenient if you are bird watching.
The binoculars are easy to use, robust and lightweight making them an excellent choice for a hiker who is after a pocket binocular. The Powerview is fitted with a porro prism system. The Porro system does offer a superior depth to the Roof system even though they are much more prevalent on the market today. The Porro prism was invented by Ignazio Porro and was designed as an improvement on the Galilean design.
Porro prism
7-15 magnification
25mm Objective lens
Firm adjustable zoom
Lightweight and robust
Fully coated lens
The Powerview is an excellent choice for a daytime hiker, walker, hunter or bird watcher who is looking for a compact, pocket-sized reasonably priced binocular.
Summary
Features: Porro prism design – Fully coated lens – Lightweight and compact
Price: Mid range

Nikon Sportstar EX 10×25 DCF Review – Number 2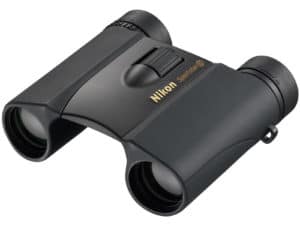 Nikon is probably one of the most well known optic brands on the market today. It never fails to deliver quality, high end products at reasonable prices. The Sportstar is an excellent choice if you are looking for a pocket, compact binocular. With a magnification power of 10 and a 25mm objective lens, it has a roof prism and is multi-coated.
The Nikon Sportstar EX is fitted with a Roof prism, they have a lot more complicated light path and need a lot more precision in their design which ultimately makes them great for bird watchers and hikers.
This particular Nikon binocular is made with multi-coated lenses, which are the best option for use in binoculars because the coating prevents light reflection and does provide an increased amount of light transmission and image contrast. Which translates to your view is a lot clearer and crisper.
The Sportstar EX is waterproof, making it great for outdoor use and is made with O-ring seals to stop mould forming inside the optical system. This seals also prevent a change in weather significantly affecting the image. Thanks to the roof prism system the image quality is fantastic and can be used in day or night. Lenses and prisms are fitted with lead-free eco glass.
Design is at the forefront of Nikon and the Sportstar EX is no different. The body of the binocular is covered in rubber to enable secure handling in even the most extreme weather conditions.
As is expected with the Nikon brand, they have added additional features to make using the Sportstar Ex as efficient as possible. To allow for differences in your left and right eye strength, they come with diopter ring, which allows you to achieve the snappiest of images.
Waterproof for use in all weather conditions
Multilayer coated lens for bright and clear images
Eco glass on prism and lenses
Magnification power of 10
25mm objective lens
Roof prism design
The Nikon brand is the go to when after a pocket binocular. It has outstanding features for an affordable price.
Summary
Features: Multilayer coated lense – waterproof – Roof prism design
Price: High end
As you would come to expect with a Nikon product, it isn't cheap, but as the common saying goes, you get what you pay for and the Nikon Sportstar is an excellent binocular for both a day and night time walker.

Polaris Optics Specator 8×32 Review – Number 3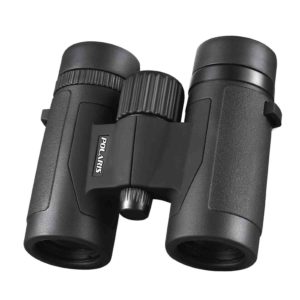 The Polaris Compact is perfect for the avid birdwatcher, as it's light and easy to carry, a non-slip grip featured and is designed to move from wide view to sharp focus in seconds. The Polaris comes with a magnification power of 8 and a 32mm objective lens.
The magnification power is 8 for the Polaris Optics. Meaning the image is magnified up to eight times from what you see with the unaided eye. The higher the magnification does not necessarily mean a better image. When you increase magnification brightness and clarity can decrease, as well as field of view and the depth of field becomes lower. This is the perfect option for hours of bird watching, or viewing sports or concerts.
The Polaris Compact is waterproof and weather proof meaning you can use them in any condition.
It is incredibly light and as described it is most definitely pocket sized, weighing only 1.4 pounds. The Polaris comes with a roof prism, which thanks to its design makes the binoculars light and comfortable to use. The build is fairly complex which is why this type of binocular tends to be highly priced but having said that the Polaris is excellent value for money.
The Polaris Compact comes with multi-coated lenses, which really are the best option for binoculars. A multicoated lens reduces light reflection and it does improve the quality of the image.
Waterproof
Multi-coated lenses
Roof prism
Magnification of 8
32mm Objective lens
The Polaris comes with a right eye diopter, which allows you to adjust the width between your eyes to allow for more comfort and a clearer image.
Summary
Features: Multicoated lens – roof prism design – water and weather proof
Price: Mid range

Verdict
The winner for the best pocket binocular has to be the Bushnell Powerview. The Bushnell brand is the leader in the binocular industry and with good cause. Incorporating price and usability, it stands out from the other two. The Bushnell moto when it came to designing the Powerview was "the ultimate go-anywhere and do anything" and they have really achieved that with this product.